Conor Murray is expecting another bruising Six Nations encounter this weekend as Ireland look to recover from their opening defeat against England when they face Scotland in Murraryfield.
Ireland go into the game off the back of a disappointing 32-20 defeat to England at the Aviva Stadium and they have just a week to prepare for their second game in the tournament.
The Scots got their campaign off to a winning start on Saturday with a 33-20 victory over Italy and are unbeaten at home in the Six Nations since the opening round of the 2016 Championships.
They overcame England at the same venue last year and ran New Zealand close in November and Murray expects more of the same from Gregor Townsend.
"They're a proud team, a proud nation and they've a great record in Murrayfield," he told RTÉ Sport. "I think [they're] unbeaten over three years in Six Nations if I'm right and it's going to be incredibly though, that's exciting.
"This team has often risen to occasion like that or can put in a performance away from home, we know we can put in displays that can match the best and it's going to have to be near the best.
"You've seen how close they came to beating New Zealand in Murrayfield, how well they played last year against England in Murrayfield with the victory there, so we're under no illusions that it's going to be really tough."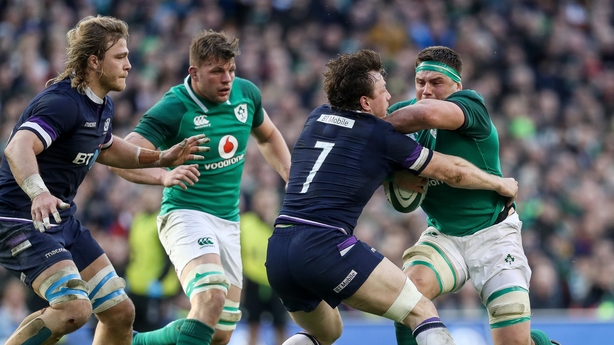 As well as facing a Scottish side growing in confidence, Ireland have been tasked with picking themselves back off the ground after last week's disappointment in Dublin.
Murray admitted that there's been plenty of soul-searching within the squad since the defeat to England but he's confident that they've learned the lessons from that defeat.
"It's been a tough week I suppose," he admitted. "You're hurting for a couple of days and that's the challenge – to not feel sorry for yourself, to get over it, get back on the horse and start working again.
"It's a great game to focus the mind, away to Scotland in Murrayfield. We've found it tough over there in past seasons and we know what's going to be waiting for us.
"Having reviewed the England game there's a couple of small inaccuracies, a couple of small errors that usually we don't make an ultimately they cost us.
"It's not like it's a new lesson, everybody is aware that small margins do go a long way in deciding games and that was our focus this week, train well and prepare well and hopefully it will come together on the weekend.
"It's about putting in a performance that's an awful lot better than last weekend, one that we can stand by and be proud of. If we look after that, hopefully that will look after the result and the scoreboard.
"Our mind is focused solely on that, we're not thinking about the table too much, we're not thinking about anything else, we're just thinking about going over to Scotland and being as good as we know we can be."