Warm weather camps are the norm now, with the coaches and captains tearing themselves away from their southern European bases for a run through the media gauntlet in southwest London this morning.
Temperatures may be cooler, but you got the sense the 2019 Guinness Six Nations was already heating up, with rival coaches happy to heap the pressure on the defending champions.
Scotland, England and Wales are likely to pose the biggest dangers to Ireland's defence of the Six Nations title and in London today the three respective coaches offered their thoughts on the champions.
In spite of all their recent success, Ireland have in some quarters been labelled, rightly or wrongly, a highly functional outfit.
It is a viewpoint put forward on one hand as a backwards compliment, a team functioning to new heights under a structured game-plan shrewdly concocted by Joe Schmidt and his diligent backroom team.
There will be the added motivation, not that any is required in a World Cup year, of giving the outgoing Schmidt the perfect Six Nations swansong.
Aside from second row, injuries thus far have been kind to Ireland, though enforced personnel changes are inevitable over what promises to be an attritional six weeks of high intensity rugby.
First up are England, looking to bounce back from last year's fifth-place position in the standings and questions marks over a number of areas of team selection.
Head coach Eddie Jones was asked at the launch of the competition for his thoughts on the favourites to emerge victorious on St Patrick's weekend, but in typically jovial form, quipped that he isn't a bookmaker,
"I don't run a book. Do you want me to run a book?" he questioned rhetorically.
The general consensus among the assembled national team coaches and captains is that champions Ireland very much remain the team to beat.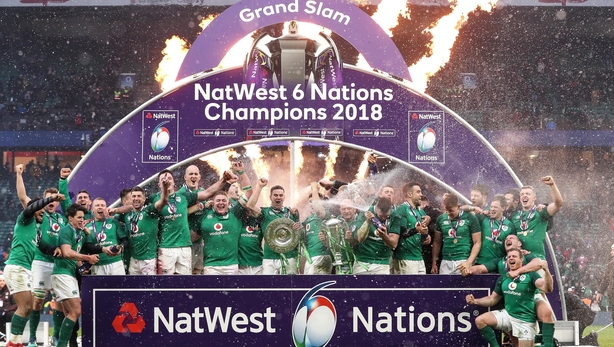 After last year's grand slam, followed by a series victory in Australia and a clean sweep in November including the lowering of New Zealand colours, Ireland go in search of back-to-back tiles in good stead.
Last week Jones praised Ireland's recent success, while adding mischievously that the men in green play "a very methodical gameplan that maximises the strength of their team".
He has on a number of occasions identified Ireland's aerial game as the main weapon of strength, with Conor Murray's box kicks, Johnny Sexton's accuracy with the boot and a well-drilled kick-chase game proving a successful strategy time and time again in the Schmidt era.
The wily Australian, though, saw a shift in game-plan towards the latter part of 2018.
"They are continually evolving their game," he told RTÉ Sport. "What was quite a standout in the Autumn Tests was the number of passes they made. They increased their passing quite considerably, decreased their kicking, but Six Nations is a different beast. We'll just wait and see.
Jones, who oversaw 18 successive wins after taking over as England coach, including the 2016 Grand Slam campaign, was giving little away in relation to the makeup of his backrow in light of the opening challenge awaiting the team in Dublin next weekend.
"There are two contests against Ireland. One is in the air, the other is on the ground. We have got to win both of those to win the game. We will pick a side that's geared up to win both.
"Whether they are big and ugly, or small and cute, I don't know yet."
BT Murrayfield awaits Ireland in round two with Scottish rugby on the crest of a wave. Last year's mid-table finish was their highest in five years, while for the first time ever, both Scottish clubs are into the knockout stages of Heineken Champions Cup.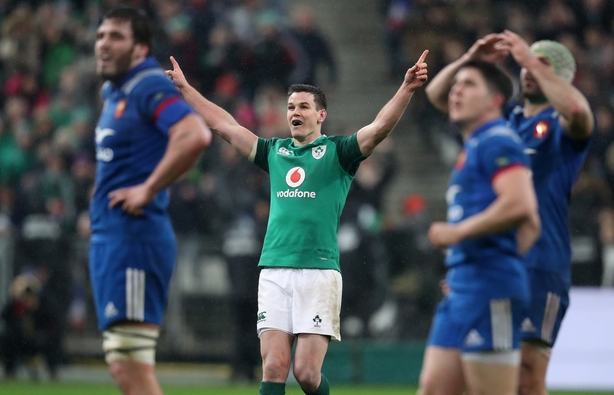 Head coach Gregor Townsend agrees with Jones that Ireland are a different proposition to the 2018 version that swept to the title last year, with the subtle changes not lost on the former Scottish international.
"They are getting better and are evolving their game-plan," Townsend said as he looked ahead to his second Six Nations campaign in the Scottish hotseat.
"There are parts of their attack shape that have changed and what they are looking to do with the forwards, and Johnny Sexton has had a slight evolution in his game.
"They are very efficient and effective in looking after the ball, a very consistent team. You won't get a poor performance from them," he says, perhaps ignoring the first 40 minutes in Edinburgh two years ago where Ireland fought back from 21-5 down after a disastrous start to edge ahead, only to be foiled by two Greig Laidlaw penalties in the final 10 minutes.
France are the other visitors to Dublin this year and French captain Guilhem Guirado highlighted Ireland's "tremendous" 2018, with head coach Jacques Brunel admitting the defeat in Paris courtesy of Johnny Sexton's late heroics were one of a number of close encounters Les Bleus came out the wrong side of in the past 12 months.
The French are looking to avoid a fifth wooden spoon in six years, in sharp contrast to Ireland's upward trajectory.
Aside from a mid-table blip in 2016, Ireland have finished in the top two each year under Schmidt, but Wales under Warren Gatland have always been a tough nut to crack, with a record of two wins, two losses and a draw in that time.
Indeed Gatland was ruefully lamenting Jacob Stockdale's intercept try at the Aviva Stadium last season. Gareth Anscombe's mislaid pass as the visitors went on the attack and looked set for a score of their own was a crucial moment in the 10-point defeat.
Ireland are one, if not the hardest team in the world to play against
The former Ireland coach says the men in green are arguably the best side in the world and laid out his thoughts on what makes them tick.
"We have had a pretty successful strategy against Ireland in the past and we are looking to do that at the end of the tournament," he said, looking ahead to the potential final day showdown at the Principality Stadium.
"They are tough to play against, the retention of the ball, particularly if they get into your 22. Their conversion rate is excellent, whether it is three points through Johnny Sexton or getting over the line.
"They are a team you really have to keep your discipline against. They are one, if not the hardest team in the world to play against."
Schmidt isn't one to take the comments of others too seriously, in public at least and especially when the "grenades" come from Jones.
"You don't know if he threw it in as a comment to distract you or if it's something he is genuinely thinking about," he said when responding to the Australian's suggestion that Johnny Sexton has the 'bat phone' when it comes to speaking to referees.
"I think it [ Jones' comments] does keep it fresh and entertaining. I enjoy the banter with Eddie. He is that irrepressible character and he's a smart coach," he said before taking a leaf out of his opponent's book by stating that he doesn't expect Commissioner Gordon in the various rugby stadia over the next seven weeks.
After praising the holders, Jones was dangled the bait of offering who he felt were the clear favourites to win the competition, but with a grin from ear to ear, reminded the journalist that he wasn't a bookmaker.
The 58-year-old added that he would be investing in a pair of binoculars with the Ireland and England squads based just 15 miles apart in Portugal as a warm weather training camp ahead of next weekend's opening weekend.
Jokes or otherwise, Ireland are firmly the focus for England and their rivals with silverware ambitions.