Munster coach Johann Van Graan declared his side's intensely hard fought win over Exeter Chiefs in Thomond Park as one of the most "special" games in which he's ever been involved.
Needing at worst a losing point to progress at the beginning of the evening (and that provided they restricted Exeter to three tries or less) Munster appeared to achieve that and nothing more for much of the game.
Don Armand's try left them trailing 7-6 after 22 minutes and, amazingly, the score remained the same for a full 50 minutes of play, with both sides scrapping and tearing furiously for every inch.
Handling errors were rife such was the suffocating physicality of the encounter and neither side's attack were allowed the slightest room to breathe.
It wasn't until the final 10 minutes that Joey Carbery slotted the penalty which allowed the hosts to relax a touch.
While it wasn't the most aesthetic game from a backs' coach's point of view, Van Graan was enthralled by the desire shown by both sides and lavished praise on Munster's opponents.
"In my 15 months here at Munster, that was definitely the toughest game," he told RTÉ Sport afterwards.
"It was two teams that didn't know how to give up. The Chiefs kept fighting to the last second of the game. It's a team I respect so much.
"We made some errors because of pressure (from the opposition) in the first half, we adapted well in the second half and it became an arm wrestle and everybody wrestled with everything they got. I'm very glad we came through this one.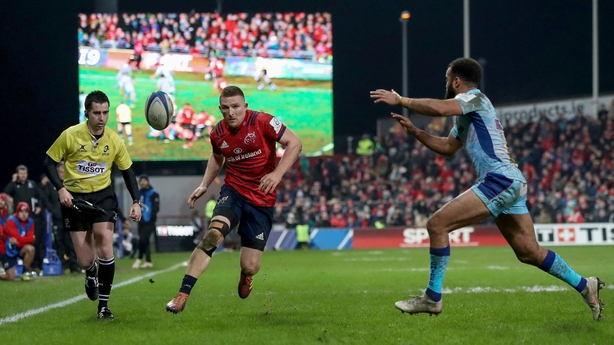 "It's not often in a game of rugby, there's only one score in the second half. That just shows how tight it was. Once we went in front, we knew they had to run everything.
"They fought for every single millimetre. When the pool draw came out and I saw that Exeter Chiefs were in our pool, they are in my opinion one of the top sides in the world, and I include test teams.
"They put us under pressure in all facets of the game. I thought our maul worked quite well. I thought we scrummed quite well and it was a battle after that."
It was a frustrating and uncomfortable evening for Munster in attack as they committed an inordinately large number of handling errors. For a long time, it was feared their failings in this department might cost them a knockout spot for the first time since 2015-16.
However, Van Graan was relatively understanding about these shortcomings, attributing it to the intense pressure from the opposition.
"(Handling) was an issue but because of pressure. I said at half-time, we needed more composure. I thought we adapted well in the second half. And the opportunities that we created came when we pinned them in their 22. One score in 40 minutes of rugby is incredible.
"When the dust settles, and we got to bed and open our eyes tomorrow morning, the fact that we're in another European Cup quarter-final, that's fantastic.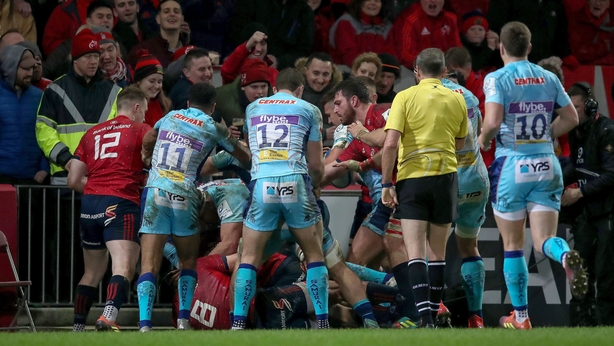 "I believe it's possibly going to be away from home. We have a lot of planning to do. The most important thing is we're in the quarter-final. We topped our group. We can only control what we can and take it from there.
"This is pretty close to one of the most special games that I've ever been involved. It was about the will to win and luckily we edged it."
Speaking to RTÉ Sport afterwards, Munster tighthead John Ryan labelled the game "ridiculously tough" and admitted that they found it close to impossible to break Exeter down.
"There was some hits going in, carries. There was a lot of mistakes as well but that's what pressure does. It was frantic. The defence from both sides was excellent.
"You can see them in the Premiership. Their level of line speed is huge and they slam the door on the outside. So, there's not that space on the outside that you'd usually have. So it's always a brick wall in front of you and you've just got to batter that brick wall down and get little half-breaks."