Ulster head coach Dan McFarland has backed the province's stance to "robustly investigate any complaints" after Racing 92 player Simon Zebo tweeted that he was subject to unacceptable comments from some fans in the Kingspan Stadium crowd during last Saturday's Champions Cup clash.
The former Munster man tweeted after the game: "I hope my ears deceived me with some comments directed my way from the crowd. #NotOn Django wins in the end."
Speaking to the media on Monday, McFarland appealed for any information that would shed further light on what happened.
He said: "We are aware of Simon's social media postings and if that is true it's totally unacceptable. As an organisation we put inclusivity right at the forefront of who we are - that's across everything.
"When something like this happens it is taken extremely serious and will be dealt with. If there is anybody out there who knows what happened and can give information on that, we want to know.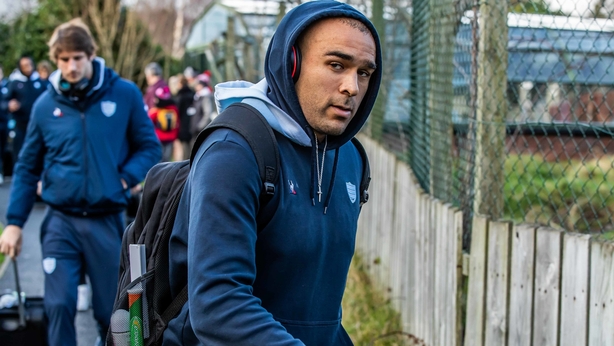 "Nobody should have to put up with that."
During the course of the interview, McFarland was also asked about the world of social media and added: "I don't see social media as a problem. For me it's just social evolution. It is what it is. The idea of a problem is that you have to solve it.
"You have to roll with it and understand it, while also making sure that us as older generations who might not use it as much understand why and how it is used by younger generations.
"It's a fantastic thing and can be used for so much good. There is a lot of dwelling on the negative aspects of it but it can be used for a lot of good."
The former Scotland assistant coach believes his Ulster side are using social media in a positive way.
Ulster Rugby head coach Dan McFarland has called on anyone with any evidence of alleged racial abuse aimed at Simon Zebo to come forward. #RTERugby pic.twitter.com/UmM5F8gwJe

— RTÉ Sport (@RTEsport) January 14, 2019
He continued: "There is a responsibility that goes with it. Our players are coached on that, they have training on that.
"They certainly have a large responsibility there.
"For the most part, even though it's something that we're all still learning about, they use it remarkably well. It's a great way to engage with fans and to people who might not get as close to them otherwise."
Racing 92 released a statement this evening at what they said were "racist insults" directed at Zebo.
It read: "Racing 92 strongly condemns the racist insults that Simon Zebo was targeted with on Saturday during the European Cup game between this club and Ulster Rugby at Kingspan Stadium in Belfast.
"Racism has no place in rugby, in which the values of solidarity and togetherness are the exact opposite of any forms of discrimination.
"Racing, however, does not wish to stigmatise Ulster Rugby as a whole. The insults suffered by Simon Zebo are the actions of only one or two individuals and have been condemned by many Ulster fans who have shown their support for Simon."