Conor Murray has defended how he handled speculation surrounding the neck problem which sidelined him for five months, and said it's "a player's right" to withhold information about an injury.
The scrum-half had a lengthy laid off after helping Ireland to a memorable series win in Australia, only returning to action this month.
Murray missed the Autumn Internationals - including that famous defeat of the All Blacks - but it was the wall of silence that cloaked details of his injury that caused concern. He had said he wanted the injury to remain confidential, and Munster, Ireland and the player himself dripped little information out about his progress.
Now back in action and feeling "really, really good", Murray has opened up on his reasons for staying coy.
"I clearly stated it was an injury I was unsure of," he told RTÉ Sport's Damien O'Meara.
"It was my decision to withhold it because I didn't know when I'd be back. As time progressed and when we got a bit of a grasp on the injury, then we let people know, but it was in that meantime that people seemed really, really hungry for information.
"To be honest we didn't know how long it would take either. If it was an injury like that again, I'd absolutely do [the same] again. It's up to the people in the media or whatever, the people on the street, it's those people who start the rumours, start the speculation.
"I think it's the player's right to withhold his own information.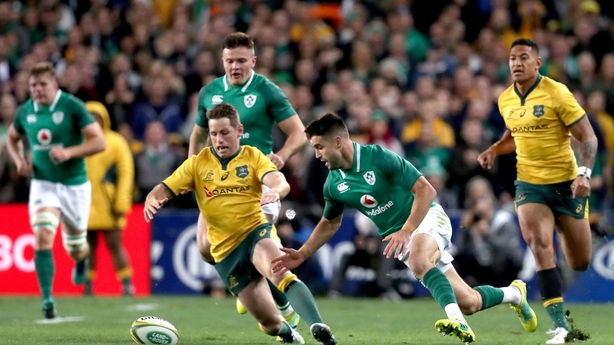 "I can only speak for my own injury history and my own perspective. It was very unclear how long I'd be out. So we just said, 'he's injured at the moment and we'll deal with it as we see fit'.
"It's at the player's discretion and it's their right I suppose. But I do see the other side of it. People who pay money to buy tickets, and travel and see us, they deserve to know who is playing and when.
"It's a balance. There's got to be a point where you meet in the middle."
Murray helped Munster to a 30-5 Pool 2 win against Castres in the Heineken Champions Cup at the weekend. They head to France for the return fixture braced for a much sterner test against the Top 14 champions.
"If we get a performance over there, and more importantly a result, then we're in a good position in the group," Murray added.
"Sunday was a decent win but frustrating. As a team we left a little bit out there but that's really exciting. That's the challenge we have this week. We've got to brush up on a few areas. Castres are going to be an awful lot better as well. There was a little bit of niggle in the game... so it'll be a good contest.
"We may have got a bit distracted towards the end of the game with that niggle and that bit of pushing and shoving.
"In terms of our standards and where we want to be, and how we want to play, that wasn't our best performance. But we got a win.
"They're going to stick in the fight an awful lot longer than they did last weekend."
The 29-year-old admitted he's relishing being on the field of play after such a frustrating spell out. Now he's focused on getting back to his very best.
"It was great to be out there, playing rugby and the body feeling really good. In terms of performance, I had a few good things and a few not so good things.
"My body feels really, really good. I had to address the neck issue and give that the time it deserved to get right but it also allowed me to rest up and do work in other areas, on my conditioning and stuff like that. I feel great."