England have refused to rule out an attempt to bring Leinster senior coach Stuart Lancaster back into their coaching set-up.
In January the English Rugby Football Union will launch the search for a coach to join England's backroom staff after the 2019 World Cup.
England bosses want head coach Eddie Jones to mentor his eventual successor, with that candidate yet to be finalised.
The RFU will convene a panel in the New Year to intensify that search, and interim chief executive Nigel Melville has refused to dismiss the merits of re-employing Lancaster, who lost his England head-coaching role after the 2015 World Cup.
When asked if Lancaster would be a candidate for the future England backroom vacancy, Melville replied: "I'm not sure, I haven't spoken to Stuart so I'm not sure if it's the path that he sees for himself.
"I'll be meeting with everyone who is a potential target for us and I'll make the list based on that.
"I don't know what other people might be thinking but all our top English coaches will be contacted."
Asked if the RFU would have any reservations reverting to Lancaster, Melville continued: "No, not a problem, why would it would be a problem?
"I'll talk to anyone who has the requisite talent to do the job for us.
"It will be a pretty good search. We have been monitoring everyone for the last 18 months.
"We have got a spreadsheet of everything and everyone, all around, different levels, assistant coaches, kicking coaches, and we have English coaches overseas as well. Quite a few in France. In Scotland. All sorts.
"And a lot of overseas coaches in the Premiership too. It is quite a broad thing."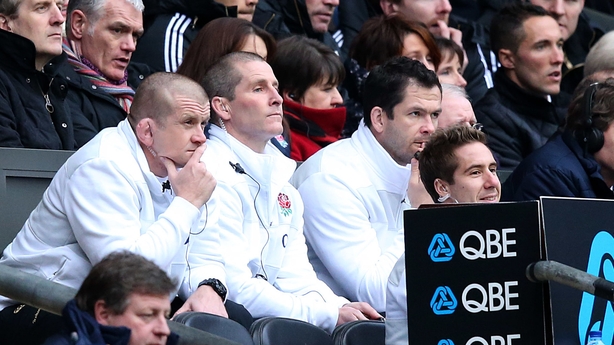 Lancaster was sacked after the 2015 World Cup where England became the worst-performing hosts in tournament history for failing to progress beyond the group stages.
Lancaster's assistant Andy Farrell also lost his job after the 2015 tournament, but has since rebuilt his coaching career with Ireland.
The former dual-code international will succeed Joe Schmidt as Ireland head coach after the 2019 World Cup, and that leaves Lancaster firmly in the running to join Ireland's backroom staff.
Lancaster helped Leinster claim the Pro14 and Champions Cup double last season, as the former PE teacher reasserted his coaching credentials.