Donal Lenihan says the high number of mismatches in the Pro 14 are damaging the image of the league following Munster and Leinster's facile victories at the weekend.  
For the second week in-a-row, a second string Leinster side ran up over 50 points against Welsh opposition, while Munster blew apart Edinburgh on Friday night, having previously meted out hammerings to both Ospreys and Ulster at home this season.
Speaking on Game On on RTÉ 2fm, Lenihan admitted that he was worried about the standard of competition and said it wasn't a healthy situation for the league. 
"Edinburgh had almost conceded the game (against Munster) before they came and certainly after fifteen minutes there was only going to be one winner. 
"The problem at the moment is that there are a huge amount of mismatches. It's amazing when you see Leinster in successive weeks scoring over 50 points. And of the side that started against the Dragons, Scott Fardy is probably the only one who's under serious consideration to start in the Champions Cup over the next two weekends.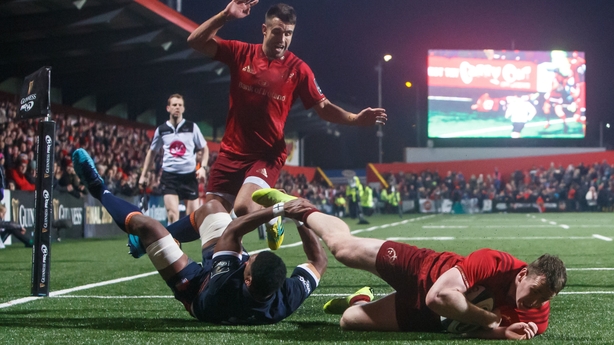 "Ospreys came to Cork and Munster put 49 points on them, Ulster came to Thomond with a very weakened team and Munster scored 64 points and again we had a repeat of that on Friday night."
Lenihan continued: "It's not good for the image of the league. I think we can all say with certainty who is going to be top two sides in each of the conferences and with such a long way to go in the season, it's not healthy for the league.
"Overall, I'd be worried about the standard of competition. Every time you see a game in South Africa, there's nobody at the matches. Now, to be fair to Connacht, Bloemfontein is a difficult place to go and the Cheetahs usually put out some sort of performance there."
The high number of turkey shoots are not the only cause for concern according to Lenihan. 
At the weekend, Cardiff Blues coach John Mulvihill lambasted referee Stuart Berry following his side's 16-12 loss to Ulster. In the course of his comments, he claimed that the referee's boss had already told him that but for officiating errors, his team would have won the first three games of the season. As it was, they lost all of them. 
Lenihan said that coaches and players are the only ones who pay the penalty for mistakes.
"There just doesn't seem to be any consequence of poor decisions for referees," he noted.
"On the flip side, people like Mulvihill in Cardiff are going to be judged by his results at the end of the season. If he's told that those three games could have been won but for refereeing decisions, what difference would that have made to his team's points total? 
"It is a concern. Bernard Jackman got a stadium ban for getting stuck in Ian Davies. 
"It's a recurring theme and there has to be consequences for referees. If they're found to be below par, they'll have to miss out on it."