The appointment of defence coach Andy Farrell as Joe Schmidt's successor will provide clarity and continuity, according to David Nucifora.
The IRFU high performance director said head coach Schmidt's decision to end his six-year spell with Ireland following next year's World Cup was motivated purely by a desire to move home to New Zealand.
Nucifora confirmed Farrell will be contracted through to the 2023 World Cup after a decision-making process that included Joe Schmidt.
Speaking to RTÉ Sport's Michael Corcoran, Nucifora said money never came into the conversation with Schmidt, who is keen to return home after more than a decade in Europe.
"It was never about money," he said. "It is all based on what Joe and his family want to do next in his life."
Nucifora said Schmidt is looking forward to a break, highlighting the commitment the 53-year-old brings to the job. The high performance director said, despite the speculation swirling around his future, the 2018 World Rugby coach of the year's focus turned immediately to the Six Nations after the convincing win over the USA.
"It is a decision based purely on lifestyle for him," he said. "It is an incredibly demanding position. I would like to think everyone will respect his decision for what it is, the IRFU certainly do.
"We have been very fortunate to have such a quality coach here for the length of time we have. He's not leaving tomorrow, he has a lot of work to do over the next 11 months or so, he is going to be just as focussed as he always is," he added.
"He throws everything he has got into his job and people who know that and understand that will know why he needs to step away and have a break for a while."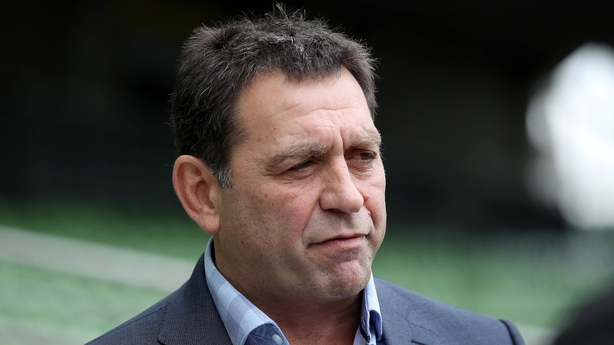 It will be "business as usual" for the Ireland senior men's team ahead of this season's Six Nations and the World Cup in Japan, with the IRFU hopeful Farrell's appointment ensures a seamless transition.
"Andy will take the team through to the 2023 World Cup, and that decision has been thought through long and hard and has been discussed with Joe and others.
"We feel we are in the enviable position to be able to appoint from within. To have a coach of the calibre and class of Andy Farrell, we are very fortunate. For us, the seamlessness of the handover after the Rugby World Cup will be a really important part of what we are about and how we move forward and build on all the good work Joe had already done.
"Our players have grown to appreciate what Andy brings to current coaching group," said Nucifora of the former England and Lions defence coach. "He has been incredibly successful with his campaigns with the Lions and he brings all that experience to the role after the World Cup."
Employed by the IRFU since early 2016, Nucifora believes Farrell's ascent to the top job will allow the senior men's team – currently ranked number two in the world – to progress without upheaval.
"Continuity is incredibly important, we don't want to reinvent the wheel, we want to make sure we build on all the good things that have been built to date," said Nucifora, who confirmed Simon Easterby and Richie Murphy are contracted until June 2020.
"Things have to keep going forward in this business," he added. "We think this decision will allow us to do this.
"It gives everyone clarity, it gives our players clarity."