Simplicity is at the core of Ireland boss Joe Schmidt's genius, according to United States backs coach Greg McWilliams.
Former Ireland women's assistant coach McWilliams hailed Schmidt's ability to distil complex information with absolute clarity that leaves his players in no doubts.
McWilliams doubles up his USA role with rugby director duties at Yale University, having left Ireland in 2017.
The former St Michael's College teacher coached Ireland stars Luke McGrath and Dan Leavy in their school years, and admitted continuing to marvel at their progress in the Test arena.
"Anyone coaching rugby at a reasonable level, their technical and tactical knowledge is quite strong," McWilliams told Press Association Sport.
"So the key to coaching I think, and something Joe (Schmidt) does extremely well, is he communicates his point across extremely clearly and has alignment with the players. So that's something I'm always striving for.
"Alignment comes through clarity of communication.
"We caught up with Joe on Wednesday and it was great to have a chance to talk about all things rugby, and just catch up on a few things.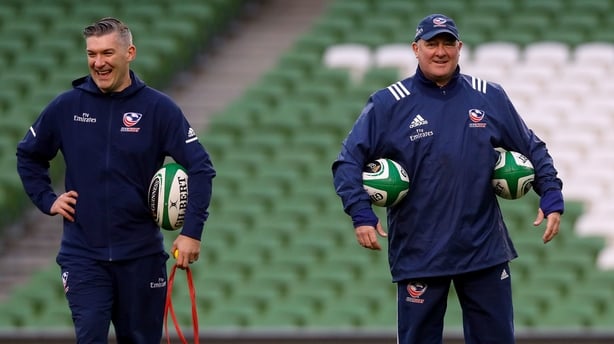 "That was very enjoyable and what he's doing with this Ireland team is incredible.
"They are going to be full-on against us, and hopefully our players can meet that challenge and be competitive.
"It's a great opportunity for our players to take on one of the best teams in the world and we'll learn a lot from it.
"It's important for our development to test ourselves in these kinds of fixtures.
"I'm just so excited to be here, I went over to America with dreams of grandeur - I still think they got the wrong person for the job.
"Being on the other side, seeing how they treat the away team, that's what rugby is all about. The IRFU have made us all feel so welcome and the facilities and hotel and everything are first class.
"This is another chance for us to experience that big-match atmosphere, and the more of these kinds of challenges we can face, the better we'll be at the World Cup."
Former Bath and Newcastle boss Gary Gold has guided the USA to a nine matches unbeaten this year, leaving Saturday's clash with Ireland standing between the Eagles and a perfect 12 months.
McWilliams admitted to relishing the challenge of coaching abroad, as he continues to make waves overseas.
"Going into a different environment and set-up you realise there's a lot you need to do better," said McWilliams.
"It really has opened my eyes to what's out there whereas I was maybe in a little bit of a small bubble before.
"American people are incredibly warm and friendly, and the community itself is very supportive of what we are trying to do as a team.
"I coached Luke McGrath and Dan Leavy at St Michael's, from 12 years of age through senior school to them leaving.
"To see how they are developing now is fantastic. It's a great privilege."
Follow Ireland v USA via our liveblog on RTÉ.ie/sport and the News Now app, watch live on RTÉ2 and the RTÉ Player or listen to live commentary on RTÉ Radio 1 this Saturday (kick-off 6.30pm)