Ireland wing sensation Jacob Stockdale "can't believe" his meteoric two-year rise from television fan to New Zealand conqueror.
Stockdale bagged his 12th try in just 14 caps as Ireland stunned the back-to-back world champions 16-9 in Dublin on Saturday night.
The 22-year-old Ulster flyer was watching at home on TV when Ireland registered their first-ever win over New Zealand, the 40-29 victory in Chicago in 2016 that proved 111 years in the making.
Fast forward just two years and Stockdale was chipping the All Blacks defence and outpacing the cover to score the only try of the match at the Aviva Stadium - and the Lisburn native admitted he is still trying to fathom his rapid ascent.
Asked to contextualise his Test match progress, Stockdale said: "Part of me can't believe it. It has been an incredible road to where I am at.
"At the same time it has been an awful lot of hard work. There have been an awful lot of lessons learned as well.
"That's what it takes to progress in international rugby and professional rugby in general.
"It has been a massive year and half for me and I don't plan on stopping any time soon."
Confirming he watched Ireland's breakthrough victory over the All Blacks at Chicago's Soldier Field at home, Stockdale added: "I was still in the Ulster academy at that point, and had barely played for them.
"I had played a couple of games for Ulster so it was more me as a fan watching Ireland beat the All Blacks.
"It was incredible to actually be a part of it this time; and it is really special."
Stockdale's magical night could all have been so different, had New Zealand captain Kieran Read not knocked on with the line at his mercy.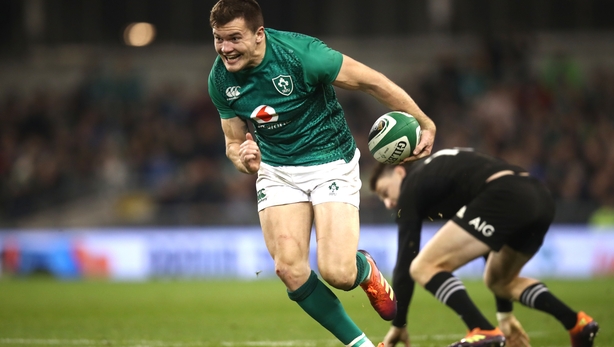 Ireland's strike-running wing tried an impudent chip over the All Blacks number eight, but Read read it completely and pulled off a dominant charge-down.
However, the 33-year-old bungled the ball in his haste to scoop up and race to a score, letting Stockdale off the hook.
Just minutes later Stockdale latched onto Bundee Aki's bullet pass after the centre switched with Johnny Sexton, before chipping and collecting and dotting down.
Ireland stunned the All Blacks with a classic set play from head coach Joe Schmidt, and Stockdale revealed his delight and relief at winding up as hero instead of zero.
"I was screaming 'drop it!' and he did, so he must have been listening to me," said Stockdale, recounting Read's charge-down.
"Those kind of things are a bit of a risk - sometimes they pay off, sometimes they don't.
"That one didn't and I suppose I got a bit lucky, that's rugby union.
"For the try, I saw that Ben Smith had come up on the outside to defend Rory Best and I saw the space in-behind.
"It was a slightly different kick, more of a longer one to chase onto. For me I was just playing in the moment, you can't think about it when you have the ball in your hands.
"This win means everything. There have been 113 years of guys who have played at Lansdowne Road or the Aviva and have failed to beat them. For me to do that on my first attempt is very special."
And asked if Ireland had shattered New Zealand's aura, Stockdale insisted only time will tell, adding: "I don't know; I guess we'll find out."