Joe Schmidt admitted that there were shades of the heartbreaking 2013 defeat in the final stages of a famous win over New Zealand.
Leading with the clock in the red five years ago, Ireland coughed up the ball and the All Blacks went the length of the pitch to score a converted try for a 24-22 win.
And with time running out this evening, the Irish again decided to play for territory, and handed the visitors, unbeaten in Europe since a 2012 defeat to England, a last chance.
This time, however, the line held firm and a knock on in the 22 unleashed pandemonium in the Aviva.
"Yeah, [it did remind me of that game] but we couldn't lose this one," the head coach told RTE Sport after the 16-9 win.
"We were seven points in front. But yeah, you're right.
"As they worked their way back up the field, they got the penalty, they came up the field. It was a little bit reminiscent of that and maybe we got a bit lucky a few times."
Ever the man to play down a victory, even one as big as this, Schmidt said that luck played its part in Ireland's first home win over New Zealand.
"Kieran Read, how many times would you see him knock that charge down on? There was no one in front of him," he said of a second-half chance for Steve Hansen's side.
"Rob Kearney got in the passing challenge at one stage when Beauden Barrett didn't look up.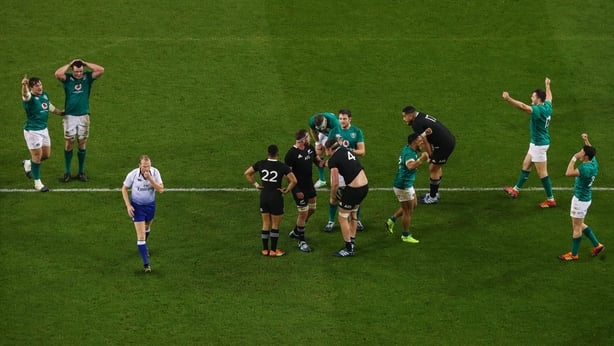 "I'm not quite sure how Pete O'Mahony managed to get to that chip, we looked like we were numbers down and almost gone.
"You've got to be proud about how the guys scrambled but at the same time you've got to be realistic about three pretty clear cut chances that they don't take and we took one.
"I just thought it was a fantastic Test match and the way it had been built up as (World Nos.) 1 v 2, I thought it was a heavyweight contest."
The All Blacks are known for their try-scoring prowess and racked up 33 tries in their most recent winning Rugby Championship campaign.
Coming into the game with a 89.36% win rate under Hansen, the All Blacks had also managed to score 10 tries in their last three games against Ireland.
How did it feel to hold them to two penalties and a drop-goal?
"Ask [defence coach] Andy Farrell that," said the Kiwi.
"He's delighted no doubt. It is so seldom that the All Blacks don't score a try but there were three potential tries.
"On any given day they might get a couple of those and it's all different, they are narrow margins."