Ireland rugby league captain Liam Finn has announced his retirement from the international game.
The 35-year-old scrum-half won the last of his record 28 caps in the Wolfhounds' 40-8 defeat by Wales in the final match of the 2018 European Championship in Wrexham on Sunday.
That result meant Wales became the 10th team to qualify for the 2021 World Cup while Ireland, along with wooden spoonists Scotland, will have a second chance to book their spots via the 2019 qualifiers against teams from Euro B and Euro C next autumn.
Ireland coach Stuart Littler will have to find a new captain for those games but Finn, who is joining League 1 club Newcastle Thunder on a two-year contract after leaving Wakefield, says Bradford half-back Joe Keyes will be the ideal man to fill the number-seven jersey he has worn in the last three World Cups.
"Physically, to keep doing it in the off season and trying to get yourself fit for the season after, it made sense to finish with Ireland," Finn said.
"I wanted to play another year after the World Cup because for me it's not all about the World Cups.
"And I don't want to put someone under pressure to keep picking me when I potentially won't deserve it. The likes of Joe Keyes can more than comfortably fill that shirt and probably kick on with it again.
"I want to try and do my best for Newcastle. I'm not getting any younger and, if we achieve what we want to achieve next year, then the pre-season after that is going to be really important.
"I'm struggling to keep doing everything I suppose. Something has to give and that's playing for Ireland."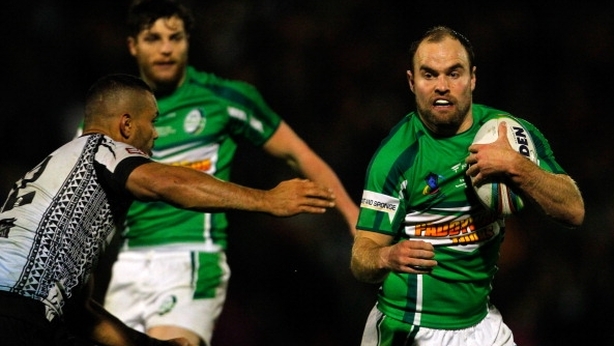 Finn's former Wakefield team-mate Scott Grix, who won his 14th cap against Wales, is also considering calling a halt to his Ireland career as he prepares to make the move to Huddersfield, where he will join the coaching staff.
Littler, however, hopes to talk the 34-year-old full-back into staying on.
"Grix is more of a maybe," Littler said. "He's had an outstanding career.
"Liam's represented Ireland at three World Cups and I can only commend those two boys on their sacrifices.
"They've probably fought a few Super League coaches in their time to come and play.
"I've played in two World Cups with them myself so I know what they bring and what they've brought to Ireland rugby league. If they do both decide to call it a day, they have our thanks."