England have been consulting a dossier of observations from players involved in last year's British and Irish Lions tour in their quest to defeat New Zealand.

The rivals clash for the first time in four years when the All Blacks visit Twickenham on Saturday amid rising expectations after the autumn series was launched with a rousing 12-11 victory over South Africa.

England supplied the largest contingent of players to the 2017 Lions tour and upon their return, Eddie Jones requested suggestions from the likes of Owen Farrell and Maro Itoje on how the All Blacks could be beaten.

With the highly-anticipated fixture that commands ticket prices up to #195 now due, Jones will use the drawn series with Steve Hansen's world champions as guidance.

"When our boys played for the Lions we got them to do notes about what they felt worked and didn't work. We've been going through those notes," England's head coach said.

"We had a meeting with the senior players last night (Sunday) and have a pretty good idea how we want to play against New Zealand.

"The Lions put a lot of pressure on the All Blacks in areas they didn't enjoy and were able to get them off rhythm and off tempo. There's a bit to be learned there.

"You've got to play a certain way against them, there's no doubt about that. There's parts of the game that they enjoy and you want to take them away from them.

"If you're good enough to take that away from them then you've got to be good enough to score points.

"There's no magic formula - it's not like Pythagoras' theorem. You've got to be in the game and, when you get the opportunity to score points, you've got to be good enough to take them.

"Sounds simple but their win rate of 91 per cent shows you it's not simple."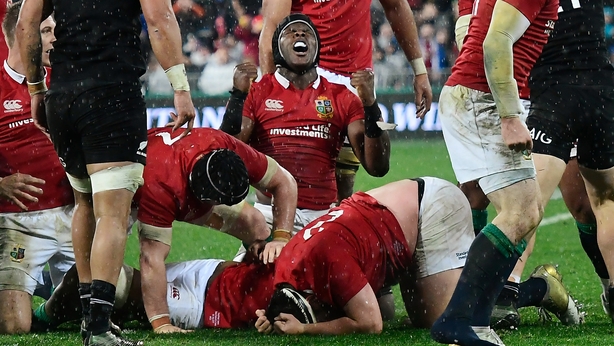 England have additional insight into New Zealand through John Mitchell, the former All Blacks coach who is now Jones' assistant up to the end of the World Cup.

Jones himself experienced plenty of success against the sport's dominant force after compiling a creditable record of five wins from 11 matches as Australia boss between 2001 to 2005.

"When we were successful with the Wallabies we could beat them because we could get to their set-piece, particularly their line-out," he said.

"Since 2011 their line-out has gone from good to being outstanding. So has their scrum and the depth of their players. They're the three areas they've improved the most in.

"They're athletic, fast and skilful. That's what they're brought up on the streets of New Zealand.

"But now they're able to play that tighter game when it's required and that's why it's so difficult to beat them now."

Jones is "cautiously optimistic" that Manu Tuilagi and Courtney Lawes will recover from respective groin and back problems in time for Saturday but Tom Curry appears to be losing his battle with an ankle issue.