Conor O'Shea is the father figure coach who can coax the best out Italy's next generation, according to Jake Polledri.
Back-row forward Polledri will sit out Italy's Chicago clash with Ireland tonight (8pm), the Gloucester star not available with the game outside World Rugby's autumn Test window.
The 22-year-old's family will be cheering the Azzurri at Soldier Field though, as ex-Ireland full-back O'Shea preps Italy against his compatriots.
Polledri should assume a central role in the Azzurri's November clashes with Georgia, Australia and New Zealand - and believes ex-Harlequins boss O'Shea is transforming Italian rugby.
🔵#Italrugby: confermata la formazione che sabato scenderà in campo con l'Irlanda al Soldier Field di Chicago ⤵#IREvITA #insieme #rugbypassioneitaliana #instarugby pic.twitter.com/nyM36i0eCg

— Italrugby (@Federugby) November 1, 2018
"Conor is that father figure for players, and it's huge," Polledri told Press Association Sport.
"You get a phone call from Conor, and it's not like you're speaking to the top man at the federation. It's like you're speaking to a friend who's ringing for a catch-up.
"He's in touch regularly, asking how you're going and if we get into games he's asking about that. He makes sure you know he's watching.
"He's totally transformed the system. But on top of that, he knows his players inside and out and builds really strong relationships.
"He gets to know what they are about, what makes them tick and what makes them play well. He definitely gets the best out of the boys.
"We're not the best side in the world out there at the moment, but there's definite potential. It's going the right way.
"And the amount he's changed it, he's turned it upside down. You only have to look at Zebre and Treviso in the Pro14 for evidence of that."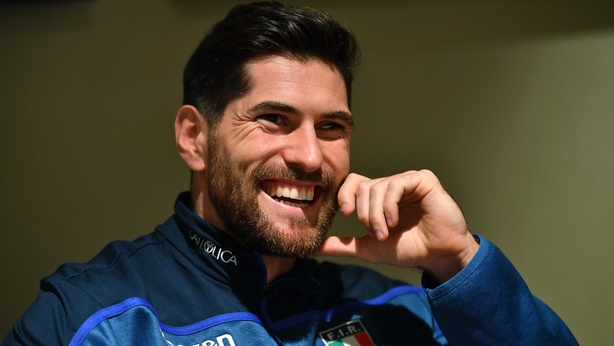 Former Leinster fly-half Ian McKinley will be itching to climb off the bench in Chicago and take on his home nation in Italian colours.
The 28-year-old's tale of reversing his injury-enforced retirement after using special protective goggles is now well told but no less remarkable.
McKinley lost the sight in his left eye in a nasty rugby injury, but was able to relaunch his career in Italy thanks to the goggles that safeguard his sight.
O'Shea resisted the temptation to select McKinley in last term's Six Nations clash against Ireland in what would have proved an emotive homecoming. This time out O'Shea insists the former Leinster playmaker is on the bench on merit.
#TeamOfUs

Here's your Ireland team for #IREvITA @TheRugbyWeekend in Soldier Field.#shouldertoshoulder pic.twitter.com/7mWEJVGqeS

— Irish Rugby (@IrishRugby) November 1, 2018
Polledri believes O'Shea knows exactly what his players need, and just how to deliver it.
He said: "Conor genuinely does know how to get the best out of players. He goes away and finds out those things about his players himself. It's not as though he has someone else doing that for him.
"Because we have such a short amount of contact time as an international team, he's doing so much work around that to really get to know players.
"On tour in Japan I had two or three one-to-ones, just me and him, getting to know what I think I need to improve, and what he thinks. But on top of that, it was more frequent. And you definitely know he cares when he's speaking to you about it."
Follow Ireland v Italy via our live blog on RTÉ.ie/sport and the News Now app.