Munster captain Peter O'Mahony bemoaned a "poor performance" despite his side achieving a bonus-point victory over Gloucester in Thomond Park this afternoon. 
The home side, who were aided hugely by Danny Cipriani's first-half sending off for a high tackle, had the bonus try bagged after 56 minutes when Sam Arnold ran in their fourth try of the game to leave the score at 29-3. 
14-man Gloucester rallied impressively in the latter stages, scoring three tries in the final 20 minutes and one more would have garnered them a losing bonus. 
However, while this wobble was attributed to Munster easing off the gas, O'Mahony insisted that their performance was sloppy through the 80 minutes. 
"(I) thought it was a poor performance," he told RTÉ Sport after the 36-22 win. "Our start bled into our game. We were inaccurate, we weren't decisive enough.
"But on the flip side, it's five points in Europe. It's massive. You need to win at home and five points at home, we'll certainly take that."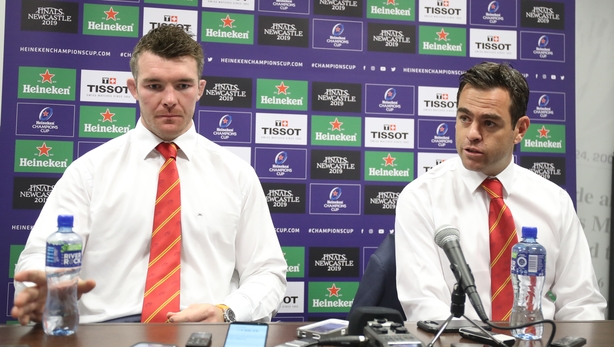 When asked whether he had the final quarter specifically in mind, O'Mahony insisted that Munster were out of sorts throughout the entire game and paid tribute to Gloucester's efforts late in the match. 
"I'm referring to the 80 minutes (not just the final quarter)," he said. 
"Our lineout didn't function. We just didn't get a foothold in the game. A couple of sporadic tries in the game kept us in it. Thought we'd regroup at half time but we didn't really. I thought it was scrappy across the board. 
"It's not something you want to do. But you're playing a quality side like Gloucester. I talked about us not playing well in the first 20 minutes but they put us under huge pressure.
"And you saw some of their skill-set, their ability to throw the ball around and hold the ball put us under pressure. We conceded penalties as a result and found it hard to get out of our territory. It was as much Gloucester playing well as us playing poorly."
Cipriani's sending off after a half hour will probably go down as the game's pivotal moment.
O'Mahony acknowledged that it was a harsh sending off though said the ref probably followed the letter of the law.  
He said: "I thought he was unlucky. There was no intent there.
"But the letter of the law is shoulder contact with the head area and you're in trouble. Again, to be fair to him, I don't think there was any intent there and he was unlucky. But that's part of the game, isn't it?"