All Blacks coach Steve Hansen has made no secret of the way he prepares for the Rugby World Cup and the selection of 19 additional players to join his squad ahead of their Test against Japan next month is the continuation of a long-standing policy.
After the Test against Australia in Yokohama on 27 October, at least 22 of the 32 players in the main squad will head to Europe with the additional 19 players joining the rump of the party in Tokyo to prepare for the Japan match on 3 November.
The additional players, 10 of whom are uncapped at Test level, will then return home while the main squad members travel on to London to rejoin their team mates preparing for matches against England, Ireland and Italy.
The extended numbers give Hansen the opportunity to try out personnel and tactics, as well as get everyone a bit more accustomed to the conditions the All Blacks will face when they return to Japan for next year's World Cup.
"We are trying to simulate as much as possible the conditions we will face from a selection point of view for Rugby World Cup," said Hansen.
"We have two games in Japan that will allow us to simulate the round-robin part of the competition with Australia being first up and similar to what we will get against South Africa in terms of top opposition.
"Then the tour heads to Europe where we get two big games against England and Ireland and then a match against Italy who are part of our pool, so the tour has a lot of benefits from a Rugby World Cup point of view."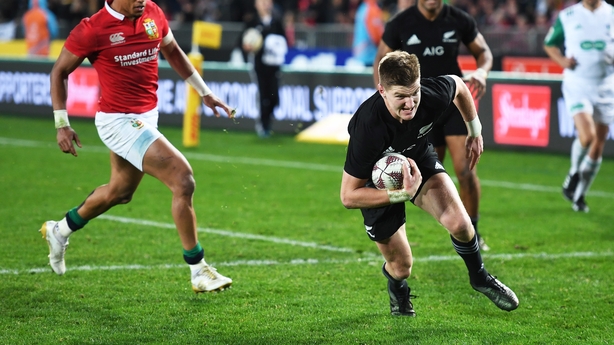 Hansen will also be able to see which players are able to step up to Test level and if they can handle the pressure that comes with playing for the world champions.
This has been a consistent policy under Hansen with the coach routinely bringing uncapped Super Rugby players into training camps ahead of home Test matches.
Hansen has also previously brought along "apprentice" players on end-of-season tours, giving the likes of Ardie Savea and Jordie Barrett [above] the chance to prove they would not be out of their depth at Test level.
Injuries also resulted in considerable turnover for the side last year.
Hansen took 44 players on the end-of-season tour, allowing flyhalf Richie Mo'unga and centre Jack Goodhue to make their All Blacks debuts.
The extended squad named on Monday also gives experienced Test players like Luke Romano and Nehe Milner-Skudder who have slipped down the pecking order a chance to force their way back into Hansen's plans.