The Heineken Champions Cup is back. The Irish provinces are in action from the get-go with champions Leinster opening the weekend against Wasps in the RDS.
I can't see that going any other way than a Leinster win. Wasps like to attack with their star-studded backline but seem to cough up points pretty easily - 153 points conceded in their opening six games in the Premiership. I'm sure Leinster will do a good job of adding to that this weekend.
Leinster's defence won't be affording them the same space as some of the Premiership teams, not with two number 7s on the pitch in Dan Leavy and Josh Van Der Flier. Wasps certainly have the ability to cause an upset but this Leinster team already seems to be hitting its stride and they have the strength in depth with 27 internationals at their disposal to start and finish strongly.
Munster will be fighting an uphill battle away to an in-form Exeter Chiefs side. Everyone knows the struggle that Munster have had with away form this season but they look to have turned a corner in the Aviva last weekend. Their attack seemed crisp and the game was played at a ferocious intensity so it will be interesting to see if they can come away with some points this weekend.
Leicester at Ravenhill will give Ulster a great opportunity to find their feet again. Both sides have had their struggles this year. Ulster still have their injury concerns with big signings like Henry Speight still on the physio table but they should be strengthened with a few players returning, much like Leicester with Manu Tuilagi back to strengthen their midfield.
Ravenhill is a tough place to go to and if the Ulstermen are to be successful this year this is a massive fixture to get them back on track.
The All-Ireland League was back underway last week as well with five Munster and five Leinster teams competing in the top division, showing that the strength of both provinces trickles down to club level.
I left him to our blindside flanker who shouted, 'I've got 13'. Ringrose nonchalantly replied 'no you don't', stepping out of that tackle
I've played enough games in this league to understand how tough the games are and what it can offer to professionals and up-and-coming stars. With the modern era of professional rugby you're never going to get back to the levels of the 1990s and people should stop comparing between now and then, but with a slight restructure and the willingness of the provinces to release more players we should be in for a competitive season.
The league has produced many talents in the last couple of years. You only need to look back to the 2010 AIB Cup final to see the talent on show. Conor Murray lined out for Garryowen that day and is now arguably one of the greatest players in the world. Peter O'Mahony, Lions captain, was on the winning side.
I remember returning from an injury and travelling to Belfield to face UCD with Cork Con a couple of years back. Garry Ringrose was fresh out of school and showed that his hype was justified with a pretty dominant performance.
I was defending the left hand side of a midfield scrum and he stepped inside so I left him to our blindside flanker who shouted, "I've got 13". Ringrose nonchalantly replied "no you don't", stepping out of that tackle and a couple more before being put to ground. He tied the scores with a last minute conversion too to show that he had the nerve to step up to greater heights.
Joey Carbery and Darren Sweetnam contested the UBL final in the Aviva stadium three years ago. Eighteen months later, Joey went on to assist Sweets in his debut try for Ireland vs Fiji on the same pitch.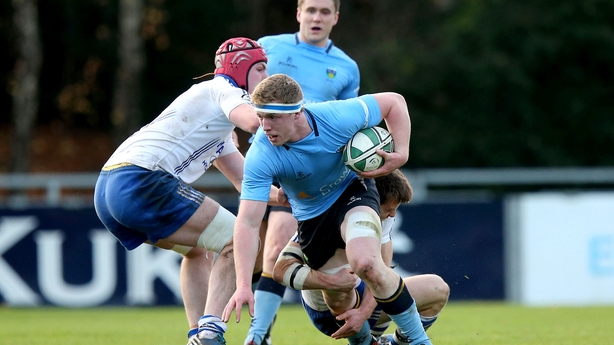 Dan Leavy, Ross Byrne and Andrew Porter all lined out for UCD two years ago. All three of them have Heineken Cup winner's medals already.
Club rugby is vital for the development of these young talents. Playing in a competitive league week-in-week-out develops their skills, game management and conditioning to make the step to the next level.
Most players need somewhere to get games under their belt in a competitive environment, which allows them learn from their mistakes and play in other systems with some unstructured rugby.
I'm not against 'A' team competitions. Young players and more experienced pros returning from injury need to be able to practice their team's system and show the coaches what they are capable of.
Tyler Bleyendaal will return for Munster 'A' from the bench this week and getting a game under his belt is vital for Munster in the next few weeks when Carbery goes back to national camp.
However, 'A' rugby doesn't offer the consistent physical battle on a weekly basis that these players can get from the AIL. Momentum is huge for players. You can't step up to a Pro14 game or into a Heineken Cup squad with limited rugby under your belt.
The academies and senior teams have player management systems for good reason - to manage the work load of these players - but you can't develop as a rugby player without playing rugby. The stop-start nature of the previous 'A' competitions didn't offer enough.
The current structure with the Celtic Cup is great to give these guys a strong start to the season but in two weeks' time that will be over. There will be opportunities for some players when the internationals are away but everyone else will need the AIL.
Returning players will strengthen the club squads and make every game more competitive which can only increase the standard of the league and benefit both club and province.
Friday night rugby is back to with Cork Constitution facing UCC in the Mardyke at 8pm. Who knows, you might see the next Ringrose or Murray.