Munster got another dose of the away day blues against Leinster but will be able to take solace from their best performance on the road this season.
With lame defeats to Glasgow and Cardiff under their belts, the Reds needed to front up against the Guinness Pro14 champions to give them a platform to build upon for next weekend's trip to Exeter.
"There are not a lot of sides that are coming to Leinster's home patch and scoring tries against them and they did," former Ireland hooker Shane Byrne told RTE Sport.
"They put up huge physicality, they can take huge pluses from it.
"Leinster's defence was very impressive on the whole. They put them under pressure and Munster panicked when they had the ball for such a long time.
"It's been strange for [Munster] this year that their away form has been so bad.
"I don't think they were helped by the referee, there could have been two other tries for them in the game if the referee wasn't quite so quick on his whistle.
"They have to take positives out of it that they came up here against the champions of both the league and the cup and they put it up to them at stages.
"The only problem was whenever they got the scoreboard ticking in their favour Leinster were able to come back and get it going again for them.
"That's the little errors immediately after kick off. They are the killers but they are all things that can be sorted out with a week's training."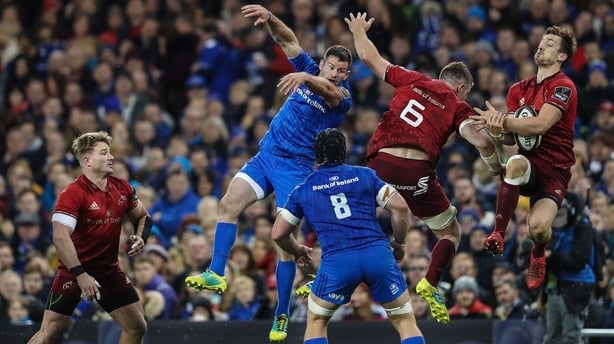 Meanwhile, Peter O'Mahony refused to condemn Stephen Archer after the prop conceded a late penalty that allowed Leinster to close out the tie.
The visitors huffed and puffed on the Leinster line for a five-minute spell, and were unlucky not to earn a penalty try and sinbinning, before Alby Mathewson's converted try got them back to within five points.
However, Ross Byrne, man of the match, immediately pushed the lead back out to eight after Archer was pinged for obstruction.
The Munster captain said: "Yeah, look, it's not ideal but the same player was after coming off the back of a penalty try after five or six scrums.
"These things happen, you know, in the white-hot of a game.
"These are mistakes that I certainly won't be commenting on or giving out about as I've been on the wrong end of them a few times myself.
"They're decisions you make in games [and] that happens. With that intensity there, those things happen."