Bernard Jackman believes the old fire and brimstone surrounding Leinster-Munster clashes has cooled dramatically as a result of improved off-field relations between players.
They clash in a Pro14 derby at the Aviva Stadium this Saturday - with some 48,000 tickets sold - but the crackling rivalry of times past has been watered down.
Rob Kearney has said "there's not the same level of hatred... guys would consider themselves good friends and that wasn't the case 14 years ago".
Jackman agreed with that assessment, and put it down to an improved harmony in the national set-up as well as an increasing apathy from the supporters.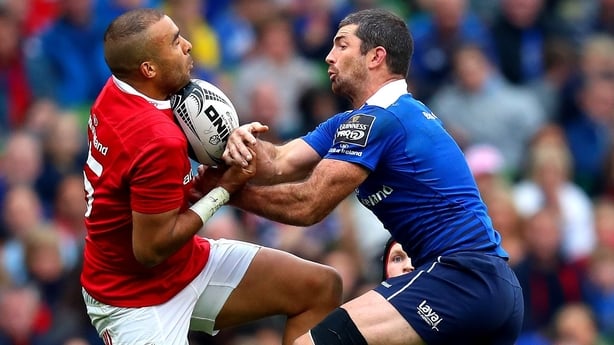 "Rob Kearney has come out and said there isn't the same intensity and hatred and bitterness that there was, that the players are very close to each other in Irish camp, closer than they were ten years ago," he told RTÉ 2fm's Game On.
"That's obviously good for Ireland, and it doesn't seem to be affecting Leinster's ability to win European Cups or Pro14s. But there's no massive edge to it at the moment.
"Listen it'll be a hot and heavy contest but there doesn't seem to be any side angles to it at the moment.
"It goes back to 15, 20 years ago when there was a mindset that there was a Dublin bias towards international selection. All the other clubs, and the players within those clubs, had a chip on their shoulder because they felt they were hard done by.
"Now the selection process is very fair. Joe Schmidt picks the best players, everything is very transparent, everything is analysed to a fine detail.
"The Leinster players are a good bunch of lads as well. The Munster players know them well. The Connacht players know them well. There's no ego.
"The barriers have been broken down through access, familiarity. They're together in Irish camp nearly as much as they are in provincial camp.
"There's no doubt that the Munster players coming to the Aviva will want to create an upset. That jersey will rile them.
"But it's the fans that maybe don't... winning an inter-provincial derby isn't as big as it was.
"Maybe it will take drawing each other in a knockout stage of a Champions Cup to reignite that. Maybe it will take a game where there's something really on the block to whet the appetite of the fans."