The Will Spencer red card for a high hit on Tommy Taylor during the Wasps and Leicester game at the weekend has divided opinion.
From the player's point of view there was no malice in it. It doesn't look like he intended to hit Tommy Taylor high. At no stage did he attempt to make a low tackle either, that's his tackle selection and he's entitled to that.
Also from Spencer's point of view, the Wasps hooker wasn't badly hurt and was able to continue the game until the 62nd minute, which would be considered average for his position.
However, it doesn't matter that the ball carrier wasn't hurt. The referee was quite clear that "... white 5 was always high, it was forceful and it's direct to the head".
If the law took the outcome into account then we'd have more players diving and play acting, which this game has no room for. If you give a yellow card for this tackle then you leave precedence for other high and forceful tackles to be yellow cards.
That's where the inconsistencies that frustrate players, coaches and fans come into it. If the law is there it should be enforced.
If there is mass disagreement, which there isn't in this case, then the issue is with the laws and they should be changed.
Tommy Taylor did dip at the knees as the commentator suggested. I'm pretty sure he's entitled to that when a player is about to tackle him. Would you stand tall and welcome a hit from one of the heavier players on the pitch? I wouldn't.
🗣 "We have a responsibility to tackle low."

"He's 6 foot 7!"

🗣 "We have to protect the players. It's a red card."

"Rugby's changed! Rugby's changed!"

Will Spencer was shown a red card for a high tackle, but not everybody agrees...

We haven't heard the last of this one 👀 pic.twitter.com/ynedwRAflU

— Rugby on BT Sport (@btsportrugby) September 16, 2018
Tommy Taylor isn't a small guy. According to Wasps records he's 6ft. I know players tell a few white lies on these fact sheets but he can't be far off that.
He's not a small player so I'm not sure that's a good excuse for making your first contact on another player's jaw. Surely we should be defending the ball carrier and not the tackler in these situations because he's the one in the most dangerous position.
Geordan Murphy has disappointed me in how he handled the situation. We want players and coaches to be open and honest in post-match interviews.
How many times can you listen to "we're not going to blame the referee, we have a job to do and we're just focusing on next Saturday"?
However, he could have disagreed with the refereeing decision without letting his emotion cloud his judgement. Let's be honest, it wasn't a "really good shot".
If you aim low and get it wrong you'll still make a safe tackle. If you aim high and miss you will get a red card with these laws.
That might seem black and white but in reality you can't aim for the upper chest when tackling. The outcome of the tackle isn't in your control and you'll be the one watching the game from the sidelines.
Paul O'Connell made a great point when asked his opinion on 2fm on Wednesday night. The high tackle law is to protect the tackler as much as the attacker.
We were seeing increased incidences of concussion from a choke tackle focus and coaches need to encourage safe tackle technique by aiming slightly lower on the opposition player's chest.
That's all we're talking about. Not outlawing a high tackle focus, just making it safer.
Will Spencer is a tall guy and it can be difficult to get low all the time but he's always been tall
I do have some empathy for Spencer. I've played in matches where players have been sent off and it doesn't matter what side you're playing on, you feel for the guy if it's a genuine attempt at a tackle.
Spencer is a tall guy and it can be difficult to get low all the time but he's always been tall. And there have always been players of average height. There will be more. So learning to tackle them forcefully but safely is probably a good idea.
The laws can be frustrating and the 'tip tackle' one in particular can feel too harsh at times. When I was growing up and learning the game it was part of how we tackled.
If you had a dominant hit you would finish it by applying more contact into the ground, not aiming for their head of course. But we've seen how wrong it can go.
Some of the aerial battles and tackles where the player's hips go above the horizontal always bring a risk of serious injury and it's not nice to see.
There are other laws that have different directives and players make an effort to change the way they play because of that. How you enter a ruck and poach opposition ball has changed a lot recently and there's always a focus on transferring from a lineout to a maul.
Why are players more accepting of these laws changing and not the ones that make the game safer?
Wasps players will feel they got a small gift from the referee because the advantage of playing rugby with an extra man is huge.
But I'm sure if Tommy Taylor was sitting at home with a concussion on Monday morning he'd be aggrieved with just a yellow card or a penalty. Why should the attacker be the one to suffer in this context?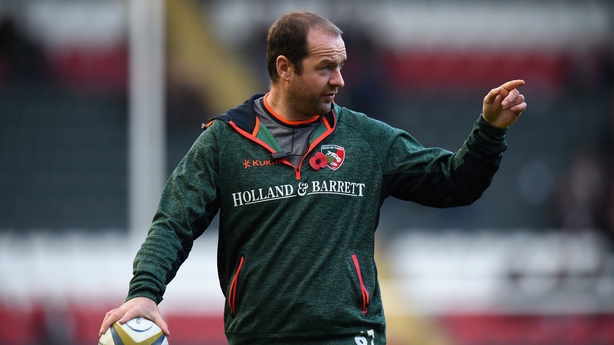 The 'game has gone soft' brigade need to realise what they're campaigning for. A lot of these people are sitting at home not having played the game at a professional level and don't know the level of physicality, or the consequences of injuries on future selection, contracts and careers.
Tom Youngs said it himself. "Game's changed". Yes it has, mostly for the better.
It's gone professional, has much bigger audiences, bigger financial reward and a different view on player safety.
When punching became a penalty as opposed to part of the game it seemed like the game had gone soft too.
It's now widely accepted that you can't punch somebody and get away with it. Would Tom Youngs stand in the way of another Saleesi Maafu punch without calling for a red card?
As fans we need to realise that the players need to be protected. Yes, you'll remember playing a game where punches were thrown and nothing happened. Nobody was injured and everybody got on with it.
There's a difference between most people's experiences at club level and the level of speed and physicality that we see in the game now. It isn't comparable.
Other pros have also had their say on how the game has gone soft but they can play that game if they want.
Maybe it's a backs opinion but I'd much rather see a game where you don't have to accept high, dangerous tackles to play the sport.
Geordan Murphy will learn from this as a head coach. It's great to see some emotion from professionals but not at the expense of player safety.
Read Jonny Holland's Coaching Column every Friday on RTÉ.ie and the News Now app.