Munster coach Johann van Graan believes that South Africa's win over the All Blacks in Wellington at the weekend is good for rugby all over the world..
Van Graan, who left his post as forward coach to the Springboks to take charge of Munster last year, said he was thrilled with his native country's stunning 36-34 win over the World Cup winners.
"I thought it was a great Test match between two great rivals. The good thing to see was how proud the players were afterwards. I think it's not only good for South African rugby but also for world rugby, a great Test match by two quality sides and very, very happy for them," he said.
Ireland look set to face either the Springboks or the All Blacks in the World Cup quarter-finals next year and van Graan knows that clashes between the two southern hemisphere heavyweights — they meet again in his native Pretoria at the home of his former club the Blue Bulls on October 6 —hold a lot of significance for Irish supporters.
His Munster predecessor Rassie Erasmus went in the opposite direction a year and said prior to last week's clash with the All Blacks that he felt his job as Springboks coach was on the line, but van Graan is reluctant to get involved in what's happening back home.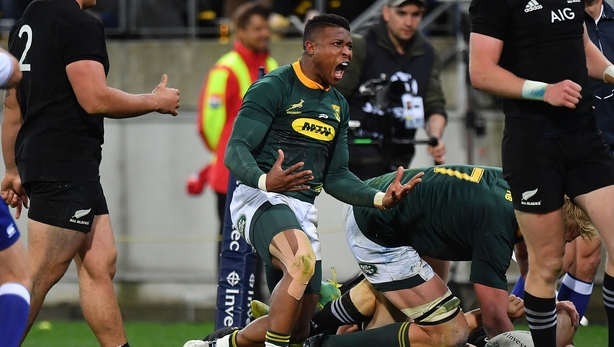 "I wouldn't want to comment on to that. Like I said before I am in Ireland now and I enjoyed the game for what it is. Rassie is a quality coach and I worked with him a small bit in South Africa and I coached against him when I was with the Cheetahs and the Stormers and he is not the national coach for nothing.
"So I wouldn't like to speculate on that, he is a brilliant coach and showed that whilst he was in South Africa and while he was with Munster. Great win for him."
Van Graan said he sits down to watch the Springboks wearing a variety of hats, as fan, a professional coach and an analyst.
"I think a balance between all three. When you go and learn from the game which I like to do and that's from all rugby games — I watch a lot of rugby at the weekends – I never watch that with emotion. You go back to the game and look at individual actions and what certain teams did.
"Saturday morning was nice to watch it as a South African staying in Ireland. I was watching it with my wife and two boys and like I said I have coached all of those players and had been involved in the team for six years and know how big it is for South Africa to win in New Zealand.
"It doesn't happen very often. For South Africa the nation it was great to beat New Zealand and the respect there is between those two rugby nations and when I was part of the Springbok back-up team it was a team I respected a lot," he added.