Geordan Murphy declared rugby has "gone too PC" in response to the controversial red card shown to lock Will Spencer in Leicester's 41-35 defeat by Wasps.

Spencer was sent off for a high tackle on Tommy Taylor as the first-half of an eight-try thriller at the Ricoh Arena drew to a close, with his shoulder appearing to connect with the hooker's head.

Referee Ian Tempest was enforcing the letter of the law as the sport implements a crackdown on dangerous challenges in an effort to address the proliferation of concussion.
🗣 "We have a responsibility to tackle low."

"He's 6 foot 7!"

🗣 "We have to protect the players. It's a red card."

"Rugby's changed! Rugby's changed!"

Will Spencer was shown a red card for a high tackle, but not everybody agrees...

We haven't heard the last of this one 👀 pic.twitter.com/ynedwRAflU

— Rugby on BT Sport (@btsportrugby) September 16, 2018

But in Spencer's defence he stands seven inches taller than Taylor and was dipping down as he made a tackle that has ignited a heated debate just eight days after Bristol's George Smith was sent off in similarly contentious circumstances.

"The game's gone too PC. That for me is crazy, it's rugby. We need to start picking players under five foot," Leicester interim head coach Geordan Murphy said.

"I see the game becoming very, very different to the game I played and loved. From my point of view, it wasn't a red card.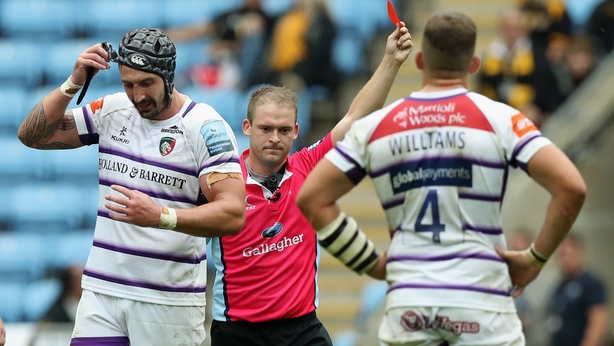 "Tommy Taylor is pulling out of the tackle because he doesn't want to run upright, so his height is dipped. And I thought the first point of contact was on the shoulder.
"It's a really tough one. I didn't think it was a red card - I thought it might be yellow but red has killed the game.

"The TMO was pushing for a red card, saying have a look at it again. It's a bitter pill when the TMO says we have to look at it when all the players, staff and coaches thought it was a good shot.

"It's a collision sport and is a sport for all sizes but what we'll probably end up with is rugby league where everyone is the same height and shape.

"I understand the principle of looking after players, but if that is a head shot then Tommy Taylor stays down and we have a head injury assessment, but he doesn't."
"I think the game's gone a little bit too PC."

"That for me is crazy, it's rugby!"

Geordan Murphy is not having the Will Spencer red card... 👀#GallagherPrem pic.twitter.com/9SaVLa4UTT

— Rugby on BT Sport (@btsportrugby) September 16, 2018

Wasps director of rugby Dai Young had only measured sympathy for Spencer's removal from the game and ironically for Leicester they played their best rugby with 14 men.

"Whether it has to go that way or not, it's clear, that's the law. It's there," Young said.

"We've had the directive that any tackle direct to the head is a red card. It's harsh and I'd have been disappointed if it was on our side, but I totally understand.

"I don't think it's something the referee should be criticised for. If it was a yellow card I wouldn't have complained about it. I hope the player doesn't get banned for it. It's difficult to get that 100 per cent right every time.

"We have to protect the players. The guys who are saying the game's gone soft are guys who are not out there."