It is up to coaches to protect players from concussion by developing better tackle techniques, according to Bernard Jackman.
The ex-Leinster hooker was forced into retirement in 2010 after suffering a number of concussions.
At the weekend, former Leinster back row Dominic Ryan detailed his battle to regain fitness before being forced to retire at the age of 28.
He became the latest high-profile former Ireland player to quit due to a head injury, joining a list that includes Jared Payne, Declan Fitzpatrick, Kevin McLaughlin, Nathan White  and Dave McSharry.
The tackle that Ryan attempted while playing for Leicester against Northampton and that eventually led to his retirement was far from text-book, with his head placed on the wrong side of attacker George North.
Jackman admits that the physicality that players like Ryan bring to the game are what team-mates, coaches and fans love about the sport.
"We laud those players," the Dragons head coach told RTÉ 2fm's Game On.
"They are the guys we want to pick on our team, heroes, it's a way to get to the top of the game.
"We want players who will put their bodies on the line and make that try-saving tackle but that has to be with the safest method possible.
"As coaches and as professional players we need to focus on technique, technique, technique.
"Unfortunately [retirements have] become very common, those horror stories of players really struggling with it.
"It's in the public eye now which is great because before it was hidden. People aren't afraid to talk about it anymore.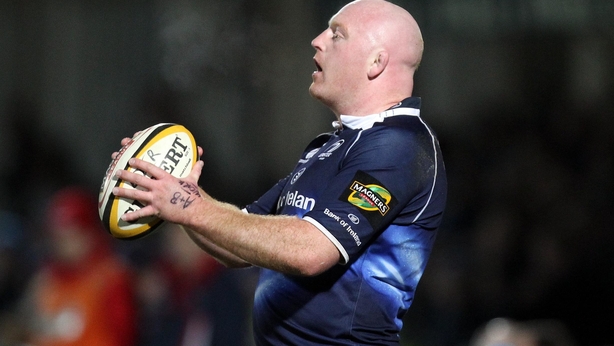 "I was very lucky in that I didn't have massive side effects. I was just getting concussed very frequently, which obviously triggered an alarm.
"It's technique, it's technique under fatigue and we have to accept that because it's a contact sport there will be incidents of concussion and it's how we manage that and look after that player."
A recent study titled 'Head Injuries in Rugby' that was published on the British Journal of Sports Medicine website has shown that the risk to tackler is 4.3 times higher in a legal high tackle (below sternum) compared to a low tackle, and that the tackler is 50% more likely to be injured if upright in the tackle.
Jackman added: "The reason people at the highest level aren't tackling low exclusively is the fear of offloads.
"Because you have so many guys in the front line, if you get an offload there then you've a cracking chance of scoring. The message from defensive coaches is 'ball and man, stop that ball'."
'We're looking forward to having a crack off @leinsterrugby' - @dragonsrugby coach @bernardjackman tells @GameOn2FM 'We've had a good week's prep, we're looking forward to getting stuck in and seeing where we're at. We're not expected to win and there's no pressure on us' pic.twitter.com/180m5t4ZjM

— RTÉ Rugby (@RTErugby) September 13, 2018
Former Ireland international Jackman brings his side to the RDS to face Guinness Pro14 and Champions Cup winners Leinster on Saturday.
"They have so much strength in depth," said Jackman. "They can play any 15 and be more than competitive.
"They are the litmus test for all of us in the Pro14, to be able to play the Champions Cup winners in our domestic competition is a real privilege."