Ronan O'Gara has said he is "hugely humbled" to be inducted into rugby's Hall of Fame.
The former Munster and Ireland out-half was speaking at an event in the town of Rugby in England as he became just the 12th Irish man to receive the honour.
O'Gara, currently a coach with Super Rugby side Crusaders in New Zealand, won 128 Ireland caps, toured with the Lions on three occasions, and helped Munster to Heineken Cup victories in 2006 and 2008.
The highlight of his spectacular playing career was landing the Grand Slam-winning dropgoal for Ireland against Wales in 2009.
The former Racing 92 coach recalled fondly his early years with a slight lament for how kids grow up today.
"In our generation there wasn't many distractions," he told World Rugby. "Sport was what happens."
"When Wimbledon was on we used to get a skipping rope and put it across the road and chalk out the [lines].
"We'd Gaelic football in Ireland, tennis, pitch and putt, so there was all kinds of sports.
"It didn't necessarily have to be rugby to shape you.
"You get great values and sporting ability from [most sports]."
Throughout an international playing career that lasted from 2000 to 2013, O'Gara scored 1,083 points, and is the Six Nations' all-time top scorer with 557.
Ronan O'Gara, Stephen Larkham, Liza Burgess, Bryan WIlliams and Pierre Villepreux. These five player's were truly great. take a look at some of their best moments #WorldRugbyHOF pic.twitter.com/hmiFhlIv0S

— World Rugby (@WorldRugby) September 12, 2018
"It's pretty spectacular, it's hugely humbling [to get this honour]," said the 41-year-old.
"I really enjoyed the journey, I was lucky that I was injury-free for a lot of it.
"No, it definitely wasn't on the radar [as a young player].
"Every young boy dreams of playing for their country for the first time. It's amazing though, when you get into it you become overpowered with such positive thoughts.
A nice photo from today. Thanks to all the people who made this possible.#WorldRugbyHOF pic.twitter.com/P7wkgw9y2e

— Ronan O Gara (@RonanOGara10) September 12, 2018
"It's a great day for me and my family obviously but also [my] primary school, secondary school, Cork Constitution, Munster, Ireland, the Lions, Racing, Crusaders.
"A lot of people made me get here and I'm smart enough to realise I played a team sport and had some awesome packs of forwards in front of me that made me look good.
"I'd be thinking about them boys, especially one or two guys who aren't with us.
"The [2009] Grand Slam was the final result of a lot of hard work.
"I think we'd been second in the championship four times previously to that so someday it's going to happen, you just have to keep believing.
"It was more the way it happened, it was extremely dramatic, I think people associate with that."
Here they are, your five newest inductees to the World Rugby Hall of Fame.#WorldRugbyHOF

Stephen Larkham - #138@RonanOGara10 - #139
Pierre Villepreux - #140
Bryan Williams - #141@bird_burgess - #142 pic.twitter.com/s5FHIVkpEe

— World Rugby (@WorldRugby) September 12, 2018
O'Gara, who helped out Ireland as an assistant coach on last year's summer tour of the USA, added that while the 2009 generation was a special team, the current crop are a step ahead.
"We'd been an honest team and the boys nowadays have kicked it on to a new level," he said of Joe Schmidt's side, who won the 2014, 2015 and 2018 Six Nations titles.
"That happens in sport, you get better if you keep a great attitude.
"There were 61 years that Ireland hadn't won a Grand Slam until 2009 and look at the national team now."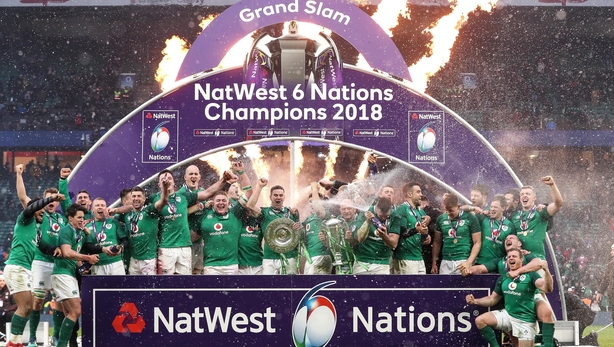 Liza Burgess (Wales), Stephen Larkham (Australia), Pierre Villepreux (France) and Bryan Williams (New Zealand) were also inducted.
O'Gara joins Brian O'Driscoll, Keith Wood, Willie-John McBride, Basil Maclear, Fergus Slattery, Tom Kiernan, Ronnie Dawson, Mike Gibson, Syd Millar, Tony O'Reilly and Jack Kyle as Irish inductees.