We should know better at this stage, we really should.
Despite having sent some 'golden generation' teams to the various World Cups over the years, the semi-finals are a friend Irish rugby has never met.
We have both classic (2007) and recent (2015) examples of chicken-counting based on the egg numbers in a particular basket yet we find ourselves on repeat mode ahead of Japan 2019.
Yes, it's dangerous to start plotting a path to the final, but... should Ireland win Pool A (Japan, Scotland, Russia, Samoa) and results in the other pools go as expected then it's South Africa in the quarter-finals, Australia in the semi-final and New Zealand in the decider.
There is an overarching sense that merely making it past the quarter-finals, for the first time, would be disappointing.
On the other hand, getting to a final might feel like a victory of sorts.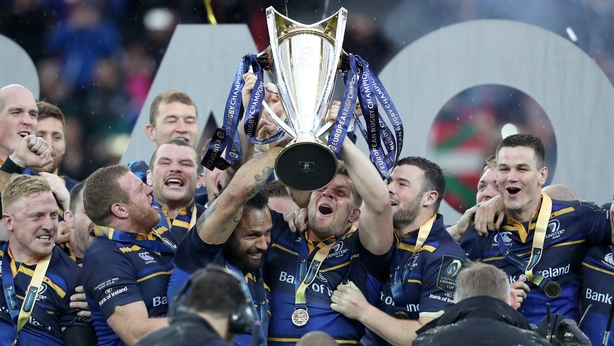 If it came to pass that Ireland reached the decider and fell to an awesome All Blacks outfit, then a noble defeat could be shaped into a moral victory. So many chickens.
Preceding all that is a club calendar where Leinster will attempt to retain their Champions Cup and Pro14 titles, Munster will aim for a trophy of some calibre, and the national side are unlikely to consider anything less than the Six Nations crown.
And far from calming the narrative, the players themselves are jumping onboard. They believe.
But the difference this time from the previous years is that the optimism that's creeping in has been underpinned by massive success on the field.
On the back of the glories of 2018, the Irish players have become greedy and see no reason why that can't be repeated.
There's a World Cup in just over a year's time. Can they have it all? Put simply, yes. Is it simple? No.
Sean O'Brien, the 31-year-old Leinster and Ireland flanker, had to look on last season as his team-mates loaded up on silverware and gives off the sense that those gaps on his mantelpiece are getting on his nerves.
Like being asked to pick a favourite child, O'Brien won't single out any one trophy over another.
"Of course it's [possible to win it all]," he says, "but you need a bit of luck on your side to have everyone fit and to go the whole way.
"I believe we can [win the World Cup].
"I think we have a squad of players to definitely go further than we've gone in previous years. It's building nicely as well in terms of younger lads coming through again, a great mixture of youth and experience already."
Tadhg Furlong: "Why not?"
History tells us it's not easy, but it is doable.
One man who knows what it takes to take all that counts in one season is Victor Matfield.
The legendary Springboks' lock won Super Rugby with the Bulls in 2007 before helping South Africa to the World Cup title a few months later, beating England in the final.
Matfield, speaking to RTÉ Sport, subscribes to the theory that success builds upon success.
His story, and that of the Bulls, has an uncanny likeness to the path that Leinster are on.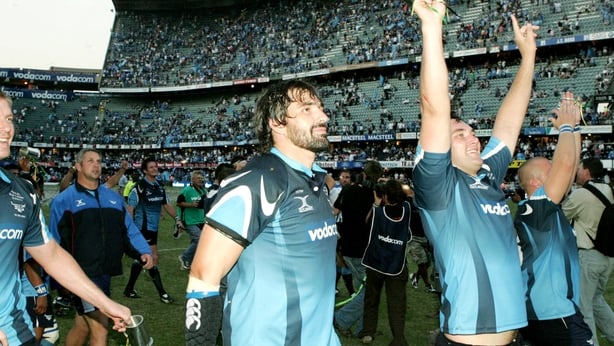 "What we've seen in the past is when you've got a very strong club team that dominates international competition, it's so much easier to just take that into international season because most of the time that team will be the core of the national team as well," says the 41-year-old, who retired in 2016.
Fourteen Leinster men played in Ireland's Grand Slam win over England at Twickenham.
Beyond what happened in the lead-in season, Matfield traces the origins of their 2007 Webb Ellis win back to a 2003 get-together.
He recalls: "It started the first time we walked into the board room with the Springboks.
"On the white board, [coach] Jake White wrote: 'We will be World Champions 2007'. For four years we worked for that.
"I think the Bulls' success in that time, two semi-finals in Super Rugby and winning Super Rugby in 2007, just gave us that extra motivation where we really knew, 'Listen, we're the best team in the world at the moment. We're beating the New Zealanders at club level every weekend'.
"We had the Bulls and the Sharks in the final that year. We went into the World Cup knowing we'd beaten the All Blacks regularly and if we play well we should be them [and] we didn't even play them in the World Cup.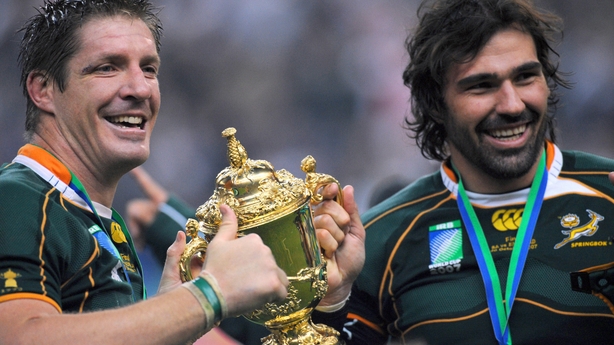 "Our confidence was so high, I think that showed against England in the group stage as well, we really through we were the best team in the world at that stage."
Matfield, who won 127 caps, also admits that that year's Tri-Nations fell down the pecking order.
There was a conscious decision that the away leg of that tournament, against New Zealand and Australia, would be sacrificed for a bigger goal.
"We actually kept our 15 best players back home and for two weeks we did a lot of hard work," he said.
"It was also just getting together in an environment where there was not a lot of stress, where there's not all that expectations so we could just really focus on what we wanted to do at the World Cup, get things in place and make sure everyone bought into the plan."
We need your consent to load this Instagram contentWe use Instagram to manage extra content that can set cookies on your device and collect data about your activity. Please review their details and accept them to load the content.Manage Preferences
Asked last year about the possibility of using a Six Nations window as a stepping stone, Joe Schmidt said: "I would pay the utmost respect to the Six Nations. That's our tournament.
"It's got a lot longer history than the World Cup, which is really Johnny-come-lately.
"And while it takes the overall precedence, the Six Nations is such a phenomenal title to get and it's so tough."
With a Grand Slam in the bag, will Schmidt now engage the "overall precedence" protocol?
Is it even possible to use a tournament that ends six months before the World Cup as a sounding board?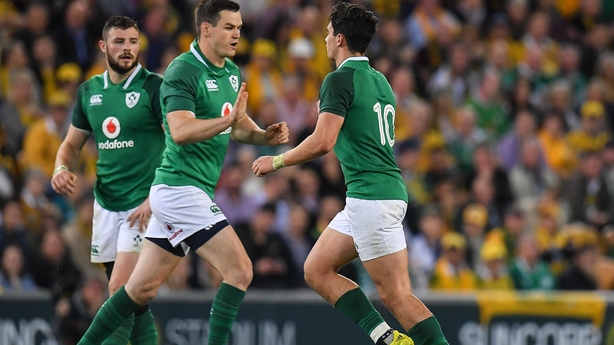 How about starting Joey Carbery against England in February, leaving Johnny Sexton on the bench?
"I don't think that will happen," former Ireland international and Dragons coach Bernard Jackman tells RTÉ Sport.
"He definitely won't be taking any liberties in games.
"What you'd hope is that Joey Carbery, for example, now being a legitimate option for him because of his form rather than a token game but I think the Six Nations will be treated just as importantly as before.
"You look at the joy that team got from winning the Six Nations, that's huge in itself.
"They are not going to put something like the World Cup above the joy and sense of achievement you get from winning a Six Nations...so I don't think there'll be any easing off on short-term pressures with a World Cup in mind."
A certain pattern is emerging. Now even the games in the upcoming November series - against New Zealand and Argentina - won't be viewed as matches where experimentation is an option.
Jackman adds: "The more you win, the more likely you are to win again.
"All successful teams are underpinned by players who are serial winners, it's only an advantage."
Matfield reckons that Ireland are on course to put it up to Steven Hansen's back-to-back champions.
"Ireland is a very good team," he says.
"New Zealand must be the number one team. If you look at them they just do everything so good. Ireland, the next team (in rankings), is the same.
"There isn't really things that you say, 'yeah, this is special, that is special', they're just so good at doing the [simple] things so well.
"I think they can really be competitive. They've got a great coaching staff under Schmidt, they've been together for quite a few years, the same group of core players, the same management.
"I think they can be a real threat for New Zealand."
Talk like that from someone as experienced as Matfield serves to whet the appetite.
There's a long road ahead but such is the confidence flowing through the Irish bloodstream there's a feeling that a lot of these eggs might just be all right.