It was a case of so near and yet so far for Munster last season.
Twice they made semi-finals, twice they lost. Racing 92 in the Champions Cup and then Leinster in the Pro14 were too strong for Johann van Graan's men, who had to watch their provincial rivals go on to lift both trophies.
It led to a period of reflection in which players and coaches asked some difficult questions. They'd been good, just not good enough.
More was required, so assistant coaches Felix Jones and Jerry Flannery were sent to the Hurricanes and the Crusaders respectively to observe their coaching methods and philosophies. Van Graan spoke to experts in several sports and everyone embarked on an active drive to find the extra per cent needed to end their wait for silverware. The 2011 Magners League is the last piece of tin Munster snared.
"We as a squad had a big sit-down after the semi-final exit [to Leinster] at the end of last season and we spent all week looking at all parts of our game, on and off the field," Van Graan told RTÉ Sport's Michael Corcoran.
"We've got a vision of where we want to go - it was about figuring out exactly how we're going to get there.
"I met up with a few coaches I respect across the world in different sporting codes. Jerry went to the Crusaders, Felix went to the Hurricanes. There's certain things that we believe they do well that we want to explore and possibly use.
"We looked across all different sports, all different mindsets - what's the best recovery?; what's the best for keeping your body weight the same?; what's the best for sleep?
"The hunger is there. It's about channeling that hunger in the right direction to get us over the line in the end."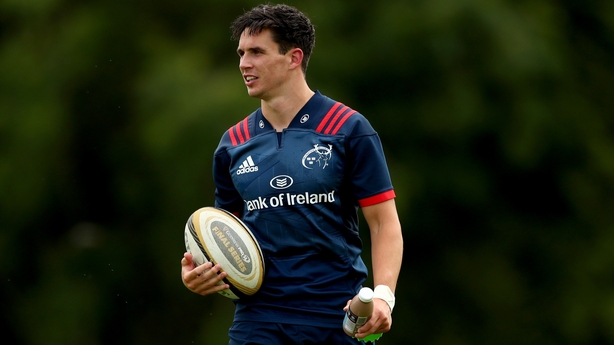 New faces were brought in over the summer to strengthen the panel. Joey Carbery, Tadgh Beirne and Mike Haley are all formidable talents who, says Van Graan, "add value".
"We've got to improve as a squad. We are very proud of the two semi-finals we got to last year. The last two seasons I believe we've done well but the hunger for success, to take the next step, is even bigger.
"The most important thing we've learned is that if you focus on a trophy you might never get there. You've got to consistently perform throughout the season to get yourself into a home semi-final spot.
"The most successful team in Europe last year [Leinster] had two home semi-finals and won both. We had two away semi-finals and lost both. You've got to earn that home semi-final.
"We believe by lifting each other we will rise together. We have such a belief in what we do; it's about going out to prove it one the field.
"If you're too comfortable I don't think you grow. You've got to become comfortable with the uncomfortable."
It's been a hell of a few days for the county of Limerick. Their hurlers ended a 45-year wait for Liam MacCarthy with a nerve-shredding defeat of Galway in Sunday's All-Ireland final.
It sparked an outpouring of emotion and jubilation, with Van Graan fascinated by the sport and the culture.
"I watched semi-final [against Cork] from my home and I couldn't believe the skill level and the type of game these players play," he said.
"I'm obviously proud for Limerick to win it. The thing we can take out of it as a Munster squad is that hunger to succeed. I've been hugely impressed by the hurling.
"It's so different to what I know. It's something Ireland can be very proud of."