Stuart Olding is grateful for the welcome he has received from his new club Brive as he rebuilds his rugby career following is sacking by Ulster and the IRFU.
Olding played his final pre-season game against Connacht on Saturday before Brive, now coached by former Ulster and Ireland lock Jeremy Davidson, open their ProD2 campaign away to Bayonne on Saturday night.  
That will be Olding's first competitive match since suffering an ankle injury against Ospreys in April 2017.
He was suspended, along with Paddy Jackson in July last year, after they were charged by the PSNI.
The two players had their Ulster contracts revoked in April this year following an IRFU and Ulster review which was conducted after the Belfast rape trial in March.
Both men were acquitted in March of raping a woman in June 2016.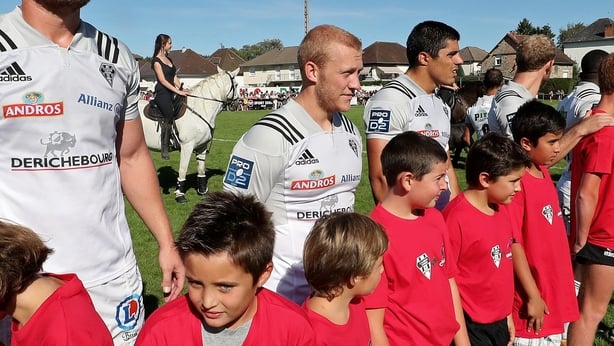 Olding is obviously reticent to talk about the trial but is relieved to be back playing rugby and is grateful to Brive and Davidson for giving him the chance.
"It's been a blessing to get back out onto the pitch and get back into a team," he said.
"I am very, very thankful to Brive for that. They took me under their wing and I settled in very well and I just want to repay them for that.
"I settled in a lot quicker than I thought. Coming over, moving over to a new country and everything was exciting but quite daunting as well. Not knowing anyone in the team apart from knowing of Jeremy Davidson back home. He had just left Ulster as I came into the academy that year.
"But I settled in within the first week here. And that's down to the guys here. They are all very helpful to me, very kind to me, showed me the ropes, showed me around town. Settled in excellently well," added Olding, who won the last of his four caps in South Africa two years ago, having made his debut against the USA in 2013.
Brive, who beat Leicester Tigers to win the 1997 Heineken Cup but who have lost all four Top 14 finals they reached, have alternated between the two divisions in recent years and are under pressure to bounce right back after finishing bottom of the table last season.
"There are 16 teams in ProD2," added Olding.
"We have a game every four weeks and then a week off, which is nice to let the body rest a little bit. I just want to play as many minutes as I can this year. I missed a lot of rugby through injury as well last year.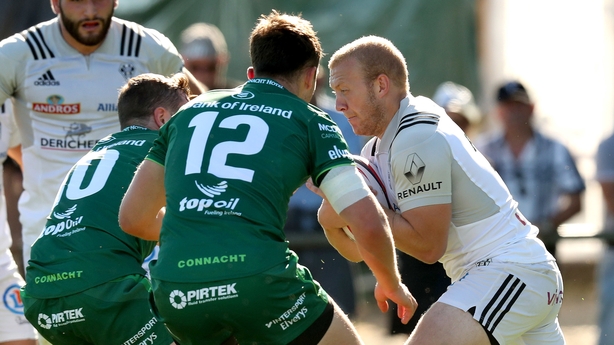 "We have put ourselves under a lot of pressure to get promotion as well. That is definitely the aim. We are not just going to try and survive in the ProD2. Our aim is to get back up to the Top14."
His form in the pre-season games has been solid and he impressed, especially in defence, at inside centre in Saturday's 33-24 loss to Connacht in Pompadour.
A versatile player who chalked up 58 appearances for Ulster from his debut in 2011, Davidson has been using him in the centre and at out-half.
"I have been moving in, Matthieu Ugalde and I have been swapping about. He has been going to 12, I have been at ten and vice versa. A little bit of full-back. Not much has changed from where I came from in Ireland.
"But I am enjoying it. It's nice weather to play in and good running rugby."
Olding said he is not looking beyond his two-year contract with Brive but he was made aware of the comments by David Nucifora, the IRFU performance director, who said in June he wasn't ruling out a possible return to Ireland for Jackson and Olding at some point.
"It was one of the guys actually showed me it. I didn't actually even hear about it.
"He showed me it. Who knows what will happen in the future? But I have signed here for two years and I plan on putting my full effort in here and who knows," added Olding.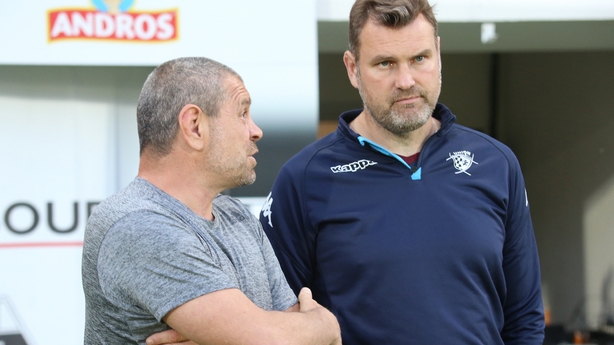 Coach Davidson believes Olding will be a big success in France.
"Stuart has been really, really good. We have looked at him at ten, we have looked at him at 12. He has fitted in really well. He has made a real effort to speak French.
"He is enjoying himself here, out of the limelight. Hopefully he will continue on and keep getting better week by week," he said.
Davidson said that it was important that Olding, like all overseas players, learned to speak French.
"Whenever you go anywhere it's important that you try and do your best, to be an integral part of the team. All of the players that have come this year thankfully have been working hard."
The club organises French classes for foreign players and Olding admitted learning the language has been the most difficult part of his move to Brive.
"I got a D in GCSE French. That's the height of it. But the guys are very good. All of the French guys here speak English to me and I try to reply in French to them a lot of the time. They appreciate that as well," said the 25-year old former Belfast Royal Academy pupil.
He has learned the key rugby phrases in French and has adapted to using them in games.
"That is what you have to do for learning the relevant plays. The plays are okay, you learn the actual phrases to use. Everyone knows those.
"Going out for coffees with the guys, I want to go out and learn the language. I don't want to go out and sit by myself. I want to go out and enjoy myself. You pick up bits and bobs and guess what they are talking about. You pick up a couple of words and then you reply. It's going well."