Mike Brown has no remorse over his angry response to the England fan who verbally abused him after Saturday's defeat to South Africa in Bloemfontein.

Brown took exception to the supporter's expletive-laden criticism of his effort levels as Eddie Jones' men collapsed to a fifth successive defeat that has placed the series beyond reach with the final Test to be played on Saturday.

The same fan had already insulted Joe Marler as he walked down the tunnel - the Harlequins prop reacted with some profanities of his own - before Brown was also targeted.

"I had a 'supporter' leaning over and say in certain ways that I wasn't trying hard enough. I just told him to shut up and walked off," Brown said.

"He was an England supporter. He had a flag and kit and all sorts. He had the full gear. I was very happy with my reaction - I'm not a robot, I'm a human being.

"I told him to shut up like I would tell anyone if they said something like that. It's rude and way off the mark.

"I've come in for a bit of criticism but I'm on 71 caps now - it would be nice to get a little bit of respect sometimes. I'm the most capped full-back in English rugby.

"It would be nice for people to see some of the unseen work I do apart from scoring tries.

"He can say he doesn't like me as a player and he doesn't think I can do this, that or the other - that's fine, that's his opinion - but don't ever say I'm not trying because people can see how much I put in on the field.

"Even if I make mistakes or don't play very well, there's never a game in my career where I haven't put 100 per cent effort in. I don't think anyone could ever say that about me."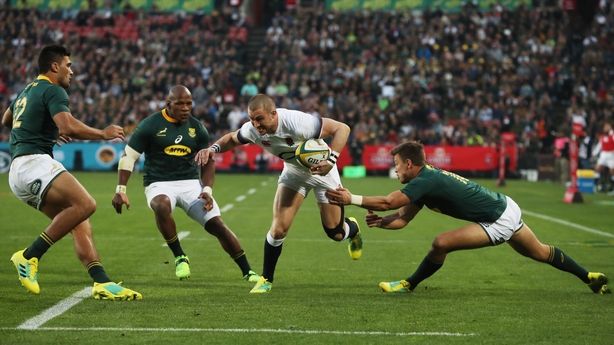 Brown, the Harlequins full-back who has played on the wing in the first two Tests in South Africa, was an odd target for the abuse given that - alongside Jonny May - he has been England's most productive threequarter on the tour.

The 32-year-old has deleted his Twitter app due to the attention he received from online trolls.

"I don't use Twitter because it's not really feedback that you get - it's abuse. That's off my phone. I don't entertain that sort of thing any more," he said.

"Some people are more thick-skinned and they can take it. You just have to deal with it the way you want to deal with it."

The ongoing losing run has prompted Warren Gatland to declare his Wales team, who have just completed a 2-0 series win in Argentina, are "poles apart" from England, but forwards coach Steve Borthwick has dismissed the claim.

"I respect Warren as a coach and he can have his opinion, but ultimately we went to Argentina last year and won 2-0," Borthwick said.

"Our recent record against Wales is a good one and it's only a short time ago that we beat them.

"I'll concentrate on England and if he wants to comment on us, that's up to him."