Scotland 45-29 Ireland
Ireland will face a relegation play-off next Sunday in Beziers after going down by six tries to four in the semi-final for 9th place in the World Rugby U-20 Championship.
Ireland looked set for victory when they raced into a 14-3 lead after 23 minutes but by half-time they were 24-17 adrift.
Scotland pulled away in the third quarter to seal their first win of the campaign and condemn Ireland to their fourth loss in a row.
They are now set for their lowest ever finish in the eleven years of this competition and will be relegated to the World Trophy competition next year if they don't win their final game against either Georgia or Japan.
Such a scenario seemed highly unlikely when Ireland dominated the opening quarter and executed everything with precision.
Harry Byrne finished off the opening try after ten minutes and centre Peter Sylvester got in for a second after a neat grubber from Byrne.
But Scotland hit back and tighthead prop Finlay Richardson got over for two tries in eight minutes to lead 17-14 and winger Logan Trotter pushed that out further with a try before the break with Ireland scrum-half Hugh O'Sullivan in the bin
Byrne pulled back a penalty before the interval to leave it 24-17.
Ireland needed to respond after the restart but the mistakes continued and Scotland extended their lead to 31-17 when replacement Guy Graham got over.
Any hope of an Irish comeback was ended after 58 minutes when Kyle Rowe got in for their fifth try.
Ireland never gave up and Tommy O'Brien scored in the left corner four minutes later and then Jack Daly had the final say eleven minutes from time but by then Scottish No.8 Devante Onojaife had got in for their sixth try with Irish skipper Caelan Doris binned on another very disappointing day for Noel McNamara and Paul O'Connell's men.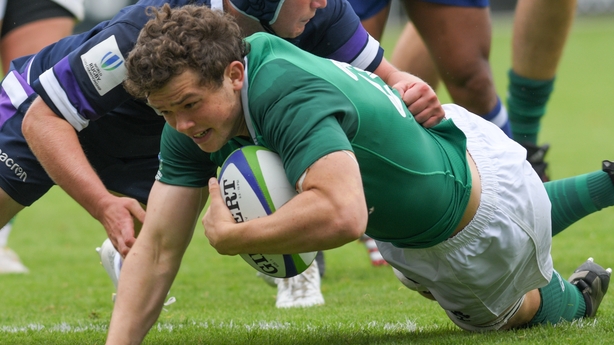 Scotland: P Dewhirst; L Trotter, C Hutchison, S McDowall, K Rowe; C McLelland (R Thompson 73), C Chapman; S Grahamslaw (R Dunbar 62), R Smith (F Scott 62), F Richardson; J Hodgson (C Jupp 78), M Sykes; M Hughes (G Graham 11), R Darge, D Onojaife.
Ireland: M Silvester (Leinster) (T Roche (Leinster 76); J Hume (Ulster), S O'Brien (Leinster), P Sylvester (Munster), T O'Brien (Leinster); H Byrne (Leinster) (C Dean (Leinster 58), H O'Sullivan (Leinster) (J Stewart (Ulster 63); J Duggan (Leinster) (B O'Connor (Munster 50), D Barron (Munster) (D Sheehan (Leinster 50), J Byrne (Leinster); M Dalton (Ulster) (C Ryan (Leinster 58), J Dunne (Leinster); J Dunleavy (Ulster), M Agnew (Ulster) (J Daly (Munster 60), C Doris (Leinster).
Referee: Egon Seconds (South Africa)