Ireland's starting outhalf Joey Carbery acknowledged that their opponents had a real edge about them in Brisbane tonight but vowed that Ireland would improve ahead of the second test.
Carbery made his debut start at 10 for Ireland but the side slumped to their first defeat in 15 months as they succumbed to a powerful and hungry Australian outfit.
The new Munster fly-half, who was called ashore after an hour, was himself on the end of a shuddering first half hit from opposing captain Michael Hooper but groggily returned to his feet after a minute or so.
Speaking to RTÉ Sport's Michael Corcoran afterwards, he said the Aussies aggressive line speed in defence posed problems.
"It was a tough night, really. There were a few opportunities that if they'd have gone a different way, we might have come out on top.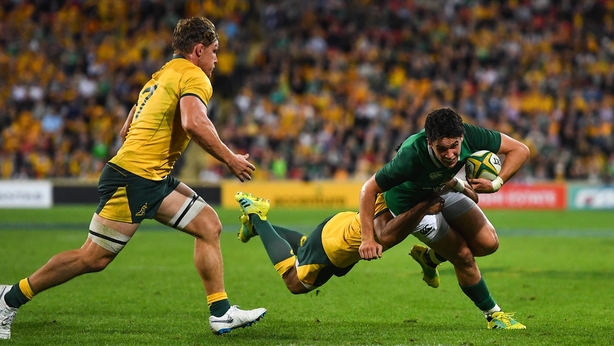 "There was a few big hits coming in from them. They were flying off the line at everyone today. They had a real edge about them. We'll learn from that and try and get something different next week.
"Once you get over the soreness and get your breath back, you just want to get back up and see what's happening and get back in the game. It was pretty sore one I must say."
The dressing room afterwards was a gloomy environment and Carbery is certain Ireland will deliver a sharper performance next weekend.
"We played some good rugby today. We were in their 22 a good bit. We had a lot of territory. Just a few things didn't go our way. There was a few things here and there that didn't go our way. Look, all we can do is control what we can control.
"They're a very strong outfit. But the feeling in the dressing room afterwards was that we're not happy with that. So, there'll definitely be an improvement.