Ireland head coach Joe Schmidt insisted that Joey Carbery was already in his thinking to start at 10 against Australia but added that the news of his move to Munster helped to cement his place there.
Schmidt had always been expected to shuffle his pack at some stage in the tour but the fact that Carbery starts in the opening game of the tour is a move that has caught many off guard.
Carbery has struggled to dislodge Jonny Sexton at Leinster and last week confirmed that he would be moving to provincial rivals Munster in order to get more game time in the out-half position.
The Ireland coach last week revealed that he was surprised by Carbery's decision to make the move South, but it's one he's fully behind and he's pleased to see the Munster-bound man resolve his future.
Explaining his selection decision, Schmidt told RTÉ Sport: "It was probably last week in the back of our mind and since then there have been a few changes. When guys came into camp we just tried to check how they were travelling and who would be benefit from what.
"One of the things probably was that when I'd last spoken to Joey Carbery, he was going to stay in Leinster. We thought we'll try to give him this opportunity to play at 10.
"When he told me last Wednesday morning that he was going to Munster, I said to him; 'I thought you were going to stay'. He said 'so did I'.
"We had already decided to give him an opportunity in this first test so we thought we may as well run with it now.
"We've got good people around him and he's a good person and a good player."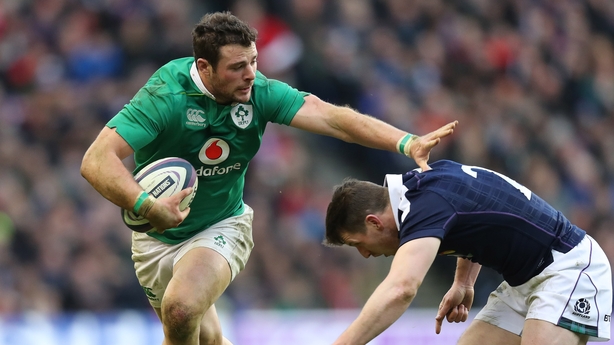 Scmidt is confident that Carbery will have protection in the out-half role against Australian and pointed to both Robbie Henshaw and Bundee Aki as the men who will be tasked with helping him out.
"One of the challenges we set for Joey is that he's got to boss it," he said. "He's in that pivotal link for most of what we're doing so he's got to boss that.
"At the same time we've challenge Robbie and Bundee to help him as best they can because if they can do a little bit of that work for him and take a little bit of that pressure off him, I think it's going to be advantageous for Joey. It'll free him up to act rather than to think all the time."
Rob Herring was also a surprise inclusion in Schmidt's team as he was preferred to Sean Cronin, while Munster's John Ryan is another player that the Irish head coach is taking a gamble on.
Schmidt is confident both players can deliver for him and has no worries about how they'll fare against Australia.
"It's a really big day for Rob Herring and we're really excited to see how he goes," he said. "Maybe that would have been a bit different had everyone been available but it is what it is now.
"Sean Cronin put together a really super back end to the season but he was really involved week to week with Leinster in those big games and having some really fantastic performances.
"It's a great opportunity and a great opportunity for John Ryan. I'm really excited to see him get out there and he's just been a really willing worker this week.
"I do think it's an investment in John and he's very conscious that there's pressure there."