Australia's home series against Ireland next month will provide an idea of how much progress the Wallabies have made since they were swept 3-0 by England in a similar series in 2016, coach Michael Cheika said.
Cheika has blooded 20 new players in the test arena since Australia finished runners-up at the 2015 World Cup and will be hoping to see that young talent blossom in June.
Ireland, who will arrive after winning the Six Nations with a Grand Slam as England did two years ago, will provide formidable opposition, the former Leinster coach believes.
"Grand Slam champions then, and how we were changing the team around, and where we are now, with Grand Slam champions coming now, I think it is a good gauge," he told reporters in Sydney.
"It's going to be tough," he added. "But we're looking forward to putting ourselves up against a contrasting style of play.
"They are obviously very well coached, they've got a clear and coherent plan they want to deliver and they deliver that plan every week.
"That's what's got them to number two in the world and it's a place that we'll be looking to cut them down from when they come over here."
Cheika, who will name his squad next Wednesday, said his team would be looking to play Australia's traditional brand of running rugby, reduce their penalty count and up their work rate in the three tests in Brisbane, Sydney and Melbourne.
The Ireland squad will also be named later today.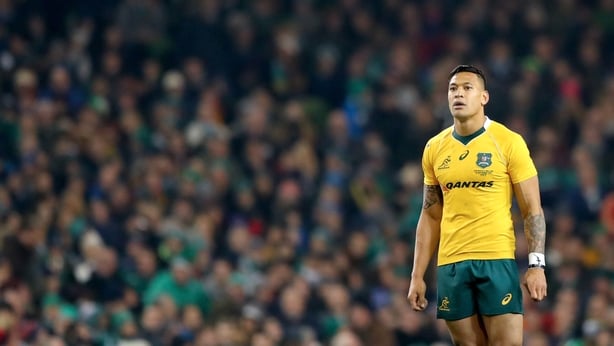 He was confident injured scrumhalf Will Genia would be ready to go even if he did not manage to get a Super Rugby match beforehand, adding that winger Taqele Naiyaravoro was under consideration despite committing to Northampton for next year.
Never one to buy into the doom-mongering that has surrounded rugby Down Under over the last couple of years, Cheika was cautious in welcoming the New South Waratahs ending Australia's 40-match Super Rugby winless streak against New Zealand teams.
"I'm always about more than one (win)," he grinned.
"It was nice to have a win. It's good that people are happy about it and if that's the result, we've got to make people happy more often."
Cheika said he did not anticipate any problems from Israel Folau's forays onto social media after the fundamentalist Christian fullback was recently criticised for saying homosexuals would go to "hell" if they did not "repent".
"I don't believe it's going to be an ongoing issue because I don't believe it's going to be ongoing," said Cheika.
"So, that's that and let's get on with the footie.
"He wants to play the footie he's been playing for the last few weeks, which has been awesome."