Johnny Sexton has been there and worn the t-shirt, but Leinster's 32-year-old out-half is not immune to nerves.
Having bagged a glorious Grand Slam with Ireland in the spring, he's looking to cap a superb year by collecting what would be a fourth European Cup with his province.
It's a seductive dream, one which Sexton admits can "drag you off during the week... get you thinking about things you shouldn't be thinking about".
Focus is key. Racing 92 pose a formidable final challenge in Bilbao, and nothing will come easy.
"I've been pretty nervous all week," Sexton said on the eve of the Champions Cup decider.
"You wake up the week of a big game and you feel different. Sleep can be a struggle, nerves can be a struggle, but you just try and focus your attention on getting what's important right, your preparation... leaving all the distractions, all the hype behind.
"We try and park it and focus on putting in a good performance. We've trained really well. Now we've just got to go out and do it on the biggest stage.
"The older you get the nerves get worse, but the way you deal with them is probably a little bit better."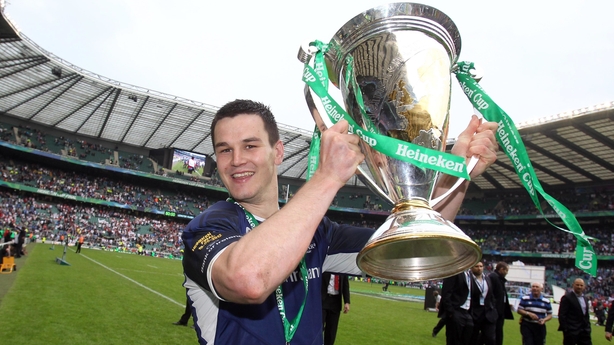 Memories of the slaying of Leicester Tigers in 2009, that astonishing turnaround against Northampton Saints two years later and the Twickenham thumping of Ulster in 2012 are hardly sepia tinted, but it's all about the here and now for Sexton.
He's never been one to dwell on success or personal accolades, always wanting more, always looking ahead.
The only glance back at that brilliant semi-final win against Scarlets has been a critical one.
"We need to get better in a lot of areas," Sexton added. "We can't go out and play the way we did against Scarlets; we need to change it up a little bit but still keep the fundamentals the same.
"That's the big challenge. Can you beat a Scarlets-type team and then go and beat a team like Racing?
"Ultimately if you want to feel fulfilled at the end of the game you've got to play well as an individual, the team has to play well and you have to win. And it's in that order of importance."
Follow Leinster versus Racing 92 in the Champions Cup final via our live blog on RTÉ.ie and the News Now App from 4pm, or listen to live coverage on RTÉ Radio 1 as Saturday Sport comes from Bilbao.