Robbie Henshaw says Leinster must learn lessons from how Racing 92 steam-rolled over Munster in the Champions Cup semi-final.
The Top 14 side had three tries on the board after just over a quarter of the game in Bordeaux and despite a late Reds rally, saw out the game comfortably.
"They came out of the blocks against Munster firing," Henshaw told RTÉ Sport ahead of the final in Bilbao on Saturday.
"Then they held on to the ball and they got a lot of momentum in the game, they got the ball to the edges and their danger man Teddy Thomas was on fire that day.
"We'll look at that game and know that we can't give them the start they got against Munster.
"We need to play smart and not give them [cheap] possession.
"They look to get the ball wide and use their speed on the edges and we need to be switched on from the word go.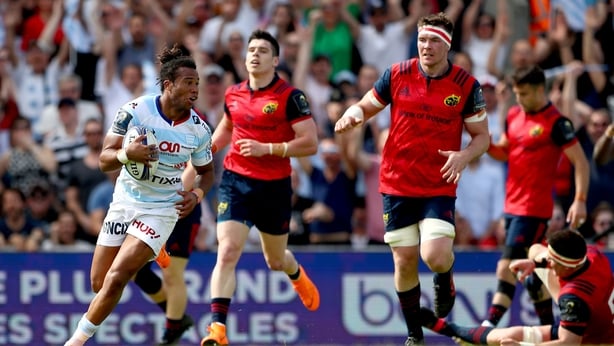 "It's a final and it's going to be even. Either team can take it on the day and it depends on how you are prepared to go that extra yard for your team-mate.
"It's going to come down to who wants it at the end of the day.
"It's a really exciting game to be involved in. It's going to be extremely tough. We know they are pumped up in the Racing camp."
The former Connacht centre admitted that he thought his season was over when suffering a dislocated shoulder against Italy in the Six Nations.
He detailed just how he managed to return ahead of schedule.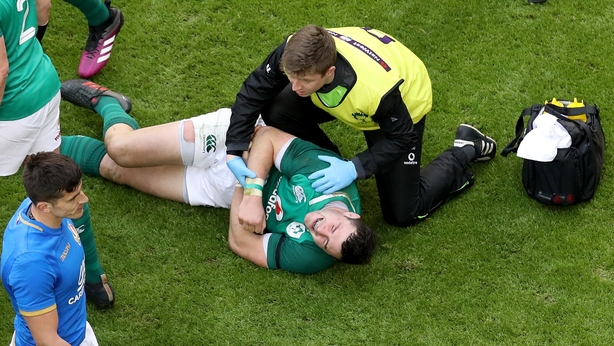 "When I got the initial injury I thought it would be [the] Australia [tour in summer], I'd be back for but thankfully I shaved off those few weeks," the 24-year-old said.
"It was a number of things. Firstly a really good surgeon in Hannan Mullett, he did a really good job.
"After some injuries your head goes down a bit and you go into your shell but a couple of days after my surgery I was in here, around the place.
"I got out of the sling quite early, after a week, that helped a lot.
"I just got back into little bits of work and then just had no setbacks at all throughout the recovery and kept hitting my markers.
"The medical staff here definitely helped me. It was just hard work, I went straight back into it.
"I was really thrilled with how the game [against Scarlets] went.
"It was a great occasion, we owe a lot to the fans this year.
"The sea of blue in the crowd was unbelievable and we know we need that again this week."