Former Ireland hooker Bernard Jackman believes that the possible move of either Joey Carbery or Ross Byrne to Ulster "has to be considered" if it's in the interest of Irish rugby.
It was reported in the Sunday Times at the weekend that Joe Schmidt and IRFU high performance director David Nucifora were putting pressure on Leinster to release either Byrne or Carbery to Ulster to replace the exiled Paddy Jackson.
Schmidt and the IRFU were especially anxious that Carbery, Ireland's replacement No 10 during the Six Nations, be given more game-time at out-half.
Both players had previously insisted they were happy with the province and Leinster scrum-coach John Fogarty said the final decision on the move would ultimately rest with the players themselves.
But, speaking on Game On on RTÉ 2fm, Dragons coach Jackman said that such a move would have to considered if it was in the interests of Irish rugby overall.
And he insisted that Ulster, despite having endured a poor season, are far from a basket-case and boast both the resources and the history to get back to the top of the sport quickly.
"I could see completely why Joe (Schmidt) and (David) Nucifora would try and make it happen. They did the same thing with John Cooney and that's been a success.
"I understand that Leinster wouldn't want to lose either of those two players and I can understand that both of those players are comfortable.
"But if it's going to help Irish rugby, both in a green jersey and a white jersey, it has to be considered.
"There's been a massive backlash and criticism of where Ulster are at. But they're a team who are consistently in the Champions Cup. I don't think they've ever been in the Challenge Cup, and they're on track to be in the Champions Cup again next year.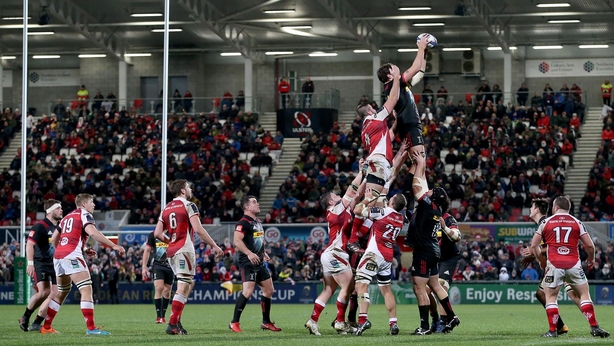 "They've got a state-of-the art training facility, they've got a state-of-the art stadium. They've got a passionate fanbase. They've got history.
"If you were a betting man, you'd say Ulster are going to be in a lot better position in 24 months time or 12 months time than they are now.
"I don't think it's career suicide to go to Ulster. You've got to back Ulster to sort themselves out. Look at the quality foreign players they've got in Piutau and Deysel. They've just been a bit unlucky with injuries. They do need reinforcements but you've got to say the board in Ulster will continue to recruit. They've brought in Jordi Murphy, which could be a great signing. Marty Moore could give them a bit of stability at prop.
"I'm not saying Joey Carbery or Ross Byrne should go but everyone's jumping on the bandwagon and saying Ulster are an absolute shambles and they've certainly not had a good season.
"But you would have to believe that in a couple of weeks time, they'll sign a good head coach and they'll get back on track to rebuilding.
"They have a lot of foundations in place to suggest that over the next two or three years, they can get back. In recent history, they were in a Champions Cup final against Leinster so they're not a million miles away from being a quarter-finalist in the Champions Cup."