On St. Patrick's Day, while the rest of the Irish rugby public was otherwise engaged, Donnacha Ryan came on as a second half substitute for Racing 92 in their 28-22 win over Stade Francais in the U Arena.
The people in charge at the U Arena had decided to stick on the Six Nations game from Twickenham on the big screen at the end of the match. 
Players don't usually relish the tedium of a post-match drug test but Ryan was delighted to be randomly selected that day and he waited around on the pitch watching as Ireland demolished England to complete the Grand Slam. 
"I was on the bench that weekend and came on at half-time and Racing had a really good idea to keep everybody in the stadium.
"They put the games on the big screen. I was lucky enough to be pulled over by the drug tester so I was actually waiting to be drug tested at the time.
"I was mad to watch the match and see how all the lads were so why not watch it out on the pitch with everyone. 
"Jeez, they were awesome. It was great watching them hammer England in Twickenham. I said during the week when chatting to the lads (at Racing) that Ireland were going to hammer them because confidence was very high. And the last number of years, they always seem to get better as the championship goes on."
Ryan earned 47 Ireland caps between 2010 and 2017, the highlight being the victory over the All-Blacks in Chicago in November 2016. 
But there was no trace of bittersweet feelings as he watched the Irish team complete a perfect season in 2018. 
"You'd always love to be playing for Ireland but obviously you have to have sense some time. But as a supporter and knowing all the lads and how hard they work I was delighted to see them win the Grand Slam. 
I texted a lot of the players and the coaching staff because it was definitely a massive goal of theirs to achieve over the last few years." 
It will be a strange afternoon for Ryan on Sunday as he and his new teammates will strain everything to prevent Munster reaching a European Cup final for the first time in a decade. 
The 34-year old lock departed Munster last summer after thirteen years with the province and it was almost inevitable that his new club Racing 92, a club which has become associated with high profile Irish players in recent years, should meet his old side at such a crucial juncture. 
As it stands, he now boasts a 100% record in games against Munster. His early season was interrupted with injury and so he missed the 14-7 loss to Munster in Thomond Park in October - though he and Ronan O'Gara did make an on-field presentation to Peter O'Mahony before the game to mark the one year anniversary of the death of Anthony Foley. 
He has nailed down a first-team place since his return, featuring in the crucial 34-30 win over Munster in the pool game in early January and playing the full eighty minutes in the 29-17 victory away to Clermont in the quarter-final.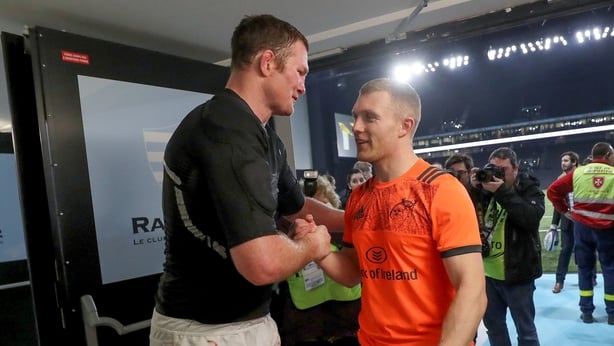 Ryan admitted to RTÉ Sport that it felt "very strange" playing against Munster but that nonetheless there was part of him that was intrigued by the whole business of viewing his old side from the perspective of an opposition player. 
"It was very strange, very strange. It was very interesting because when you play alongside them you know how hard they work and how they back each other up.
"To be on the opposite side and see the action and feel how hard they hit, it probably just cemented my feelings that I had on them beforehand that they're top professionals and top guys. 
"Having moved over here, the appreciation I have for the time I had there has gone through the roof. Munster are so respected over here and it's great to be able to look at it from this lens."
Ryan has settled well into the rhythm of French living but he admitted there were frustrations early on as he sat out the first few months of the season with a neck injury.
This necessitated plenty of slow conversations with medical professional in French. 
"At the start it was very frustrating. Trying to pay bills, get a phone number sorted and get accommodation sorted. The club were very helpful.
"I had a very difficult operation at the beginning. It was a pretty invasive procedure and trying to read up on it and then trying to have a chat with doctors and nurses in French and trying to make sure my rehab was going okay. I really had to do a crash course in French.
"At the beginning it was very frustrating because you're really trying to get your point across.
"You really want to make a good impression, especially with all the big names at the club. I wouldn't consider myself a big name at all.
"And you want to prove that Irish players are very hard-working and can perform at a high level. When I did get the chance, it was nice to come in and help the team. And it's been going very well.
Life as a rugby player in Paris is different to life as a rugby player in Munster. The French capital is largely indifferent to the oval ball game. It might be a stretch to describe playing for Munster as living in a goldfish bowl but certainly they enjoy greater profile in their locality than Racing players. 
Ryan is enjoying the relative anonymity of Paris rugby. 
"When you're outside of the training centre, you don't really have any interaction with rugby at all. When you listen on the radio, they don't really mention rugby that much. So, you're kind of a small bit locked away from it. It's good to be able to chill out." 
Ryan wasn't the only Munster figure of note at the club in late 2017. Ronan O'Gara spent the first part of the season working as Racing defence coach before departing for New Zealand and a job as assistant coach at Crusaders at the beginning of 2018.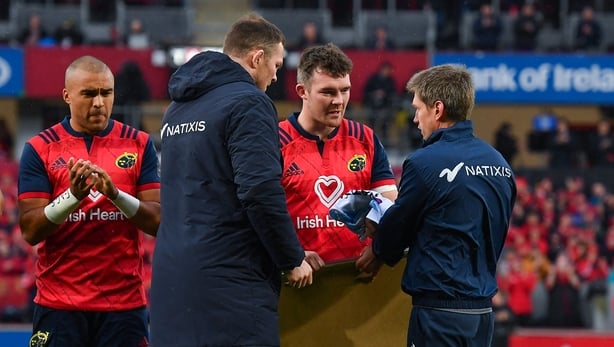 For Ryan, O'Gara's influence can still be seen in Racing's defensive performances this season. 
"Personally at the start, it was great to have him there to sound off on ideas. The big thing is the defensive system he incorporated this year. It's a massive challenge to try and put systems in place, and he was on a big journey trying to accomplish that. And our defence has been very good this season, one of the best in the Top 14. 
"Everyone at the club speaks very highly of him and he was always good for a coffee. From what I'm hearing, he's really enjoying his time in New Zealand as well."
Racing 92's line-up is a combination of youthful and breezily confident players enjoying the buzz of the latter stages and old-timers who are more anxious to grab as much silverware as they can before they call it a day.  
Their galactico out-half Dan Carter - who, at 36, is two years older than Ryan - is to depart the club at the end of the season and made clear this week his determination to make history and win a first Champions Cup title for Racing.
Ryan acknowledges that 'history' is spoken of within the group and all the older heads of the same mind.  
"Every player at the club is on a different journey. There are individuals who are just starting their careers and are excited to be involved in the competition and playing top class teams. 
"And there are other lads who are the far end of their careers that don't have much time left and would love to accomplish a fantastic accolade like getting to a Heineken Cup final and create history as well."