Former Ulster and Ireland international rugby player, Paddy Wallace, claims that Ulster Rugby needs to explain to fans why Paddy Jackson and Stuart Olding have had their contracts revoked.
Both players have now parted company with the province, following a review conducted in the aftermath of recent court proceedings.
Jackson and Olding were found not guilty last month of raping the same woman after a high-profile trial but other aspects of their behaviour have been heavily criticised, with major sponsors of Ulster voicing concern.
On Saturday, Ulster and the IRFU released a short statement confirming that they had revoked the contracts of the duo, but did not explicitly say why.
Speaking on Today with Sean O'Rourke, Wallace said that fans feel "left in the dark" and wanted a bit more information as to how the decision was reached.
Wallace admitted that he understood there was no real other option for the province to make than to part ways with Jackson and Olding, given public pressure and disquiet from sponsors.
However he added that many supporters are disappointed and he wants to see Ulster further clarify how they came to the decision.
"The decision itself was probably a decision that had to be made, given the public pressure that was mounting and also the sponsorship issue," Wallace said.
"I think there's a sense among the fans that they've been left in the dark a bit. There's been quite a vague statement and just gauging the temperature of the supporters club they feel that they need a bit more information as how they came to that decision.
"I have my own view obviously, but I think somebody within Ulster Rugby needs to come out and make that very clear."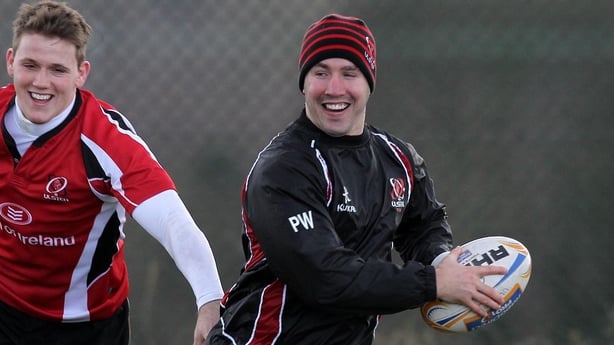 The former Ireland international believes there's still support for Jackson and Olding among Ulster fans.
"The vast majority of the official supporters club are very disappointed. I think that's because they're fans of the game," he claimed.
"They probably see these guys being acquitted and then judged on their text messages, which were obviously completely out of order.
"That is the core issue here and that is why they're moving on because they didn't meet the code of conduct that Irish players are held to."
Wallace believes that it's now time for the club and the players to move on and that Ulster need to "rebuild their brand", following the court case.
"I think it's an opportunity to Ulster Rugby to rebuild itself as a brand after the last couple of months," he said.
"Also for the players themselves to move on and start again because Belfast and Ulster is a goldfish bowl.
"If they were to return to play at Kinspan it would be very difficult for the players themselves and for Ulster. So it's probably best on both counts that they go elsewhere to ply their trade.
"I don't think they'll be short of offers either."