Leo Cullen admitted Leinster were "second best", "sloppy" and turned over by a Treviso side loaded with more desire at the RDS.
The Italians earned a first ever win in Dublin as they battled to a stunning 17-15 Pro14 victory on Saturday night.
Cullen was at a loss to explain the hosts' insipid display, after second-half tries from Federico Ruzza and Tommaso Allan made it a night to remember for the unfancied visitors.
"We were second in most aspects of the game," Cullen told RTÉ Sport.
"A lot of credit goes to Treviso. They played very, very well, showed a lot of desire. And yeah, we were a little bit off. It was disappointing to watch.
"We came second best in a lot of the contact areas. Rugby is a contact sport, and ultimately that's where we came undone.
"We gave up a couple of sloppy tries. Once Treviso got a bit more belief as the second half wore on... they looked better as the game went on.
"They were pretty dominant in that last 20 minutes. If you give up cheap scores against anyone in this league, they've enough quality to punish you.
"You've seen some of the results over the last couple of weekends where teams are showing the qualities of desire and passion, which are important qualities to play this game. Treviso showed that."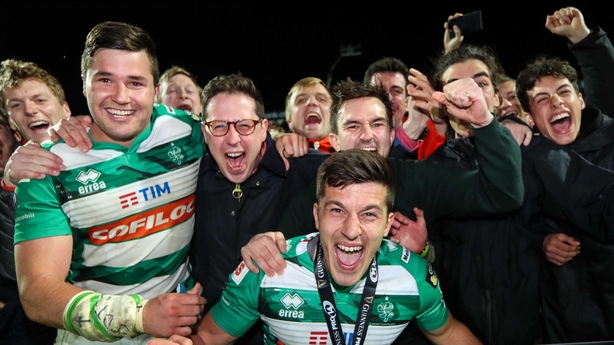 For Treviso head coach Kieran Crowley, it was sweet reward for months of hard work.
His side set a new club record for wins in a championship season with their 11th success, and Crowley believes they're only starting to show their true potential.
"We prepared well during the week. It's great for the club, it's really positive. We'll probably have a couple of Guinnesses now instead of red wines!
"I think both Italian teams, Zebre and ourselves, have improved this year. We had a good look at things. We've changed things around, the culture, the medical side of of things.
"It's an ongoing project. We're nowhere near the finished article yet."