Moments after Italy notched up the joint-worst losing streak in the Six Nations, their head coach Conor O'Shea, lived up to his reputation as an incurable optimist.
"We're coming," he told an incredulous group of reporters after the Azzurri narrowly lost a Six Nations clash to Scotland in Rome, their 17th straight loss over three years.
Yet two years after O'Shea took over as coach and despite a record of four wins from 22 tests, many inside Italy's small rugby community share his faith that the foundations of Italian rugby are actually improving.
As evidence, they point not only to the fact that Italy led Scotland for an hour of their final-round match, playing a new brand of aggressive, ball-playing rugby, but that the next generation of players are beginning to step up.
On the eve of Italy's heart-breaking defeat before a crowd of 60,000, the Italian Under 20s beat Scotland 45-31 in the junior Six Nations, scoring seven tries in a second straight victory, the juniors' most successful tournament in a decade.
Last year, the Under 20s also finished among the top eight in the World Cup, ahead of Argentina and Ireland.
Stephen Aboud, Irish rugby's former technical director who now works alongside O'Shea as Italy's head of rugby development, cites the Under 20s as one of the main reasons for optimism.
"The results of the Under 20s have gone a long way in supporting the mindset of a lot of people in Italian rugby that there is progress," Aboud said in a phone interview.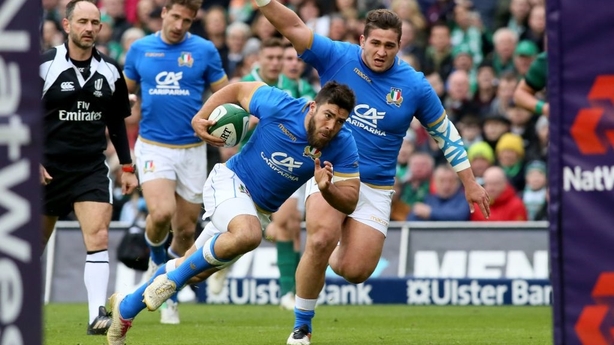 He described it as an affirmation of the work being done to restructure Italian rugby, from overhauling its junior rugby academies and grassroots coaching set-up to aligning the interests of clubs and the top professional levels of the game.
It is still a work in progress, full of disappointments like Italian side Zebre's 10-try thrashing on Friday in the Pro 14 at the hands of competition leaders Glasgow Warriors.
           
Yet the country's younger players continue to show glimmers of hope - like 21-year-old Italian test fullback Matteo Minozzi being shortlisted this year for Six Nations player of the tournament in his first international season.
Minozzi is a graduate of Italy's national rugby academy, which Aboud says is being turned into a nursery of talent for Italy's two PRO14 teams, Zebre and Benetton.
A second national academy is on the drawing board, with one serving Parma-based Zebre and the other Treviso-based Benetton.
"You're only as good as the players that you've got in relation to the opposition," Aboud said, likening rugby development to an orchard that needed constant tending.
He says the harvest is improving, despite Italy's weaker rugby climate, which is marked by a relative lack of funds at all levels of the game and marginalised by a sporting culture that is skewed overwhelmingly towards soccer.
But even for a realist like Aboud, who cannot match O'Shea's bullet-proof optimism, Italy must still dream.
"In the future the ambition has got to be, in the long term, to be able to win a Six Nations. You have to believe that," he said, noting there was a time in Irish rugby in the early 1990s when drawing with Scotland was considered a good year.
"It may be a dream (now) but is it a reality?
"We have beaten Wales, Scotland, Ireland and France in the past. So the question is do you believe you can beat England? Maybe you don't believe it now but if you improve your systems, with the quality and consistency of players coming through, well why can't you beat England?"