"This must be it for Ronan O'Gara, Grand Slam at stake, he's got it!"
The Ireland out-half's kick is for many the standout memory from the 2009 title win. And so it should be, it was the match-winning score at the end of a brilliant campaign.
However, moments before that Stephen Jones had booted a ball that had been passed from outside the 22 to touch now, with time running out, instead of Ireland having to make 30 yards up the field to get into a scoring position, all they had to do was work five phases sideways to set up.
AFP Sports Correspondent @stGuyer gives his reaction to Ireland's win over England and their Grand Slam campaign #rterugby #GrandSlam #ENGvIRE #SixNations pic.twitter.com/GxnHvt5tji

— Michael Glennon (@MicilGlennon) March 23, 2018
It's the little things that are the big things.
In this campaign, that drop goal, the intercepts, the 10-minute periods either side of half-time, outstanding individual displays by young guns and old heads, text-book preparation, and Joe Schmidt's "bit of luck" will all find their way into the 2018 Grand Slam highlights package.
But, of course, there were other factors and plays which set up the clean sweep, just the team's third in history.
Here we look back at some moments that didn't make the headlines but are worth remembering in the tale of 2018 Six Nations Grand Slam champions.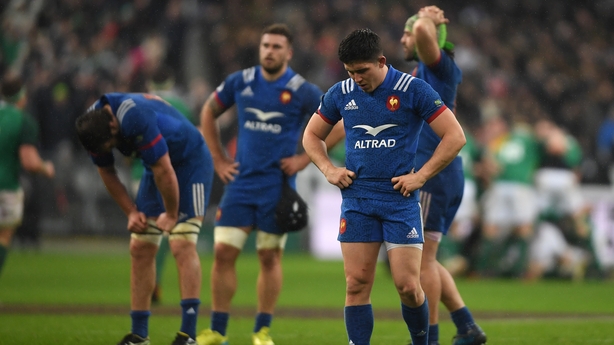 May 2017, Fixture Favour
France away, three home games in-a-row, England away.
Winning in Paris is hard but, given the how France were going, deemed very doable.
A good start meant that the team would set up in Carton House without losing a day or two to travel and defend Fortress Lansdowne, a venue that has not seen a Six Nations defeat under Schmidt.
Entertaining Italy after surviving a massive scare against Les Bleus suited the team down to the ground, allowing, as it did, a chance to regroup.
The players and management never tire of mentioning the importance of 'momentum' in this competition and Ireland got it, racking up eight tries and boasting two wins from two before Wales and Scotland came to town.
With a lot of heavy lifting done there was always a chance that the title could be theirs before Twickenham.
As it turned out that's what happened, the win over Scotland and England's loss in France secured the prize thus lifting some of the pressure off for the clash with Eddie Jones's side.
Schmidt couldn't have planned it any better.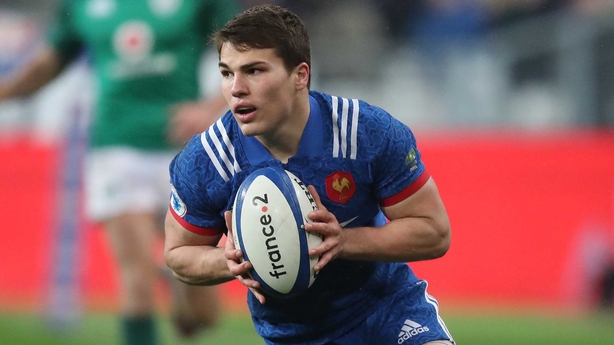 HIA MIA – French kick themselves when they're up
There was controversy and confusion in Paris as Antoine Dupont left the field with four minutes to play with what appeared to be a knee injury, but the independent doctor classified it as a HIA switch, allowing substituted kicker Maxime Machenaud, with two penalties to his name, back on the field.
World Rugby had trialled but not retained a law barring incoming HIA replacements from goal kicking. France had just won a penalty that if successful would have extended the lead to four points.
The trialled system is used, however, in the Top14 and it appears Machenaud did not take on the kick because of this.
Anthony Belleau misses. Johnny Sexton catches the ball and Ireland get one last chance to snatch a win.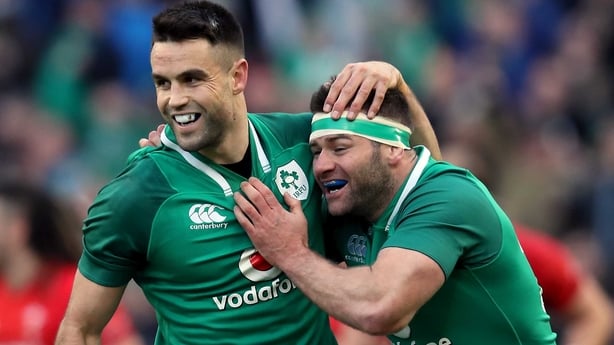 Murray Rising
Sexton had an off-day from the tee against Wales but with Ireland seven points up a rush of blood to the head initially appeared to backfire when his tap-and-go from a kickable penalty in the 68th minutes ended up with a knock-on and Conor Murray down injured.
Somehow the scrum-half arose from the turf and, with his knee heavily strapped, was well enough to convert a penalty that extended the lead, which was reduced to three before Jacob Stockdale took advantage of Wales' desperate search for a winning try in the last play of the game.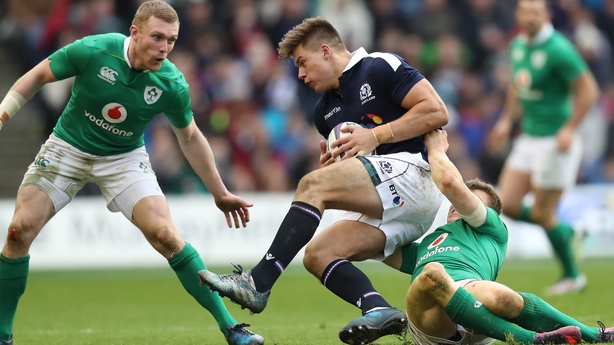 Huw's Howler / O'Mahony slays Kinghorn
Scotland arrived after an impressive two-score win over England and still in the mix for a championship title. The threat was in their broken-play running, we were warned, Huw Jones and Stuart Hogg the two to look out for.
Trailing 7-3 after 28 minutes, Jones countered, Hogg was in support for a run-in try but an exquisite defensive read from Sexton disrupted the pass and Ireland gathered.
Then, at the start of the second half, Blair Kinghorn broke away and headed for open space. Peter O'Mahony stretched to pull back the winger, jumped up and won a penalty, hurting his shoulder in the process. Murray scored a try just a few minutes later to hit Scotland's comeback hopes hard.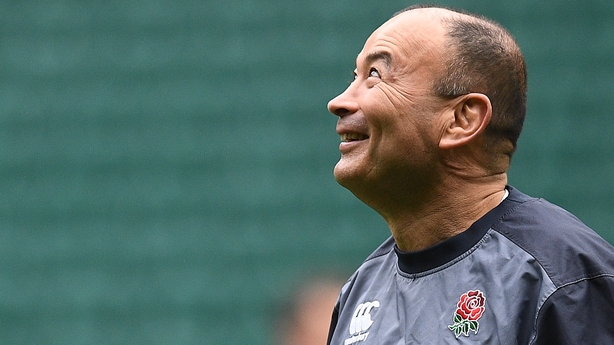 Low low swinging Chariot
England were going to come, and come hard. They had to. Two defeats on the road meant their title was gone but they had a chance to makes amends at home to Ireland.
Defeat in Scotland stunned the English but losing in France was a knock-out blow. You could see it in their body language, their spirit gone.
Jones made 10 changes in all (three positional) from the side that looked busted in Paris and they were never going to be able to compete with the pristine machine that Schmidt had built over the last year, even if a host of frontliners were missing due to injury.
Yes, they would make Schmidt's men produce their best defensive effort of the campaign but so riddled with errors was their patchy play that this England team were never going to live with Ireland's power game.