As a result of Saturday's efforts from Joe Schmidt's side, Ireland are no longer paddy last in the Grand Slam tally among the old Five Nations.
We are now merely joint-bottom in this department alongside the Scots, whose last Slam came in 1990 after an oft-replayed win over proud Edward's army England.
This underlines how rare an achievement it is for Ireland to win a Grand Slam - something which might have been forgotten thanks to the manner of the weekend's triumph.
Ireland have won three Grand Slams (in the men's game) overall and only two within the living memory of most rugby supporters.
How does it compare to 2009 from a fan's perspective? As experiences, the pair could hardly have been more different.
In 2009, there was a grim urgency to the situation. It had been years since Ireland had won a championship at all, never mind a Grand Slam, and a number of our finest and most charismatic players had plenty of years on the clock.
They won three Triple Crowns in four years in the Eddie O'Sullivan era but were repeatedly frustrated in their attempts to win the championship by Bernard Laporte's French team.
We weren't then habituated to the idea of France being rubbish and so it became vital to seize the opportunity in '09 with them out of the picture for once.
They'd only be back standing in the way next year - and Ireland had to play them in Paris too. Back then, 'even years' were almost regarded as a write-off as far as the Slam was concerned because they entailed a trip to Paris.
During the match, the camera operator in Cardiff kept zooming in on Jack Kyle sitting in the crowd, which obviously reinforced to those watching the importance of the occasion.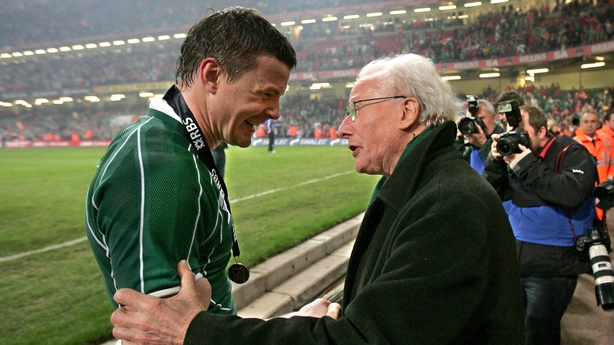 This 83-year-old man had travelled to the Welsh capital to see Ireland win a first Grand Slam since he ran the show and it needed to happen before he wasn't around any longer.
The week before the game, Jeremy Guscott mischievously predicted that Ireland would 'choke' in Cardiff and added that Wales would most likely win by the 13-point margin required to rob us of even the championship.
Needless to say, no one imagined Ireland would choke in 2018. They possibly imagined that plucky, defiant England, stung by the waves of criticism and playing on their own turf, might 'pull off an Ireland' and spoil the Grand Slam party.
But no one imagined Ireland would be doing any choking. Teams who are accustomed to winning silverware tend not to choke.
The 2009 game was an unbearably tense white knuckle ride. Impossible to actually enjoy unless you were a neutral with no stake in it.
Having trailed 6-0 at half-time, Ireland more or less wrapped up the championship win in the early minutes of the second half through tries from Brian O'Driscoll and Tommy Bowe.
But that didn't seem to matter a damn in the final 10 minutes - despite the fact that Ireland hadn't won a championship in 24 years.
It'd either be a Grand Slam now or there'd be no party.
Six Nations rugby has always been odd in that respect.
Irish fans celebrated the Six Nations successes of 2014 and 2015 with great abandon but once the Grand Slam comes up for grabs on the final day, the 'Six Nations title' is quickly relegated to the status of hollow consolation prize.
You'll never see grimmer faces than those on the England players in 2000 and 2001 when they held aloft the Six Nations trophy after losing in Murrayfield and Lansdowne Road respectively. They'd have looked happier holding aloft a P45.
Martin Johnson, for instance, gets no credit at all for coaching England to the Six Nations title in 2011 because they were humiliated in Dublin on the final day and in every interview he does now, he is at pains to remind people that he did actually win a trophy with England. It hasn't redeemed his reign at all in the eyes of posterity.
There's a bizarre kind of 'on the day' traditionalism to the whole thing which is mystifying to soccer fans. The culture probably stems from the amateur era when rugby men were too busy polishing their post-match banquet speeches to bother with the pedantic ritual of consulting the table or totting up points difference.
Ireland won 'the championship' - and won it outright - in 1982 and 1985 but those who remember it only ever reference the achievement of winning the Triple Crown. Ireland also won the Five Nations championship in 1974 but as it came unaccompanied by the Triple Crown, the compilers on Reeling in the Years paid no attention.
So, when ROG dropped that goal to put Ireland back in front of Wales with less than three minutes remaining, he rescued Ireland's season and he rescued the party.
When Stephen Jones stood over that penalty on halfway, it was all on the line. Had his kick gone between the sticks, then no one wearing green in Cardiff that night would have been boasting about winning a championship.
It would have been a brave man who'd have piped up cheerfully in the immediate aftermath that 'at least we have the Six Nations, sure!'
No, the precious bragging rights would have to be sacrificed.
Ireland's first Grand Slam in 61 years was won in impossibly dramatic fashion. It may well have been the most heart-stopping finale in the history of the tournament. Every Irish fan in the stadium probably aged about a decade watching it. The whole 80 minutes were a stomach tightening experience.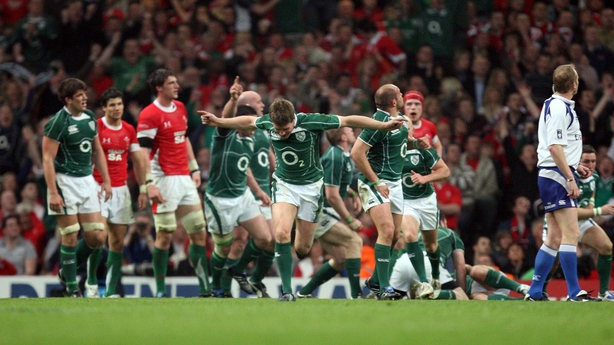 Yesterday's match was a victory lap by comparison. England's strange implosion over the past three weeks meant Ireland had the championship tucked away in their back-pocket before the final round of games. An unprecedented situation for an Irish rugby team. On Second Captains last week, Eoin McDevitt noted that fans of his acquaintance were grumbling slightly about the anti-climactic nature of the victory.
But anti-climax seems to be the price fans pay for their team's excellence. The scoreline tells us that Ireland won by nine points yesterday but that is obviously criminally flattering to England. The whole thing is rather distorted by Jonny May's irrelevant try on 81 minutes.
Buzzing from Jacob Stockdale's superbly snatched 41st minute try, Ireland headed for the break with an intimidating 21-5 lead.
It was clear that, barring a bizarre sequence of events, Ireland had the Grand Slam more or less won.
England needed a third quarter try blitz in the mould of Leinster's charge in the 2011 Heineken Cup final but they showed no indication of launching one. Ireland survived whatever onslaught was mounted and managed to snaffle a three-pointer themselves during this period to push the lead out to 19 points.
By the hour mark, the game was well and truly over.
Irish supporters spent the last fifteen minutes of the 2009 Grand Slam staring grimly at the action on the pitch and simultaneously monitoring their heart rate.
In 2018, they spent the last fifteen minutes joyously warbling 'The Fields of Athenry' and waving tricolours around whenever their face flashed up on the big screen.
But if the St. Patrick's Day Slam of 2018 lacked the wild excitement and glorious release of the 2009 success, then many rugby supporters will regard it as a more satisfying win. Players who've won the premier honour in their sport twice often remark that the second victory - usually the less heartwarming triumph for the neutrals - was for them the more 'satisfying' experience.
Alex Ferguson once said, in his Hugh McIlvanney ghosted autobiography, that while he revelled in the delirium of Manchester United's madcap 1999 Champions League victory, he longed to win a European Cup in the same manner as Fabio Capello had in 1994.
AC Milan led Barcelona 4-0 after an hour in that final and Capello could sit there, Ferguson said, and "let the magnificence of the performance wash over him."
Ireland's second Grand Slam in the Six Nations era resembles Capello's experience in 1994 much more than Ferguson's in 1999.