Madness, he calls it, pure madness.
Rory Best can't believe that anyone would suggest that this England side are not a quality outfit.
The Ireland skipper will attempt to claim his second Grand Slam in Twickenham tomorrow and standing in his way is a team that has suffered back-to-back defeats to Scotland and France.
A loss could potentially see the 2016 and 2017 champs finish fifth in the table.
They've lost Nathan Hughes and Courtney Lawes to injury, while Billy Vunipola was ruled out ahead of the campaign.
Boss Eddie Jones and the England camp have made life difficult for themselves this week as footage emerged of the coach making reference to the "scummy Irish", in addition an effort to better understand the problems they are having at the breakdown resulted in World Rugby changing the touchjudge for the game when it emerged that Marius van der Westhuizen had trained with the team last Tuesday.
That's all before you consider that Joe Schmidt's side are on an 11-game winning run and have that famous 'Six Nations momentum' behind them.
However, Best, who will win his 111th cap tomorrow and lift a trophy no matter what happens, is not having any of it.
"England are a quality side, anyone who disputes that...it's madness," he told reporters at the afternoon press conference held after the captain's run at Twickenham.
"If you look what they've done over the last couple of years under Eddie Jones, especially here.
"They've yet to lose here under him and I've played here a few times and I know how tough it's going to be anyway.
"We expect them to do what they have been doing, and that's producing big performances, we expect nothing less tomorrow.
"This place is a big fortress and there's no point in trying to hide away from that. They pack so many people in, they are very passionate and like most teams, England get a lift from that.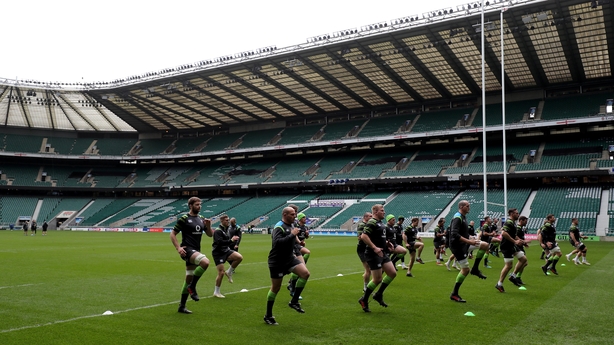 "It's important that we get ourselves in a position to quieten the crowd and we get the Irish, some of whom will wander down the road from Cheltenham, and we get as many of them standing on their feet as we can.
"The only way for us to do that is to be big and to perform in the game.
"All this talk of backlash and what have you, as players it's not really important for them."
The Ulster hooker was also asked about the comments made by Jones last July but which only surfaced during the week. He is adamant that they'll play no part in the build-up.
"A lot of players and people have done those private Q and As and I'm sure he didn't mean it to be offensive towards Ireland or Irish rugby," Best said.
"So if we start to get distracted with a sideshow like that, and bits and pieces, it takes us away from what is important to us.
"And what is important to us is the 80 minutes of rugby in front of us."
The 35-year-old was a late replacement in the team that claimed glory in 2009 and now, as an elder of the squad, is urging the newcomers such as Jacob Stockdale, James Ryan and Dan Leavy to take their cues from the seniors.
"In 2009, no one had experience of a Grand Slam or a championship," he said.
"But it was about how the senior players in the group conducted themselves, how they filled you with confidence that we were ready to go back then.
"There are some young guys there who will look to the likes of Johnny [Sexton], Conor [Murray] and Pete [O'Mahony], [Keith] Earls, Cian [Healy], guys who have played a lot of rugby and how they are.
"Tomorrow at 2.45 is not the time to go into your shell."