There are two survivors from the legendary 2009 Grand Slam-winning team on the present Ireland panel.
Of the current crop only Rob Kearney and Rory Best know what it feels like to claim the ultimate prize in European rugby.
But almost all Irish rugby fans of a certain age can remember where they were when Ronan O'Gara scored what turned out to be the winning kick in Cardiff. 
It's no different for James Ryan, the 21-year-old Leinster lock who has been a revelation for the Ireland in this campaign.
However, his experience of the heart-stopping finals moments were lived out as close to the action as it gets.
Asked of his memories of the game, the second row, who was only 12 at the time, breaks into a smile.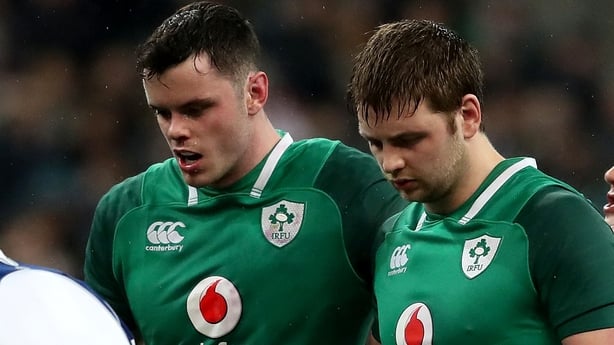 "I was in the Millennium Stadium," Ryan, who will win his eighth cap against England on Saturday, told RTE Sport. 
"I was facing O'Gara as he hit the drop goal with my family so it was pretty incredible.
"I hadn't been there before, I travelled with my family that morning so it was one of my most memorable days as a kid."
So only nine years after roaming the mini-rugby fields, "always a forward, never a back", at Lansdowne, Ryan finds himself on the brink of creating his own bit of history.
"It obviously played a role [in my path to becoming a professional].
"Every success, whether it was Leinster winning Heineken Cups, Ireland winning the Grand Slam, it all played a role so just like any other kid really, you love seeing your team win."
Ryan will hook up with Iain Henderson in the second row, with the Ulster man preferred over Devin Toner in a call that "was a part of a plan over these two games", according to Joe Schmidt as he made just one change to the side that beat Scotland.
"It will be difficult," said Ryan when asked about dealing with the Twickenham crowd and the unique roar that the stadium generates.
"We've spoken about that, just making sure we're in tune with Hendy, you know, even looking at his lips so we know the call so we are well aware of the noise and we'll have to be in sync together to be able to deliver at the lineouts."
"We've only lost one test to the scummy Irish...we'll get em back" - Eddie Jones, 2017. Our scummy hands are just going to leave this here😬.

More on this in today's 🇮🇪🏴󠁧󠁢󠁥󠁮󠁧󠁿 special. Plus Ken on Jose. Go get it 👇 https://t.co/TXILnN6ZbI pic.twitter.com/VGiNjIEcPv

— Second Captains (@SecondCaptains) March 14, 2018
While the already crowned champions bid for a Grand Slam, England are intent on avoiding a third successive defeat.
Eddie Jones yesterday made an apology for his "scummy Irish" comment and Ryan was on message as far as dismissing its relevance to the clash.
"It hasn't provided any extra motivation," he said.
"We're not getting carried away by comments. You don't need any bigger motivation that England in Twickenham."