It was an issue that had been nagging at Joe Schmidt since the start of this winning Six Nations campaign.
From day one, on that memorable day in Paris, continuity has been a problem, namely how the team's flow became disjointed upon the arrival of the replacements. A real 'work-on' for the New Zealander.
Notwithstanding the fact that making changes in key positions obviously has some impact, that a panel that had been together under Schmidt for so long was having such difficulty adjusting to new bodies on the field was a problem.
Until last Saturday.
Ireland's win over Scotland was the story for just two hours. Soon after half-time in the France v England game it was becoming apparent that Ireland were going to be champions. Attention turned to the Grand Slam match in Twickenham on St Patrick's Day.
But that aspect of the Scotland review, the impact of the replacements, must have pleased the boss ahead of the toughest task yet.
A recap.
Game 1: Ireland lost the last quarter in France 7-3 but a famous passage of play ending in 'Le Drop' was enough. But having dominated for most of the game, France came into the game as the Irish bench was emptied.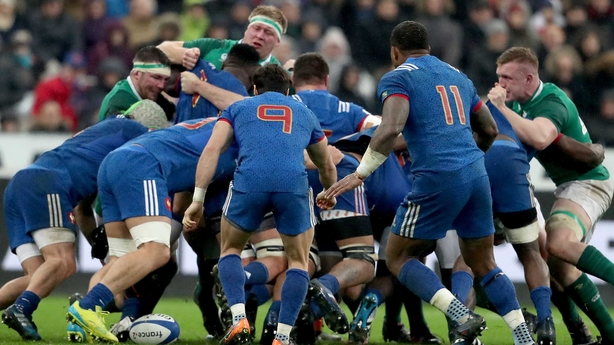 Schmidt told RTÉ Sport after that game: "As the game goes on and new players come in and out, it does tend to lose a bit of shape. That's a challenge for us and we'll keep working on that.
"You have your first game of the championship and you hope that's your baseline that you can springboard from, that we can be better through the second quarter and the fourth quarter."
Game 2: The game against Italy was over as a contest after 21 minutes but Ireland conceded three tries in the second half.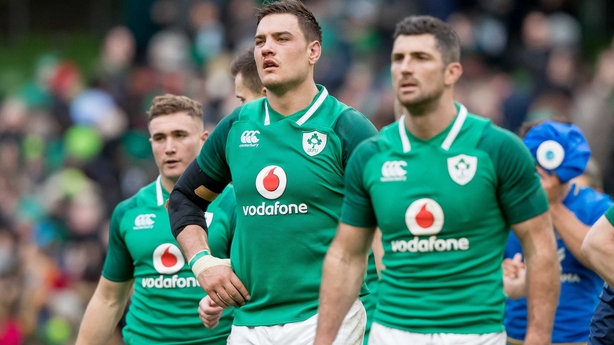 "I think it was more an issue of cohesiveness," said the New Zealander of the defensive lapses.
"Because there were so many changes, and you make positional changes as well... I do think you lose a bit of your continuity and your shape and your ability to make sure you're nailed on defensively."
Game 3: Ireland led Wales by 14 with 54 minutes gone. But as the clock turned red just three points separated the sides before a Jacob Stockdale intercept sealed the win.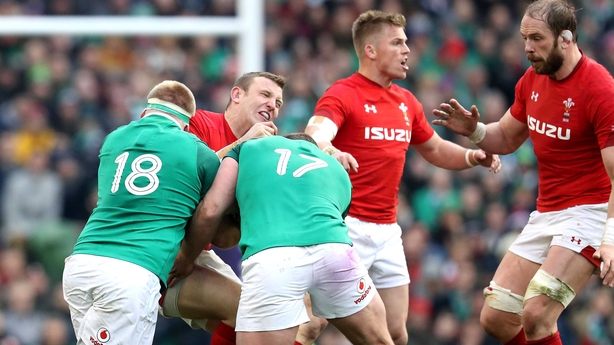 Schmidt: "It was frustrating against Italy, it's frustrating again today. The most frustrating thing was at 27-13 that we didn't keep that margin or grow it, they worked their way back into the game with some defending that we know we can do better and I'm sure that we'll do better.
"I felt that we leaked too easily and there was some slipshod stuff."
So three games in, two matches and a three weeks of training after the issue was identified it was still cited as a cause for concern.
Game 4: Scotland threaten sporadically but their last score arrives in the 52nd minute. On flood the replacements and Ireland see out the game in a relatively comfortable manner.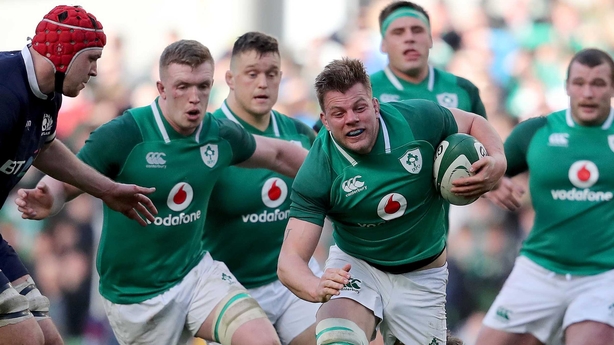 Schmidt: "One of the things was we tried to balance our replacements a little bit. Part of that was the selection of Iain Henderson, Jack McGrath, he knows what he's doing in the group, Sean Cronin.
"I thought Jordi Murphy was outstanding off the bench. I thought he carried really well, was very good at trying to get himself organised defensively and stay connected up so there was a number of really good performers off the bench.
"That seamlessness is what we'd like to get, unfortunately it just doesn't happen like that all the time."
The call to start Henderson on the bench, when the feeling was that he would come in for Devin Toner, no doubt contributed to the ease of transition. McGrath is half of a tag team with Cian Healy and he may well start in London.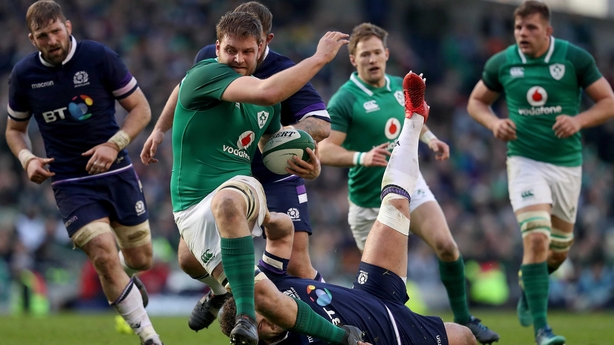 Murphy and Cronin took to the game like ducks to water when they were introduced, and actually provided the impetus for a number of attacks.
"They've got a job to do as they get on," CJ Stander told RTÉ Sport after the game.
"It's probably something [management looked at], how they are going to come in to the game and improve it.
"They always want to see what's going on and just fit in. Fair play to them for coming on and [bringing] a lot of energy 'cos that's all we ask for them and they did that job perfectly."
Stander's back row partner, the impressive Dan Leavy also paid tribute to Murphy.
"I thought Jordi was really good when he came on," he said. "He brought a serious impact which is what we always want from the bench.
"I'm not sure if Pete [O'Mahony] got a knock, I think he's okay but to be able to have a player of Jordi's calibre to come on, he really pushed on and kind of changed the game for us. He was brilliant so credit to him."
Speaking ahead of the England game, one of those impact players, a man who knows a thing or two about sitting on the bench, revealed how a replacement must think.
"It's tough, it's a specialist type of mindset you have to have to be on the bench," Cronin, whose 60 caps include just nine starts since his 2009 debut, told RTÉ Sport.
"You've got to prepare yourself that you could be on after five minutes, you've got to prepare yourself for the latter part of the game where you've got to be watching what plays do we run, what are they doing in defence.
"Then you've just got to come on and fit into the intensity of the game."
Evidently, the ability of the replacements to be up to the pace of the game as soon as they were introduced made a massive difference to how Ireland finished the game last Saturday, comfortably out of sight.
As signs of progression go, and with England, unbeaten under Eddie Jones at Twickenham, on the horizon, this is a huge step.
Replicating that "seamlessness" will go a long way to deciding whether or not this becomes a Grand Slam year.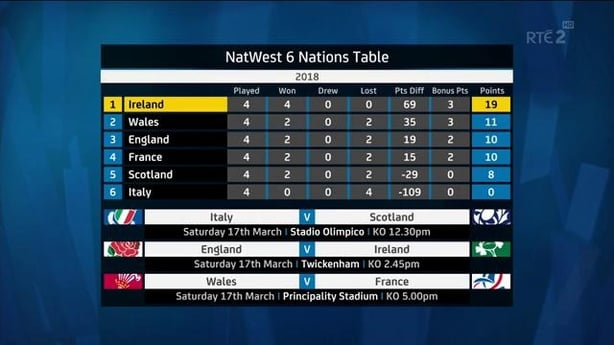 Follow England v Ireland on Saturday (KO 2.45pm) via the live blog on RTÉ.ie/Sport and the News Now App, or listen live on RTÉ Radio 1, with commentary from Michael Corcoran and Donal Lenihan.