Just a third Grand Slam in Irish history can be claimed at the home of English rugby on Saturday, but writing in the Guardian, Robert Kitson wonders just how much Joe Schmidt's side can achieve in the greater scheme of things.
"How much further can this green machine go?" he writes. "The All Blacks remain well out in front but anyone who has studied Ireland's steady development under Joe Schmidt will be aware there is potential to narrow the gap.
Name checking the young talent coming through with the likes of Garry Ringrose, Jacob Stockdale, Jordan Larmour, Dan Leavy, James Ryan and Andrew Porter, Kitson believes the depth of quality has never been greater.
However he can still see the visitors coming unstuck at Twickenham, and knows from English experience the folly of looking too far ahead.
"But with the red rose chariot stuck on the hard shoulder with smoke billowing from the bonnet, this is not the worst moment for an Ireland team to head to south-west London with a grand slam at stake and history beckoning."
"Over the next 18 months, either way, opportunity knocks for Irish rugby like never before."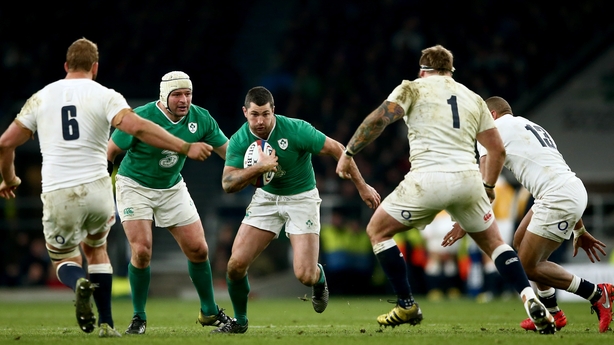 Former international Jeremy Guscott sees a very difficult afternoon ahead for a struggling England side shorn of top-quality players.
"In the current squad, England only have three world-class players - Owen Farrell, Billy Vunipola, and Elliot Daly," he writes for BBC Sport.
"That's it. The likes of Mako Vunipola and Anthony Watson are good internationals but when they are struggling to play at their very best, that puts a massive amount of pressure on the world-class players.
Guscott says the Irish gameplan is based around minimal mistakes. In terms of retaining possession, Ireland have set the bar in the competition.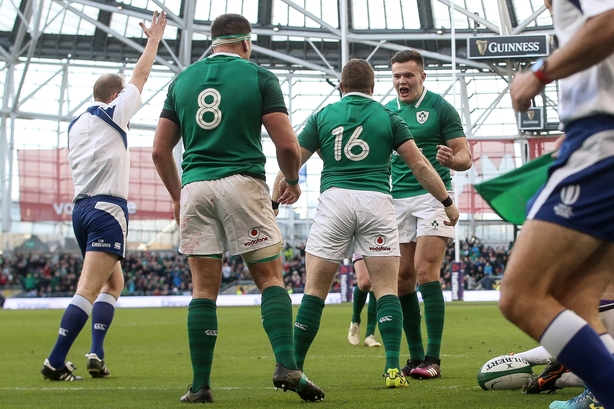 "Joe Schmidt's side have worked incredibly hard on that area of the game, and have a Six Nations title to show for it, but I can't see what England have worked incredibly hard on."
Much has been made of the similarities between the weekend final of the past two season, though this time it is England who are looking to spoil a Grand Slam defeat.
Andy Bull in the Guardian remembers the absorbing defeat for Eddie Jones' side in Dublin 12 months ago and feels the rivals have followed different paths ever since.
"That game seems to have been a clear watershed in the fortunes of both team," he writes. "It was the point when Ireland passed England to become the best team in Europe.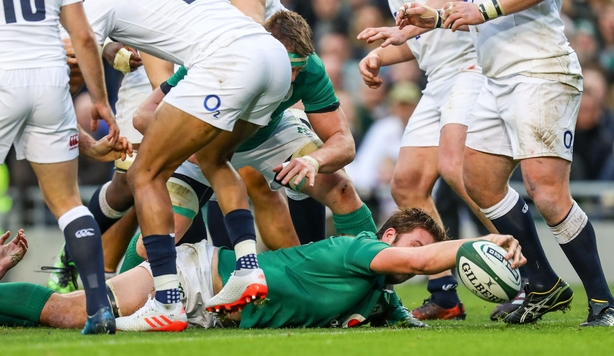 "Ireland are unbeaten in 11 Tests since and are now Six Nations champions. England are still faltering, looking for the sure footing they had before they tripped in that match."
Sky Sports analyst and former England international Stuart Barnes dismisses claims in some quarters that the bonus system has robbed the tournament of a final weekend championship decider, pointing out that Ireland's four wins, compared to everyone else's two or less, means Ireland would be already crowned champions in the old system.
He also contends that as good as Ireland have been thus far, Saturday will be a real litmus test for the development of Schmidt's team.
"It is not until Saturday that we'll find the true measure of this Ireland team"
"Englishmen have been jostling to be magnanimous and declare Ireland worthy winners, far and away the best team in the tournament," he says.
"TV, radio, the press, social media, falling over themselves this side of the channel to be nice, but it is not until Saturday that we'll find the true measure of this Ireland team."