Ireland's Niamh Briggs is enjoying the freedom to 'live in the moment' right now. For a long time, almost two years to be precise, such a blessing was largely absent in her rugby career.
A knee injury interrupted much of her 2016 campaign, while a combination of hamstring and Achilles issues ruled her out of the last year's Six Nations and World Cup competitions.
She doesn't want to dwell on the memories of that difficult time, and is concentrating on the future. She attended a rugby game in UL earlier this week where she witnessed a number of talented youngsters, that left her feeling positive about the quality of players that are coming through the ranks
"There were 18-year-olds and 19-year-olds that made me glad I'm not 18 or 19 now because I probably wouldn't stand near a squad because there's some really good talent out there," she tells RTÉ Sport.
Looking more closely at her own game, Briggs is facing into an exciting period of change. Since rejoining the Ireland fold from her time on the sidelines, she has made the transition from full-back to out-half, and after three outings in this year's Six Nations, Briggs remains fit for selection.
The former Waterford footballer was pictured during the national anthems ahead of the opening game against France, where the emotion of what she has overcome was etched on her face. 
"I think I was just happy to be back playing, to be honest. It's not something that I had envisaged," she says
Briggs is feeling good about her rugby and is enthused by the 'little snippets of things' that Ireland have improved on throughout the Six Nations so far.
But her recovery from injury wasn't always assured and there were times when she wasn't even sure if she wanted to make a comeback.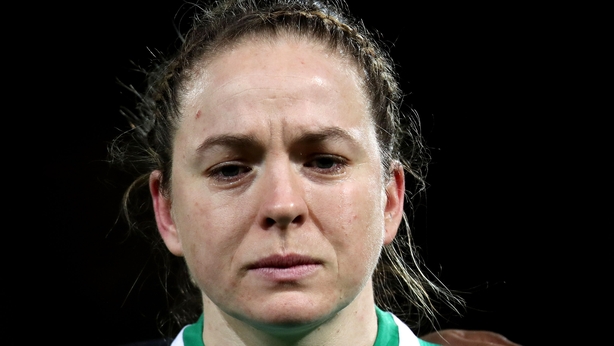 She was working through her rehab programme during the Autumn months, but by November, she still hadn't resumed any running. And without a target like the World Cup to aim for, motivation was sometimes difficult to find.
"Obviously the first injury was big but the carrot of the World Cup was always there, so every time you were rehabbing it, it was just like 'I'll get back, I'll be fine,' and then the week before I took another injury and you kind of go into survival mode for the World Cup because you were just trying to be there and watch the games and September and October was really difficult.
"There were many dark days and I honestly didn't think I'd get back, and didn't think I wanted to get back but my family were great, my father in particular and my Mum.
"I think there's a little bit of stubbornness as well; I didn't want to walk out on those terms either. There was also a huge part that I had achieved so much and if I was coming back I was coming back for me and not anything else, and coming back with no pressure almost.
"There were some really dark days, I found it really difficult to cope with the fact that I hadn't played in that World Cup. I found it difficult that the tournament itself didn't go well and you're just an innocent bystander watching it. You know what's gone into it in terms of management and players in trying to get there." 
It was Christmas when Ireland head coach Adam Griggs contacted Briggs about the proposition of switching her into the 10 jersey.
She hadn't played in this position for Ireland in about a decade, but she describes the change as 'a new lease of life' in her game. And once she made the breakthrough of getting back into running again, she was determined to return to the Ireland squad.
"That kind of starts the ball rolling a little bit and once I got back running, I think it was an easy decision then. It's just the fact that you just don't know how your body's going to hold up and I felt so betrayed by it over August.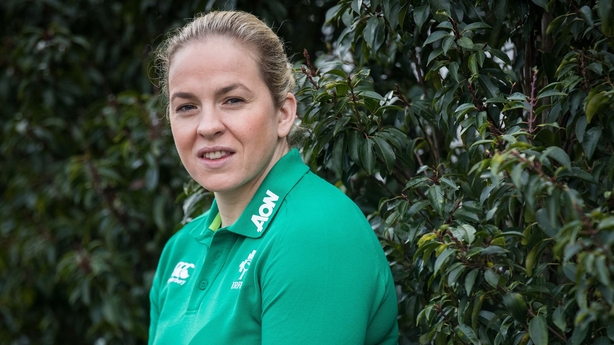 "But it's brilliant, I'm really glad that I came back, I'm delighted actually and I feel like I'm in a really good place now in terms of playing rugby and the game."
Following that first-round disappointment against France, Ireland have gathered significant momentum in the Six Nations with home wins against Italy and Wales, the second of which included a bonus point in the 35-12 result.
Griggs' side now face into their last home fixture of the championship, where they will host a Scotland side who are still searching for their first victory of the campaign.
Briggs believes there's more to come from this Ireland team as they continue to build and improve under new management. But as she turns her attention to Scotland on Sunday, she knows there's more to fear about the visiting side than their three defeats would suggest.
"They've been unlucky I think in some of the results that they've had so far, because they've had some really good snippets. I think as this tournament and the next tournament goes on, they're definitely going to keep improving all the time.
"They've put a lot of structures in place in fairness to them. They've had some dark days in term of them as a squad, and where women's rugby was in Scotland, but I think that they're on the right track now.
"They've got some really dangerous players. They've got professional players, we don't have that. They've got some good structures in place now, where they train a lot more together, they play well.
"We've gained a lot of confidence now from the last two games and I still think we have to perform well against Scotland, then you're heading into a game the following week where anything can happen. I think there's a really good vibe within us at the moment. I think we're trying to be positive in how we play, but we've still got a lot to do."