After a snow-wrecked weekend with little sport to occupy our time, the RTÉ Sport Online history corner is obliged to turn its attention to the Ireland-Scotland rivalry.
To the extent that there has been a rivalry between the two nations, it hasn't been marked by any special bitterness.
The sniping and rancour that now precedes nearly every meeting with Wales has mostly been absent here - or at least if it exists then the Irish have been fairly oblivious to it.
Winning routinely will probably do that.
For most of the past 15 years, Ireland has been telling itself to be deeply wary of Scotland, though this has usually been done in the service of warding off national complacency rather than from a cold-eyed appraisal of the modern record.
Irish pundits have been ultra-respectful of Scottish rugby and many have spent the guts of a decade touting its imminent renaissance - usually prematurely.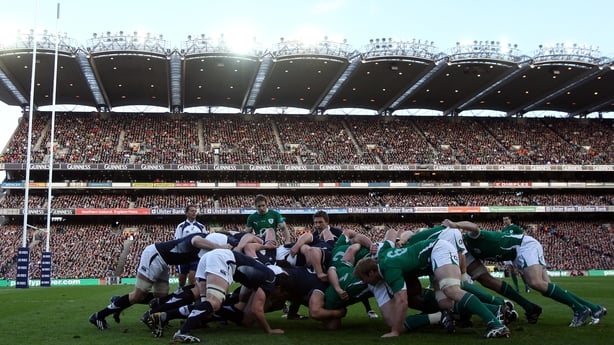 From an objective tipsters' perspective, this wariness is probably unjustified. Excluding the solitary loss in Croke Park in 2010, Ireland's average winning margin in Dublin in the new millennium is 20 points.
But from a competitive standpoint, that wariness has been healthy and probably contributed to Ireland's excellent record against Scotland in the past two decades.
Ahead of the 2013 game in Murrayfield, Eddie Butler did accuse Ireland of disrespectful hubris towards the Scots but this seems to have been based on one offending article.
Some of the instinctive apprehension may have a generational basis.
90s kids obviously have an exaggerated fear of Scotland due to Ireland's miserable record against them in that decade.
Ireland lost every game they played against the Scots in the 1990s, save the 6-6 draw in the 1994 Five Nations, a match which we're assured was as thrilling as the scoreline suggests.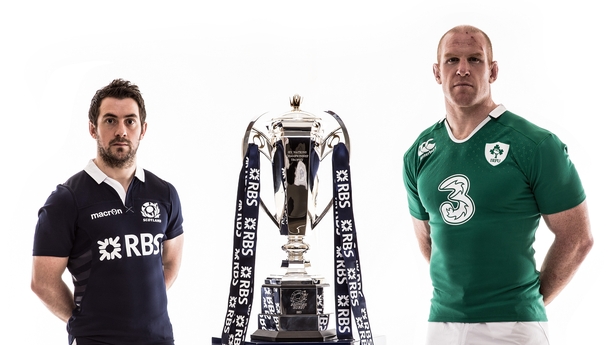 Years later, on the day after Ireland demolished Scotland to win the 2015 Six Nations on points difference, one podcaster on the Scotsman website remarked that he "used to feel sorry for Ireland. I thought they'd never win anything. But look at them now… Now we're the ones that people feel sorry for."
The balance of power in the relationship flipped dramatically in the noughties and Ireland suddenly held the whip hand, winning all but one of the Six Nations matches against the Scots that decade.
The sole lamentable exception was that Foot and Mouth delayed game of 2001, the match which probably cost Warren Gatland his job as Ireland coach.
Amid the hoopla which followed Ireland's surprise win over Clive Woodward's England in November '01, some glass half empty types were surely inclined to rue the fact that a loss to an over-the-hill Scotland team might have cost Ireland a shot at a Grand Slam that year.
Ireland hadn't won at Murrayfield since the Triple Crown winning season of 1985 but they had slaughtered the Scots the year before at Lansdowne Road and the perception was that here were two teams heading in opposite directions.
That perception was ultimately accurate but it didn't appear so on that dismal afternoon. The '01 loss in Murrayfield felt no different to any other visit to the Scottish capital in the 1990s.
Murrayfield was a violent speed bump in an otherwise smooth driving year. It was as if the previous 18 months hadn't happened at all. It was a Michael Corleone game - just when we thought we were out (of the dog days) they pulled us back in.
32-10 was the final score and Ireland's try, courtesy of Girvan Dempsey, came about four minutes into injury-time and long after most casual fans had flipped the channel in disgust.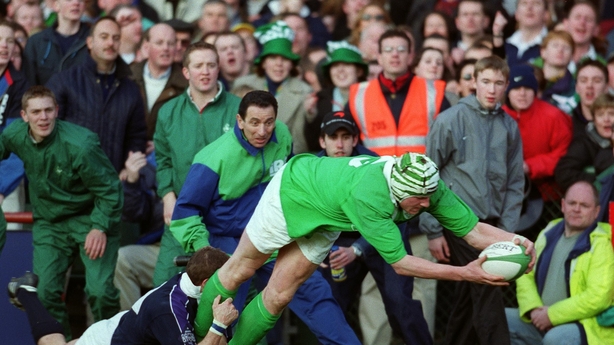 Malcolm O'Kelly played Scotland on ten occasions during his long international career, winning seven times.
"We felt we were a better team than that Scottish team. We were on quite a high. We were off the back of wins over the Italians and France. We thought we had momentum.
"But then, of course, the problem is we had a six-month wait (due to Foot and Mouth outbreak). And although we were very excited for the game, we weren't in that same mental place where we needed to be."
It wasn't supposed to be this way. Scotland's decline coincided with Ireland's revival and both events felt as sudden and random as the other.
Scotland won the last ever Five Nations title in 1999 and followed that up by claiming the first wooden spoon in the Six Nations era in 2000. But they scrapped and danced and shimmied like world beaters against the leaden footed Irish team which arrived in Edinburgh that weekend.
Bill McClaren, in his penultimate season commentating on the championship for the BBC, alluded to "the juicy possibility of a first Irish Grand Slam since their only previous one in 1948."
The game was already half-over at half-time with Scotland leading 17-0 courtesy of tries by back-row Budge Pountney and prop Tom Smith.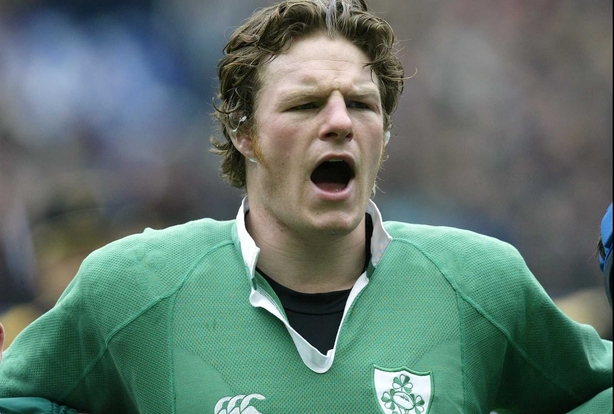 "The Scots, particularly playing at home, bring that level of intensity and we were just way off," says O'Kelly.
"We were beaten at the breakdown. We were blown off everything. And at that time, that battle was even more important. That was how you won matches.
"And we were getting turned over and having real problems holding onto the ball. Simple things which enabled us to play our game.
"We had great strength out wide and we'd a lovely backline. That's where we were beating teams.
"But we probably took our eye off the actual match, without a doubt. And it was a harsh lesson for all of us. It showed then the next month when we hammered Wales and beat England. And they were cold."
Gatland swapped his scrum-halves with Guy Easterby replacing Peter Stringer. Injuries forced changes to the back-row with Simon Easterby and Kieron Dawson replacing Alan Quinlan and David Wallace.
Bull-dozing centre Rob Henderson, who'd scored a hat-trick in Rome, suffered a season-ending injury during the long summer interregnum, and Shane Horgan was shifted across to the unfamiliar position of inside centre.
A still callow Ronan O'Gara had a dreadful afternoon, missing three kickable penalties before finally getting Ireland off the mark on the 49th minute.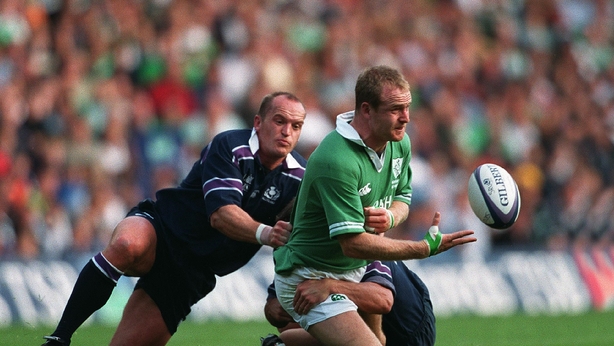 This was in stark contrast to his experienced opposite number Gregor Townsend, the darling of the armchair pundits, who had a masterful afternoon.
'Rugby hipsters' didn't really exist outside of France in those days, but if they had, then Townsend would have been their God - the Beauden Barrett of his era.
The fact that he didn't bother with kicking duties only made him more exotic than his contemporaries. He owned the first five eights position purely on the basis of his play-making.
"He was a tremendous player. But you always knew he could do something cataclysmic against his team as well. He was brilliant and brutal. We always knew that pressure was key against a player like that," says O'Kelly.
Townsend laid on Scotland's third try for centre John Leslie after swanning through the Irish defence with an especially sexy show-and-go dummy.
That made the score 24-3 after an hour and, with minutes remaining, Townsend poked a clever kick into an ocean of space which Glenn Metcalf ran onto and kicked on a bit. The ball skittered around before bouncing into the lap of substitute Andy Henderson and he strolled in to score.
While Ireland recovered to win the next two matches in some style, the Edinburgh loss had huge ramifications.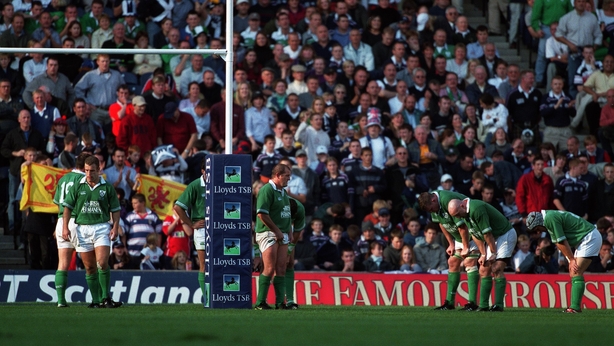 O'Kelly is in no doubt that it was the game which did for Warren Gatland.
"100%. There were certainly knives there for him. There was certainly huge support for Eddie (O'Sullivan) within the camp. A lot of us had played underage with Eddie. And everyone knew him and liked him.
"We were keen to kick on and there might have been an element that we felt Warren couldn't take us much further.
"Now I'm not sure if that was the truth given what Warren has achieved since, but that was a viewpoint within the squad at that point.
"I wouldn't like to say that was the consensus because I don't know. But there was certainly an element of that.
"I certainly think that when Eddie took over that no one was really shocked or really disappointed – even though we had had a very good year in 2001.
"I don't know if Warren knew the pressure was on. I don't think we could have possibly gotten rid of Gatland had we won in Scotland.
"So, it was a pretty defining moment for Irish rugby that loss.
"It was the bullet that shot Warren Gatland. That's for sure. Because you could hardly have faulted him for much else."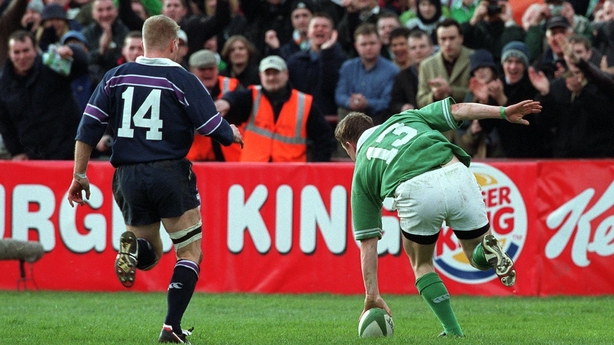 Six months after the Murrayfield debacle, the Irish backs ripped through Scotland in Lansdowne Road. Brian O'Driscoll scored a hat-trick and Ireland won 43-22.
The 2001 blip out of the way, Ireland established clear supremacy over Scotland in the new millennium. Eddie O'Sullivan's Ireland won seven from seven against Scotland in the Six Nations.
"We really just cut them up in the centres," says O'Kelly. "They just could not live with us. Drico was running amok. And that was at a time when there was just so much room for outside centres.
"There was a massive sense of optimism. It was a phenomenal time to be part of the Irish rugby team. There was still plenty of holes. But we had a great attacking threat."
The big question – are there any parallels between the 2001 game and the 2018 game? Any at all? An unbeaten Ireland facing a Scotland side with Gregor Townsend in an influential role?
"I know what you mean but we played them away in 2001 so that's one big difference. The key difference, really. Plus it was the first game of our season internationally and we were caught cold.
"I think Ireland will win. It's a shame Farrell is injured because he went so well. He's a bad loss, as Henshaw was. But we could be talking about Garry Ringrose next week and have forgotten about Farrell. That's the way Joe Schmidt teams seem to operate.
"England were caught cold in Murrayfield. I've seen it. I've experienced it.
"It doesn't make Scotland world beaters nor does it make England a bad team.
"I just have never seen Scotland, in modern times, bringing that performance to Dublin. I just can't see them bringing it.
"Now, they'll be good. But Ireland just need more of the same after the Welsh performance. Jonny bringing his kicking boots and it'll be an Irish win."
Follow Ireland v Scotland on Saturday (KO 2.15pm) via the live blog on RTÉ.ie/Sport and the News Now App, or listen live on RTÉ Radio 1, with commentary from Michael Corcoran and Donal Lenihan.