Kicking and coffee are the two staples that have carried Joey Carbery through the ice blast that's gripped Ireland over the last five days, and the versatile playmaker says he'll be wide awake and ready to roll should his country need him this weekend.
The Leinster man got a half-hour under his belt against Italy and the final five minutes of the nerve-shredding Welsh success, though it was Conor Murray who stepped up to the tee to nail a crucial 76th-minute penalty in that game when Johnny Sexton was receiving treatment on an injury.
Carbery was warming up on the sideline at that stage - as he had been in the moments leading up to Sexton's brilliant drop-goal in Paris that sank the French - but he remains focused and prepared to take his big chance if and when it comes.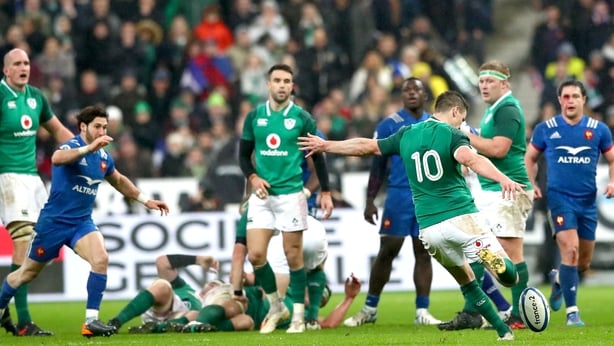 It may be impossible to recreate the pressure-cooker environment of a packed stadium on matchday, but Carbery, Sexton and Murray are improvising: winner-takes-all goal-kicking competitions with the loser buying the coffees.
"It makes kicking practice a bit more interesting!" said Carbery at a still snowy Carton House on Tuesday.
"It's always good to get a free coffee now again. It puts a bit more pressure on the kicks. Johnny is in on it as well. Murray's usually the one who loses so he's buying us all coffees."
Carbery described today's training session in Kildare as a "D-day" with the intensity ramped up and focus heightened.
A Slam is on the line now, and the margins are so small. Sexton and Murray's nerves of steel have played a huge part in keeping the dream alive, and Carbery was full of praise for the latter, who took over kicking duties at such a crucial juncture at the Aviva Stadium ten days ago.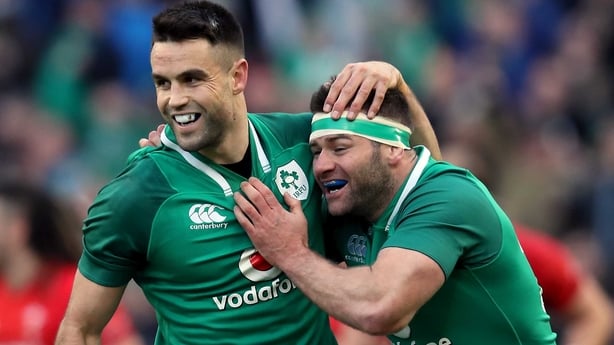 "It's extremely difficult," the 22-year-old said. "Under that pressure as well, the time of the game. But he practices enough that in that situation all he has to do is concentrate on his technique and his technique came through. We were lucky he got that kick.
"(Murray and Sexton) are a lot more experienced and they've seen a lot more. Even for them to calm the whole situation and bring us back to reality sometimes... it's great to have them around and be able to chat to them about different situations and scenarios.
"We're aware of the threats Scotland are going to pose with the likes of Hogg and Jones at the back.
"Watching Scotland against England, it showed how good a team they are. We have to be really sharp both sides of the ball.
"Each day is very intense. We know ourselves what we're working on, what we're building towards."