Jamie Heaslip retires today with his place in the pantheon of great Irish number eights assured.
He walks away as Irish rugby's most trophy-laden player alongside Rob Kearney, though the full-back may nudge ahead of him in March.
His back injuries precluded a Hollywood ending but it's clear that Brian O'Driscoll was the exception in that respect.
Ronan O'Gara's international career finished with a kamikazee cross-field kick in Murrayfield in 2013, while Paul O'Connell's ended with him lying in agony on the turf of the Millennium Stadium midway through the 2015 World Cup pool win against France.
Heaslip finishes up with Irish rugby in a smugly happy position but he began when the team was recovering from a trauma.
Though he'd played in a few B-list encounters in 2006 and 2007, Heaslip was only properly bumped up to the first team for Eddie O'Sullivan's little remembered final Six Nations in charge in 2008.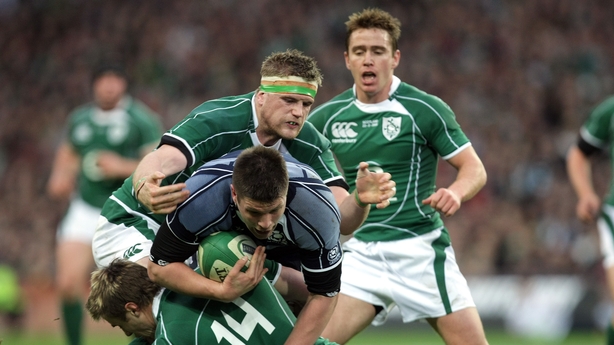 Ireland had just flopped in surprising and rather distressing fashion at the 2007 World Cup in France. It was an under-performance so grave that it was clear that something fundamental had gone wrong with their preparation.
So it had. The folk over at Genesis (those people have super-intended more grizzly Irish sporting post-mortems than Dunphy and Giles) concluded that the first team suffered from a drastic lack of match practice by the time the starting pistol was fired on events in France.
Heaslip, for his part, was entirely uncontaminated by that failure as he hadn't got on the plane.
In rapid quick time, Eddie O'Sullivan went from an unassailable figure to a lame duck. Ireland won two from five that year, their worst performance of the noughties, and O'Sullivan quit following their 32-10 loss in Twickenham.
Perhaps the only positive to emerge from that nothing Six Nations was Heaslip, who shone as a dynamic and athletic back rower.
Before long he was an ever present and people were inclined to wonder why his elevation had been so long in coming.
It kick-started what was to be a glittering career by any measure. His list of accumulated honours has been widely circulated this afternoon.
Over the next decade, he won three Six Nations titles, one of which came via a Grand Slam, three Heineken Cups with Leinster, a few Pro12 titles and he would play on two Lions tours.
There was some outstandingly vivid moments, such as his famous zig-zagging try in front of the Hill during the win against France in 2009 and his ultimately championship-winning last-ditch tackle on Stuart Hogg in Murrayfield in 2015.
As he grew older, he tended to specialise in the subtler and less eye-catching aspects of back row play and was overshadowed in the public mind by the bullocking ball carries of the likes of Sean O'Brien and CJ Stander.
Like many recent Irish players who hung around a long time, he faced occasional calls for his exclusion in favour of some younger, more flavour of the month type figure.
He had a testy relationship with the media - which admittedly didn't cause the general public many sleepless nights - and he appeared to have preemptively blocked every journalist in Ireland, even those who were more likely to tweet about 19th century French architecture than rugby.
But he remained a coaches favourite til the end and this was vindicated by his earning his second nomination for World Player of the Year in 2016.
The first had arrived in the Grand Slam year of 2009 when it was Brian O'Driscoll's snubbing that hogged the headlines (similar to the final Lions test in 2013 when Heaslip was also dropped).
But where does he rank alongside Ireland's greatest No 8s? The two who stand nearest him in stature - at least in the last half century - both passed away in recent years.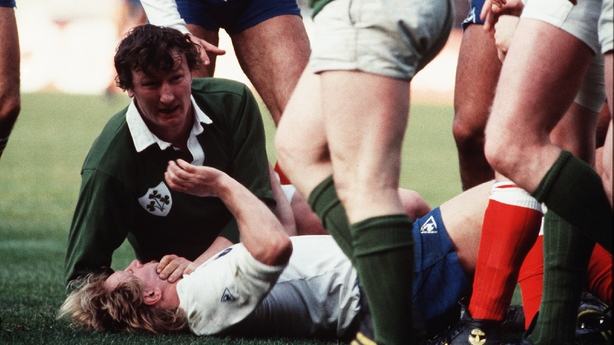 First up, we have Willie Duggan.
While Heaslip embodies the slickly professional era, any mention of Duggan's name is enough to get old-timers guffawing about the shambling amateur days.
Like Moss Keane, he was the man who launched a thousand after-dinner speech anecdotes.
And by all accounts, he made Johan Cruyff look like a slouch in the fags department.
A test starter for the Lions tour of New Zealand in 1977, Duggan was a key member of the Dad's Army pack which famously won Ireland the 1982 Triple Crown and Five Nations title (though the latter achievement never gets a look-in by posterity. Rugby men didn't concern themselves with tables or standings back in the day.)
Along with Heaslip, Duggan shares the dubious distinction of being one of three Irish players to have been sent off in an international match, though Willie would have disputed the stat.
Sending-offs in rugby were about as rare as solar eclipses at that time and no Irish player had ever suffered the ignominy in a century of playing international matches.
Duggan was scandalised to see Geoff Wheel punch Stuart McKinney that he opted to retaliate by punching Wheel's teammate Alan Martin.
Rugby didn't bother with condescending devices like cards in them days and it was probably considered ungentlemanly to actually order someone off.
Wheel and Duggan left the pitch at the request of the referee, though Willie always contended he wasn't sent off as such.
33 years later, Heaslip became the next Irish player to be sent off, though there was less funny anecdotes to come out of that one.
Wayne Barnes red carded Heaslip for thrusting his knee into Richie McCaw's head in the 2010 clash in New Plymouth.
To his credit, Heaslip was honest and philosophical enough to bring up the incident when explaining why he bore no ill-will towards Pascal Pape for that infamous knee into the back in the 2015 Six Nations game.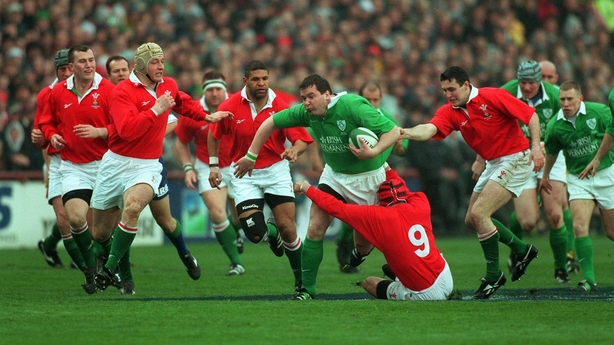 And then there's Anthony Foley who, after a few years in exile in the late 90s, nailed down the No 8 jersey as Irish rugby got off the sick bed in the early years of the 21st century.
Foley was less flashy than Heaslip but was famed for his game intelligence. According to his ghost-writer Peter O'Reilly, he only gave away five penalties in his entire career.
There were other fine No 8s who represented Ireland in the in the years between Duggan in the 70s and Heaslip in the late noughties.
Munster's Brian Spillane made his debut at No 8 during the thrilling Triple Crown season of 1985.
Victor Costello soldiered in the role during the grim late 1990s before finding a home elsewhere in the back-row when Ireland revived in the early noughties.
Noel Mannion is responsible for one the most heavily replayed tries of the 80s from the Cardiff Arms Park in 1989. His dead dog celebration could also have been copied more often.
Denis Leamy, Alan Quinlan all occupied the jersey in the interval between Foley's departure and Heaslip's arrival on the scene.
Ireland has been very well served in the back row department over the generations, none more so than at present, but in terms of sheer achievement, both at an individual and a team level, Heaslip has to stand out as one of the greatest Irish number eights of all time.