When it comes to assessing Ireland's strongest performers in the opening two rounds of the NatWest 6 Nations, Keith Earls features prominently on the list.
This should come as little surprise with his form for Munster over the past 18 months, plus a fine showing during the Autumn internationals.
Earls is already building a highlights reel both with and without the ball from the Championship.
His cross-field catch from Johnny Sexton in Paris was a high-risk move which was handsomely rewarded. The 24th phase at the death gained valuable yards and stretched the French defence; 17 phases later and the out-half sealed a famous Irish win.
You see what's going on in Syria. If I'm worried about a game I'll go back and look at that to see how lucky you are - Keith Earls
The following week he hunted Italian winger Mattia Bellini the length of the field to prevent Conor O'Shea's men from getting a fourth try in Dublin. Even though the result was assured, Earls' blistering pace had a positive impact on the scoreboard, which could prove invaluable by the end of the competition.
His catch on the run from a cross-field kick earlier on was every bit as satisfying.
Next up on Saturday is Wales and the pre-match talk has centered on the kicking duel and aerial bombardment in prospect. The return of Leigh Halfpenny, Liam Williams and, in particular, Dan Biggar, adds to their aerial weaponry, but 41-cap Earls is ready and thriving in the air when necessary.
"There is always talk about the high ball. For me, Wales are one of the best teams at it and that is going to be the challenge," he told RTÉ Sport.
"They are playing quite expansive now and can play it any way."
So what has helped Earls become so effective in the air? First of all it starts at provincial level.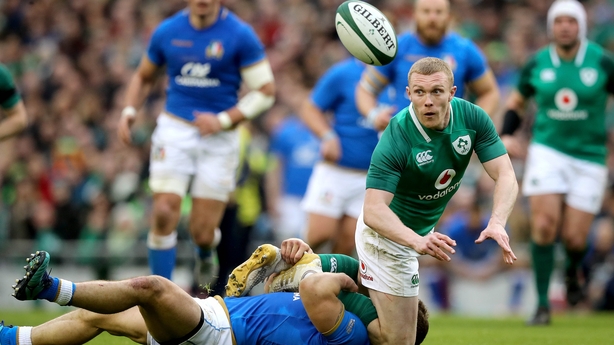 Earls credits the pressure applied by Munster team-mates Darren Sweetnam and Andrew Conway, two players who caught the eye in the November Series, as a significant factor. Both have shown their aerial prowess over the past 18 months and the impact has been positive on 64-cap Earls.
"It is something we have been working on," he admits. "It is a big part of rugby now. I've been doing a lot of eye training too at high speeds."
The eye training is almost a throw away comment, but on further questioning, the 30-year-old says it is something he has gone back to recently and reaped the rewards.
The flying winger took a couple of bangs to the head earlier in his career he says that resulted in his eyes being "out of sync" with the gel in his ears. Having your head balanced with your ears is crucial for peripheral vision and clutching balls out of the sky.
So what does it mean in practical terms?
"It's easy stuff. Putting an x on the window and moving your head back and forward to try and get your head balanced with the gel in your ears. Thankfully the work is coming good.
"It is quite hard to try and see a ball while running at high speeds. I'm at an age where every one per cent counts."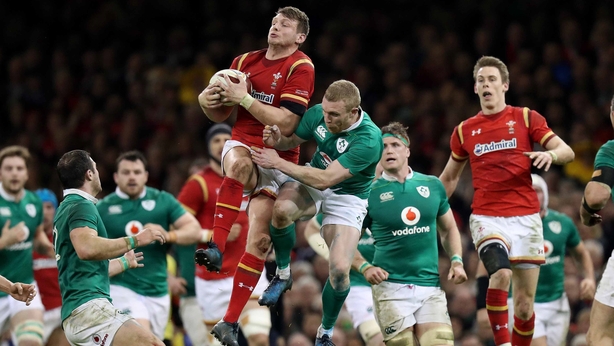 He has received some funny looks from medical staff in the physio room while carrying out the exercise on the treatment table, but the results are evident. Earls carried out the eye training studiously a few years ago when he was first aware of it, but that tapered off.
"It's something I've been doing again in the past few weeks.
"I'm looking for the one per cent. At the moment I am seeing the ball a lot clearer in the air as I'm running, but there is still a lot to improve on as well. I'll keep working on it."
It is a decade since the Limerick speed merchant made his Test debut, and the 2018 version is a world apart from the callow 20-year-old who burst onto the scene.
Like many sportspeople, he was often wracked with doubt and pre-match nerves, but time, perspective and the presence of his two daughters Ella-May and Laurie have completely changed his outlook.
"It's weird, I can't help but feel relaxed going into games now," he says. "A big thing for me is putting everything into perspective. That's something I do every day, every half hour, every minute.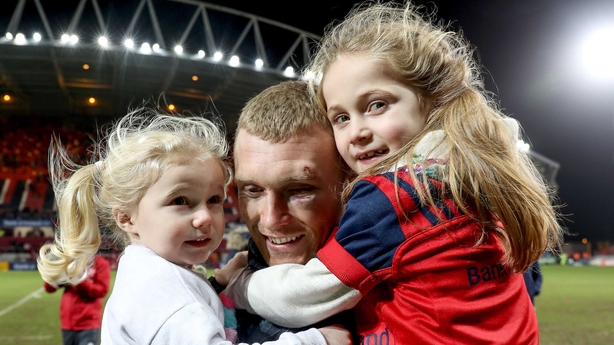 "When you have kids and you see what's going on in Syria. If I'm worried about a game I'll go back and look at that to see how lucky you are."
Without a win in four years against Wales, Earls knows full well the nature of the challenge facing his team-mates on Saturday. Gatland's side ripped Scotland apart in the opening round, before a crippling injury list was insurmountable against reigning champions England last time out.
The Welsh head coach has been able to recall some of his big guns, which is likely to directly impact his afternoon on the wing.
He is expecting passion and physicality from "one of the best teams around", but internal assessment is more of a priority than fretting over opposition tactics.
"We have had a close look at them and their players, but the most important thing is to look after myself. I have to get myself right."
Only Rob Kearney (80), Johnny Sexton (70), Cian Healy (75) and Rory Best (108) boast more caps that Earls who continues to go from strength-to-strength. An integral part of the Irish gameplan, he is a senior leader at the top of his game.
"I'm enjoying my rugby at the moment. Hopefully Saturday will be the same way. I'm nice and relaxed."
Follow Ireland v Wales on Saturday (KO 2.15pm) via the live blog on RTÉ.ie/Sport and the News Now App, or listen live on RTÉ Radio 1, with commentary from Michael Corcoran and Donal Lenihan.